This Stock Photo may not match the actual item listed.
This listing is for Model# 10994

Product Code: MR-AP-RUGERHAND-10994
Model Number: 10994
ITAR Product

This item is regulated by ITAR (International Traffic in Arms Regulations). By purchasing this item, I understand, acknowledge, and agree to the

Export Policy

. I am a U.S. Person, and I do not intend to export this product.


Meprolight Night Sights for Ruger Pistols and Handguns are custom made to work with Ruger firearms. The tritium green dot sight system of Tru-Dot sights offers the best low light performance of any night sights. Meprolight tritium sights give shooters a three-dot aiming reference that remains fully visible and consistently located under all light conditions. Meprolight Tritium & Fiber Optic Night Sights are renown for their quality performance. Get the Meprolight advantage with the brightest night sights available today. Meprolight sights are used and trusted by military personnel and law enforcement officials. All Meprolight Tru-Dot sights are covered by a 12 years usable illumination warranty to original purchaser.
Available models of Meprolight Tru-Dot Tritium Sights for Ruger Handguns include:
10990: Meprolight Tru Dot Night Sights for Ruger P89 - Fixed
10991: Meprolight Tru-Dot Night Sights for Ruger P90, 91, 93 & 95 - Fixed
10992: Meprolight True-Dot Night Sights for Ruger SP101 (38 special & .357 mag) Fixed - Front Sight Only
10993: Meprolight True Dot Night Sights for Ruger SR-9
10994: Meprolight True Dot Night Sights for Ruger P94, P944 & P97 - Fixed
10995: Meprolight Tru Dot Night Sights for Ruger P345 - Fixed
10997: Meprolight TruDot Night Sights for Ruger LCR front only
20996: Meprolight TrueDot Night Sights for Ruger GP100 & Super Redhawk - Adjustable Sights
Meprolight Night Sights
offer a
handgun sighting
system for improved rapid instinctive aiming which requires no transition from day to night use. The
Meprolight Tru-Dot
system adds no weight and occupies zero space - a critical concern in external
pistol sight
design. The
night sights
withstand prolonged immersion in commonly used solvents and cleaning compounds. Quality and safety count at Meprolight. All
Tritium & Fiber Optic Night Sights
from Meprolight meet strict quality standards before being shipped from the factory; and all processes are performed, controlled, and monitored to demanding quality levels. Meprolight's modern
handgun sight
design, production, and test facilities, with the most experienced technical staff in the industry are ready to support you. When quality counts, be sure with Meprolight.
We are your number one source for
Meprolight Tritium Night Sights
. We stock a huge selection of
tactical gear
including
pistol sights
,
rifle sights
, and
night sights
, including
Meprolight sights
and many other leading brands. We can meet your hunting, tactical, and service needs with a range of
hunting accessories
and
gun accessories
including
rifle scopes
,
night vision
devices,
tactical scopes
,
spotting scopes
and much more. Everything we sell is backed by our rock solid customer service and our guarantee of 100% customer satisfaction.
Specifications for Meprolite Ruger Handgun Tru-Dot Night Sights::
Fits Ruger pistol models:
10990:
Ruger P89 Pistol
10991:
Ruger P90, 91, 93 and 95 Pistols
10992:
Ruger SP101 (38 special and .357 magnum)
10994:
Ruger P94, P944 & P97
10995:
Ruger P345 Pistol
10997:
Ruger LCR Lightweight Compact Revolver
20996:
Ruger GP100 and Ruger Super Redhawk
Features of Mepro Light Tru-Dot Tritium Ruger Night Sight:
Self Illuminated light source - No batteries or switches, always ready when you need them
Operates under all weather conditions
The brightest night sights available today
Totally integrated day and night sighting
Maintenance free
Can be mounted directly with no weapon modifications
Over 4,500,000 systems in use, worldwide
Tests by marksmen show an increase of over 85% in hit capability
Strongest worldwide comprehensive warranty in the industry
Package Contents:
Meprolight Tru-Dot Night Sight for Ruger Pistols
This product description refers to an item with various available options. The specific option you get when you purchase this item is 10994: Meprolight Night Sights for Ruger P94, P944 & P97

*Please Note:
Most of the product images that we use in our listings come directly from the manufacturer and sometimes do not represent the exact color, size, style or other option that is actually being sold. We are limited in the way we can present items that have these options, so please take note of the specific product code and model number being advertised. If you have any doubts, please call or email us before you bid or place your order.
Search OpticsPlanet eBay Store for more products
We at OpticsPlanet stock TENS OF THOUSANDS of products from a HUGE assortment of categories including Sport Optics, Astronomy, Military, Law Enforcement, Hunting, Shooting, Outdoor Gear, Lab & Scientific, Fashion Eyewear, Photography, Leisure, Sporting Goods and much more! We are an AUTHORIZED FULL LINE DEALER or distributor for most brands we carry, so search our store for unbelievable deals on thousands of in stock items! Can't find what you're looking for? Just call or email us and we'll be glad to help you find the products that work best for you!
Shipping
FREE

UPS Ground Shipping

We offer FREE UPS GROUND shipping and handling within the 48 continental US states on most orders over $29.95. Most orders leave our Illinois-based warehouse within 1 business day of receiving payment. All packages are insured for the full amount of your purchase. ALL orders over $200 will require a signature confirmation upon delivery. If you know that no one will be available to sign for your package at your shipping address, please contact us to make alternate delivery arrangements.
USPS and International Shipping

USPS Priority Mail shipping is available for PO Boxes, APO/FPO, Alaska, Hawaii and Puerto Rico. Some USPS shipments may be subject to additional shipping fees. Please contact us for more details. Some of our alternate distribution warehouses only ship via UPS or FedEx, so we may have to ask you for a physical delivery address in some cases. International UPS and USPS shipping options are available ONLY where Worldwide shipping is indicated. You may use the shipping calculator or contact us for a shipping estimate to your destination.
Please make sure to check your local laws, rules and regulations in regards to all custom/brokerage fees, duties, taxes and restrictions imposed on goods imported into the country of destination as all fees mentioned above are the responsibility of the recipient and not OpticsPlanet. All costs incurred on a refused delivery because of high custom or brokerage fees, duties, taxes or restrictions imposed by the country of destination are the responsibility of the customer.
Track Your Package
Once your order ships, we will send your tracking number to the email on file with Paypal. Please note that it may take up to 24 hours after receiving your tracking number for it to become active.
Payment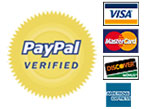 We accept Paypal payments as well as Visa, MasterCard, Discover and American Express payments via our secure phone lines at (800) 504-6041. Items purchased through "Buy it Now" will require an immediate Paypal payment. Items purchased through "Best Offer" must be paid within 7 days. If you receive an Unpaid Item Reminder and would still like to make your purchase, please complete checkout through Paypal or contact us within 7 days. For combined item purchases please contact us via phone or email, prior to submitting payment, to ensure that all your items are shipped together.
At OpticsPlanet, we pride ourselves on top-notch brand name products at some of the lowest prices on the internet! However, we know that we owe all our success to our valued customers. That's why customer satisfaction is our top priority. Whether you have a question about our products and policies, or you need any support placing, tracking or following-up on your order, we are always here to help! Our customer support representatives are eager to hear from you via phone call, e-mail, fax and even livechat, so don't hesitate to contact us!

Toll Free: (800) 504-6041
International: (847) 513-6201
Fax: (847) 919-3003
Legal Notice: Copyright © 1999-2011 OpticsPlanet, Inc. All rights reserved. OpticsPlanet is a trademark of OpticsPlanet, Inc. Product descriptions and logos shown in our auctions are trademarks or registered trademarks of their respective owners