IBM ThinkPad T61 C2D 2.0GHz 2GB 80GB DVD Win 7 Home Wi-Fi Laptop Notebook


.

CONDITION RATING
Item Classification
Condition Rating
Item Performance
View Condition Rating Details

Product Overview

Technical Specs

Accessories

Warranty

Customer Service
IBM ThinkPad T61 Intel Core 2 Duo Refurbished Laptop
This Refurbished IBM ThinkPad T61 Laptop delivers powerhouse computing that's ideal for anyone looking for a sleek, high-performance laptop. This package comes with a 14 WideScreen LCD display with ambient light sensor, an Intel Core 2 Duo 2000 MHz processor and a New Genuine Windows 7 Home Premium 32 Bit Operating System Disk. Offering all the features you'd find on a desktop, this laptop also includes 2048mb of DDR2 memory (Upgradeable to 4096MB), 80Gig Serial ATA hard drive, a DVD ROM optical drive and an internal 802 11 ABG wireless card which allows you to connect to any available wireless hotspot.
This laptop comes fully loaded with Microsoft Windows 7 Home Premium 32 Bit and will arrive preloaded with Windows so you will be the first to use it. The provided Original Microsoft Installation Disk will allow you to restore your computer at any time and prevent expensive trips to the computer repair shop.
This laptop has also been updated with a list of additional programs to compliment Microsoft Windows 7 Home Premium 32 Bit. Installed is a Microsoft compatible Office program which provides a Word Processor, Spreadsheet program, Database program and Presentation software. It also comes with a shortcut to Microsoft Free Anti-Virus program along with Windows Media Player, Internet Explorer (Internet Browser), DVD viewing software and many other great Windows programs and features.
This IBM ThinkPad T61 comes complete with everything you need to get started. No configuring necessary, within minutes after receiving you will be up and running.
Technical Overview
Processor

Intel Core 2 Duo 2000 MHz

Hard Drive

80Gig Serial ATA

Memory

2048mb DDR2

Optical Drive

DVD ROM

Screen Size

14 WideScreen

Wireless

802 11 ABG internal wireless card allows you to connect to any available wireless hotspot

Operating System

Windows 7 Home Premium 32 Bit

Additional Programs

word document, spreadsheet application & a shortcut to Microsoft Free virus protection

Power

Comes with AC Power Adapter and Battery. (No warranty on battery)

Ports

The IBM ThinkPad T61 has all of the standard ports and slots required for everyday use

Item Condition

Please refer to the "Condition Rating" section above for details

What's in the box
IBM ThinkPad T61 with pre-installed software, power cord, Windows 7 Home Premium 32 Bit Disk and software registration instructions

.

** Additional Information**
> More technical information about this product is available under "Technical Specs Tab" above.
> We offer upgrades on most computer systems we sell, please see the "Accessories Tab" above for available upgrades.


Have additional questions? Please call 855-USMICRO (855-876-4276) Monday thru Friday 8:00am-4:00pm EST
Warranty
Warranty Terms - Parts
60 days
Warranty Terms - Labor
60 days
Warranty Terms - Extended
Extended warranties thru www.squaretrade.com
Brand
Manufacturer
IBM
Manufacturer Model
ThinkPad T61
Processor
Processor Type
Intel Core 2 Duo
Processor Speed
2000 MHz
Memory
Memory Installed
2048mb
Memory Capacity
4096MB
Memory Type
DDR2
Memory Slots (Total)
2 Slots
Hard Drive
Hard Drive Size
80Gig
Hard Drive Type
Serial ATA
Optical Drive
Optical Drive Installed
DVD ROM
Networking / Communication
Network Card
10/100/1000
Wireless Networking
802 11 ABG
Wireless WAN Cellular Port
Yes available port to add cellular card, sold seperatly
Bluetooth-Enabled
N/A
Modem
56K
Built-in Webcam
N/A
Display & Video
Screen Size
14 WideScreen
Video Memory
Intel GMA X3100 Dynamic Video Memory Technology 4.0
Touch / Digitizer Screen
NA
Software
Operating System
Windows 7 Home Premium 32 Bit
Additional Software
word document, spreadsheet application & a shortcut to Microsoft Free virus protection
Software Included
Operating System Disks
User's Guide / Manual
Downloadable From Manufacturers Website
Power
AC Adapter Included
Yes
Battery Type
Lithium Ion
Battery Length
Due to our high volume of sales, we do not test or warranty the battery life in any of our laptops.
Mouse Options
Mouse
Integrated Touch Pad and Track Point conveniently located on the keyboard and palm rest
Video Input
VGA Port
1
DVI Video Port
N/A
HDMI Ports
N/A
S-Video Port
N/A
Sound
Speakers
Internal
Microphone
1 Integrated
Additional Ports
USB 2.0 Ports
3
Serial Port
N/A
SD card slot
1
PCMCIA Slots
1
Parallel Ports
N/A
Infrared Port
1
IEEE 1394 Firewire Ports
1
Docking Station
Digital Card Reader
1
eSATA Ports
N/A
Security
SmartCard Reader
1
Fingerprint reader
Yes
Product Details
Weight
6 lbs
Dimensions
Width 14.1 inDepth 10 inHeight 1.4 in
Product Color(s)
Black
Part Number
Part Number
Additional Information
Additional Information
What kind of warranty do your products have?
US Micro Corp provides a 60 day limited warranty on all products we sell, unless otherwise noted on original description of product. This warranty includes any hardware defects and EXCLUDES any software issues, neglect, or unauthorized repair. In addition we do not test laptop batteries therefore battery life will not be covered by any warranty unless otherwise noted on original description of product. The warranty date will start from the time your item has been invoiced.
Do you offer refunds for Internet sales?
We will offer refunds only within the first 30 days or receipt. Under no circumstance will the original shipping charges be refunded. A 10% restocking fee will apply for the total purchase amount for all buyer remorse refunds.
What do I do if I have problems with my product?
We do our best to ensure each and every product we sell is free of problems or issues. If you were to have any questions or concerns we are here to help. For any warranty issues we require you to call us at 855-USMICRO Monday thru Friday 8AM-4PM Eastern Standard Time for technical support. If we decide the best option is to replace or fix your product we will issue a "Return Merchandise Authorization" number which is required on any return. This number should also be visible on the returned package. All return products must have an "RMA" number and should be shipped to:
US Micro Corp
7000 Highlands Parkway, Suite 160
Smyrna, GA 30082
Do you offer extended warranties?
Yes all of our extended warranties are through Square Trade, click the box below for more information or go to www.squaretrade.com.
Shipping
The map below can be used to determine how many days it takes FedEx to deliver your package using ground / standard shipping once it has shipped from our facility. Unfortunately, these days do not include weekends, holidays, or processing time.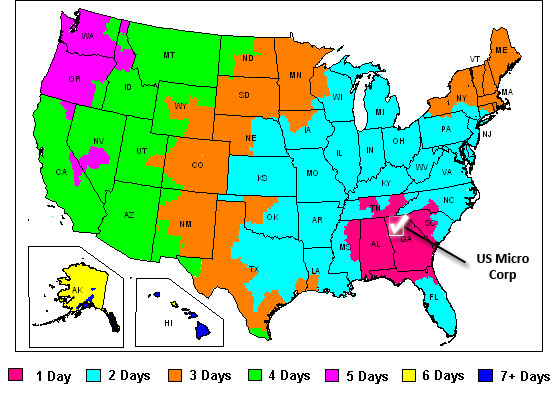 How long will it take for my order to arrive?
If payment is received and cleared before 12:00 pm EST Monday thru Friday your order will ship the same day. Payments received after 12:00pm EST your order will ship the following business day. Saturday, Sunday, and Federal holidays are not considered business days. To help us facilitate the shipping process please make sure your shipping and billing address match and / or ship to your confirmed address in PayPal.

Once your package has shipped, which will normally be 24 hours or less after payment has been received and cleared, it can take anywhere from 1-5 business days to arrive. Your shipment will originate from Smyrna, GA 30082. Please use the map above to determine transit days. We offer Next Day Air and Second Day Air expedited shipping which can be added during the checkout process.
How do i find out where my package is?
After payment has been made and cleared, within 24 hours you will get an email from us which will include the tracking number and any other details about your package. Your order confirmation is sent to your registered email address.
What courier do you use to deliver your packages?
We have an exclusive agreement with FedEx. FedEx has a proven track record of success and their dependability is unmatched in the industry. In addition, FedEx provides each of our customers with a tracking number that allows our customers to track their packages to their doorstep!
If your address is Hawaii, Puerto Rico, PO Boxes, or APO addresses we will use USPS (US Postal Service) to deliver these packages. Unfortunately the US Postal Service does not provide a tracking number that we can provide to our customers.
Can I pick up my order at your warehouse?
No, we can not accommodate customer pickups.
Do you ship outside of the USA?
At this time we do not ship anywhere outside of the US other than US territories such as Puerto Rico and Guam.
I entered the wrong shipping address, can you change it?
Yes, BUT our order processing is very fast so if you need an address change you MUST call us as soon as possible. Otherwise your order may ship and it will be too late for us to get this changed for you
Can I ship to an address other than my billing address?
Yes you can but we must speak with you to verify your purchase. This is our policy to prevent fraud. If you do not call us a customer service representative will try and contact you. This may delay your shipment so if you need to ship to an address other than the billing please notify us immediately.
Payment
Payment is due immediately upon winning an auction.
US Micro Corp accepts PayPal and all major credit cards.
US Micro Corp charges sales tax in the states of Ohio, Nevada and Georgia
* We do not accept credit cards NOT issued in the USA including non US registered PayPal accounts.
*
We DO NOT accept any International payments at this time including non US registered PayPal accounts.
Contact Info
Phone:

855-USMICRO (855-876-4276)

Address:

US Micro Corp




7000 Highlands Parkway, Suite 160




Smyrna, GA 30082