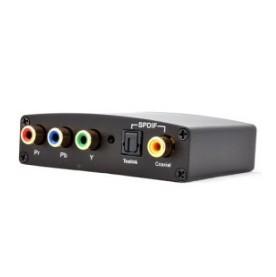 HDMI Converter YPbPr to HDMI with SPDIF COAXIAL AUDIO RGB to HDMI converter



Super Fast shipping
Overview:
Condition: Brand New
Warranty: 1 Year Warranty

In Stock and Ships within 24 hours
Product Description
Payment
Shipping
Returns
* HDMI Converter (YPbPr to HDMI)
* Input:YPbPr+SPDIF Audio
* Output:HDMI
* This is a component video(YPbPr) converter that allows older analog devices to be integrated seamlessly into the modern home theater.
* This adapter connects component video home theater devices to HDMI compliant digital monitors.
* This adapter also takes digital audio and encodes it onto the HDMI signal for the full HDMI video and audio effect. With the Component + Digital Audio to HDMI Adapter legacy home theater devices can be easily connected any HDMI display for the full digital video and audio experience.

Specifications:
YUV/YPbPr/YcbCr Input: Support up to capture 1080p, 330Mbandwidth, 50/60Hz
Audio SPDIF Input: DTS-HD/Dolby-trueHD/LPCM7.1/DTS/Dolby-AC3/DSD
HDMI resolution: 24/50/60fs/1080p/1080I/720p/576p/576I/480p/480I, same format as input
Support audio format: DTS-HD/Dolby-trueHD/LPCM7.1/DTS/Dolby-AC3/DSD
Max transmission bandwidth: 5.1Gbps
Input Video signal: 0.5~1.5Volts p-p
Output DDC signal: 5Volts p-p (TTL)
Output cable distance: 20m AWG26 HDMI 1.3 standard cable
Max working current: 600mA
Power adapter format Input: AC (50Hz, 60Hz) 100V-240V; Output: DC5V/1A
Operating Temperature range: (-15 to +55C)
Operating Humidity range: 5 to 90%RH (No Condensation)
Dimension (L x W x H): 90x70x33 (mm)
Weight: 155g

Package Content:
1)HDMI convertor
2)5V Power Supply
3)User's Manual