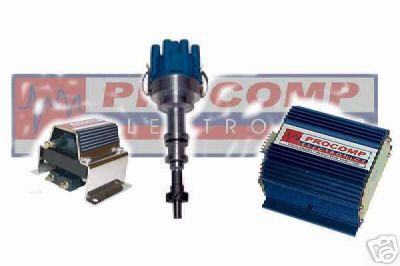 complete systems also available
1949-55 Flat Head Ford Billet distributor - YOU ARE BIDDING ON THIS DISTRIBUTOR
#8574 (some pix are generic)
Late Model Flathead Ford Billet aluminum distributor.1949- - From a 32-year warehouse distributor.
FREE SHIPPING WITHIN CONTINENTAL USA!!!
Product Info:
Distributor:
A billet of 6061 - T6 aluminium CNC is machined into a perfect housing for incredible strength, precision and looks.

Sealed ball bearings, sintered bushing, 1/2 inch hardened steel shaft

Extremely accurate magnetic pickup which never requires adjustment.

Designed with a small base and cap to suit all makes and models.

This is mainly used in high performance vehicles which have space limitations around the engine.
ALSO AVAILABLE ON E-BAY:
Coil:
Producing up to 70% more spark energy than stock coils with outstanding reliability.
This unit is recommended for street, strip, circle track and drag racing.
The coils uses "E-core design" technology which loses less voltage so more spark gets to your plugs.
Internally the coil also has large gauge wire windings for maximum spark current and voltage with better heat dissipation at high rpm.
High voltage arcing is minimised through screw on connectors and a high tension tower.
Ideal for use with capacitive discharge (CD) ignition systems and all of Procomp range of High Output Ignitions.
6AL-style ignition:
The Procomp PC6AL is the most powerful Ignition of its type available.

It is a multi-spark, capacitor discharge, electronic Ignition designed for high Performance Street drag racing, oval track, and marine applications.


The PC6AL uses the latest state of the art digital technology, and when used with the Procomp high performance coil (#2041) produces a spark gap current three times greater than most similar systems and almost eight times the spark of the standard ignition.


This unit can be triggered by Magnetic, Hall Effect, Points and Crank Trigger Pick ups.


Includes a two step soft touch rev limiter, which does not require no chips.


Produces 14 sparks per cylinder between 0 and 3000 RPM and 2 sparks per cylinder from 3000 to over 12000 RPM.
We are a Master Warehouse Distributor for all of our parts lines, and we offer - on E-Bay -
Falcon specializes in classic, muscle car and antique engine parts, but are also your source for ., intake and exhaust manifolds and systems, SuperChips, ignition and many other 'under the hood' powertrain and ignition components on E-Bay
Contact us at 1-800-756-1114 toll-free Monday-Friday 8-7 eastern.
We can ship from numerous U.S. company-owned warehouses in both eastern and central time zones, depending on your geographical location. We aim to get your parts to you quickly and professionally.
Small lawyer print: We do not guarantee color of distributor cap. Caps are readily available at Auto Zone, NAPA, Pep Boys, O-Reilly's and most large parts store chains for under $15.
---
On Oct-01-08 at 10:16:10 PDT, seller added the following information: