This Stock Photo may not match the actual item listed.
This listing is for Model# EE

Product Code: BU-RG-101921-EE
Model Number: EE


Bushnell Speedster III Radar Gun w/ RF Technology 101921 is an exclusive speed radar gun specifically designed by Bushnell for our online store RadarGuns.com! Like its siblings, the Bushnell Speedster II and Bushnell Velocity, the Bushnell Speedster-III Sports Radar Gun is easy to use and affordable. The Bushnell Speedster 3 is a coach's secret weapon to scout, evaluate and train athletes. Like all Bushnell Speedster Series radar guns, the Bushnell Speedster III Radar uses the best digital technology and DSP (Digital Signal Processing) to provide accurate real time speed measurements. The Bushnell Speedster III Radar Speed Gun offers digital speed readings from 10 to 200 mph: 10-110 mph up to 90 feet for baseball, softball, and tennis; and 10-200 mph up to 1500 feet for auto racing with +/- 1 mph accuracy. The Bushnell Speedster3 Radar Gun features RF technology (radio frequency technology) that allows the radar to support a separate radar speed display - such as the optional Bushnell SpeedScreen radar screen - wirelessly.

The Speedster III Radar Gun can turn any ball field into a professional-grade sports training arena! This light, compact radar gun can measure the speed of baseball pitches, the bat speed as you swing, the softball pitching speed, the velocity of a served tennis ball, and more - and show speed readings remotely on the optional Bushnell Speed Screen radar display. Or just have fun using Bushnell Speedster-III speedgun to clock passing cars or to measure how fast your dog can run. The Speedster III Bushnell Speed Radar gives you precise speed of just about anything that moves. Its textured pistol grip allows easy point-and-shoot operation, making this sports radar easy to use and handle - and it is affordable in comparison to expensive police radar guns or large professional sports radars.

Bushnell Speedster III Radar Gun 10 1921 is a handy, multi-functional gun radar for all kinds of sports enthusiasts. This Bushnell radar gun is also great for hobbies, and just for fun. Bushnell Speedster III Speed Radar Gun makes a great gift for any occasion!
Available options of Bushnell Speedster III Radar Gun Edition:

Bushnell Speedster III Speed Radar Gun
Bushnell Speedster III Value Kit - includes Bushnell Speedster iii Sports Radar and two C size batteries
Bushnell Speedster III Mega Kit - includes Bushnell Speedster 3 Radar Gun, batteries, and Pelican Black Small Waterproof Case 1200-000-110
Bushnell Speedster III Sports Kit - comes with Bushnell Speedster 3 Radar Speed Gun, batteries, and Bushnell Speedscreen Speed Radar Gun Display w/ Radar Gun Tripod
Bushnell Speedster III Ultimate Kit - comes with Bushnell Speedster 3 Speed Radar Gun, radar gun batteries, Bushnell Radar Gun Display w/ Radar Tripod and Pelican Small Black Case 1200 - 1200-000-110

Features of Bushnell Speedster-3 Speed Gun 101921:

Easy-to-use point & shoot radar gun
Tripod mountable
Measures speeds from 10 to 200 mph
Provides +/- 1 MPH accuracy instantaneously
Continuous mode for automatic readings
Displays fastest speed once trigger is released
Ranges 90 ft to a ball, 1,500 feet to a car
Accurate digital speed reading using DSP (digital speed processing)
RF technology transmits wireless data for display on the optional Bushnell SpeedScreen
Textured pistol grip
Great for sports and hobbies: baseball, softball, RC cars, tennis, and more
Requires C batteries (two C-size batteries)

Specifications for Bushnell Speedster III Radar Gun:

| | |
| --- | --- |
| Baseball, Softball, Tennis Range: | 10-110 mph up to 90 ft away |
| Auto racing (battery operated): | 10-200 MPH up to 1500 ft away |
| Accuracy: | +/- 1 mph (+/- 2 kph) |
| Operation: | Point and shoot - Has continuous read feature |
| Speed units: | miles per hour (MPH) and kilometers per hour (KPH) |

Package Contents:

Bushnell Speedster III Speed Radar Gun w/ RF Transmitter 10-1921




This product description refers to an item with various available options. The specific option you get when you purchase this item is EE: Bushnell Speedster III Radar Gun w/ Speeds from 10 to 200 MPH - 101921


*Please Note:

Most of the product images that we use in our listings come directly from the manufacturer and sometimes do not represent the exact color, size, style or other option that is actually being sold. We are limited in the way we can present items that have these options, so please take note of the specific product code and model number being advertised. If you have any doubts, please call or email us before you bid or place your order.
Search OpticsPlanet eBay Store for more products
We at OpticsPlanet stock TENS OF THOUSANDS of products from a HUGE assortment of categories including Sport Optics, Astronomy, Military, Law Enforcement, Hunting, Shooting, Outdoor Gear, Lab & Scientific, Fashion Eyewear, Photography, Leisure, Sporting Goods and much more! We are an AUTHORIZED FULL LINE DEALER or distributor for most brands we carry, so search our store for unbelievable deals on thousands of in stock items! Can't find what you're looking for? Just call or email us and we'll be glad to help you find the products that work best for you!
Shipping
FREE

Economy Shipping

We offer Free Economy shipping and handling to street addresses and PO Boxes within the 48 continental US states, DC, as well as to APO/FPO/DPO addresses on most orders over $29.95. UPS Ground, 2nd Day Air and Next Day Air Saver shipping options are also available for an additional cost. Most orders leave our Illinois-based warehouse within 1-2 business days of receiving payment. All packages are insured for the full amount of your purchase at no extra charge. ALL orders over $200 will require a signature confirmation upon delivery. If you know that no one will be available to sign for your package at your shipping address, please contact us to make alternate delivery arrangements.

Please Note: Free Economy shipping is not available on orders under $29.95 or ANY orders shipping to Alaska, Hawaii or any US territories like Puerto Rico. Please select an alternative shipping method to ensure quick processing and the fastest delivery.
USPS and International Shipping
USPS Priority Mail shipping is available for an added charge to all US addresses including PO Boxes, DC, APO/FPO/DPO, Alaska, Hawaii and US Territories. Some of our alternate distribution warehouses only ship via UPS or FedEx, so we may contact you for alternative delivery arrangements if USPS shipping is not available.
International UPS and USPS shipping options are also available ONLY where Worldwide shipping is indicated. You may use the shipping calculator or contact us for a shipping price estimate to your destination.
Please make sure to check your local laws, rules and regulations in regards to all customs/brokerage fees, duties, taxes and restrictions imposed on goods imported into the country of destination as all fees mentioned above are the responsibility of the recipient and not OpticsPlanet. All costs incurred on a refused delivery because of high customs or brokerage fees, duties, taxes or restrictions imposed by the country of destination are the responsibility of the customer.
Track Your Package
Once your order ships, we will send your tracking number to the email on file with Paypal. Please note that it may take up to 24 hours after receiving your tracking number for it to become active.
Payment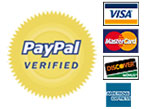 We accept Paypal payments as well as Visa, MasterCard, Discover and American Express payments via our secure phone lines at (800) 504-6041. Items purchased through "Buy it Now" will require an immediate Paypal payment. Items purchased through "Best Offer" must be paid within 7 days. If you receive an Unpaid Item Reminder and would still like to make your purchase, please complete checkout through Paypal or contact us within 7 days. For combined item purchases please contact us via phone or email, prior to submitting payment, to ensure that all your items are shipped together.
At OpticsPlanet, we pride ourselves on top-notch brand name products at some of the lowest prices on the internet! However, we know that we owe all our success to our valued customers. That's why customer satisfaction is our top priority. Whether you have a question about our products and policies, or you need any support placing, tracking or following-up on your order, we are always here to help! Our customer support representatives are eager to hear from you via phone call, e-mail, fax and even livechat, so don't hesitate to contact us!

Toll Free: (800) 504-6041
International: (847) 513-6201
Fax: (847) 919-3003
Legal Notice: Copyright © 1999-2012 OpticsPlanet, Inc. All rights reserved. OpticsPlanet is a trademark of OpticsPlanet, Inc. Product descriptions and logos shown in our auctions are trademarks or registered trademarks of their respective owners