Customer Service
Worldwide Shipping
Free P & P
UK Seller
Medically Approved
Payment Methods
Description
Actesso Advanced Wrist Support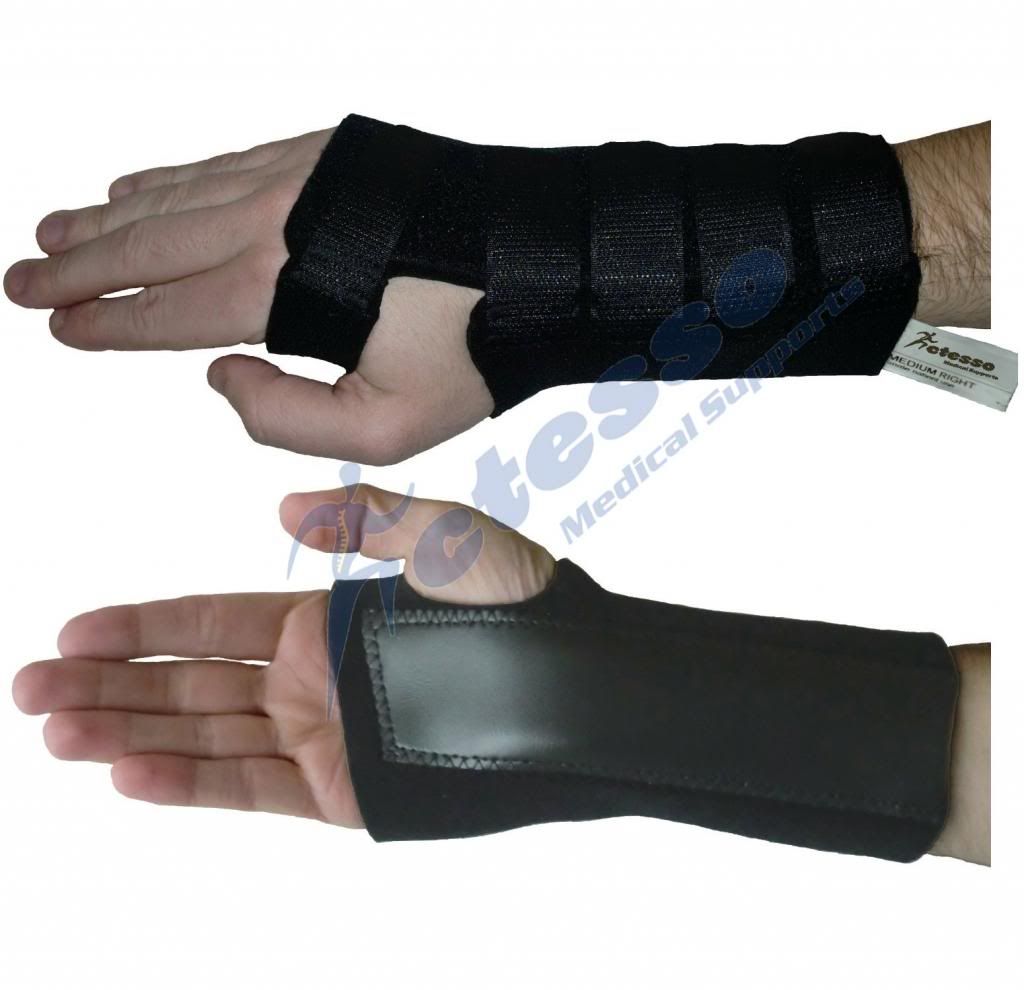 Designed and approved by NHS Clinicians, the Actesso Advanced Wrist Support has been designed for the treatment of Carpal Tunnel Syndrome, wrist sprains and strains, Repetitive Strain injury, and a variety of other wrist conditions.
Helping to alleviate pain caused by joint, muscle and tendon overuse, this wrist support is designed with a unique material, this support is far more hygienic than most, allowing it to be worn for longer as it eliminates bacteria while you wear it.
Who is this support for?
This support can be used for a variety of wrist injuries and conditions, but please consult your doctor if you are in any doubt.
Sizing
Measure your wrist circumference in centimetres (see above picture) and use the following as a guide to getting the correct size: Available in sizes Small to Extra Large, to provide a more custom fit than one size supports
Small- 14-15. Medium- 15-17. Large-17-19. Extra Large 19-21.
How does it work?
The support comes with an easy to modify metal stay that keeps the wrist in slight extension relieving strain on the tendons and helping to reduce wrist pain both day and night. The material is made of a unique soft ventilated neoprene, that allows moisture to wick away from the skin, and the material contains antibacterial properties, which is proven to eliminate bacteria and odours, allowing the support to be used for longer than most generic supports. This allows for a unique combination of comfortable support with the right amount of compression to relieve the stress on injured wrists.
Features
Quality - This product is made in the UK, unlike most, and to the highest quality standards, using the best quality materials.
Service - Same day dispatch if ordered before 3pm Mon-Fri, usually arriving in 1-3 working days
Use - Ideal for Carpal Tunnel Syndrome, arthritic wrists, wrist sprains and strains, sporting injuries, and repetitive strain injury (RSI)
Unique material - Proven to eliminate bacteria and odours, making this support ideal for prolonged use, and more hygeinic than most wrist supports
The neoprene material is ideal for heat retention that stimulates blood flow and speeds up the healing process
Black material may be preferred for workplace use
Easy to modify metal stays keeps wrist in slight extension relieving strain on the tendons
Manufactured in the UK using the highest quality materials - Supporting British manufacturing
Made in the UK - Buy quality, and support British manufacturing
About Us
Actesso Medical Supports supplies supports of the highest quality, many of which that have been designed and tested by NHS Clinicians. We are ably and actively supported by professionals with more than 25 years experience in the medical world.
Our business links connect us to an industry which supports the NHS, and to the continual introduction of new and dynamic medical supports. Our British made products are medically approved, and we regularly receive orders for delivery to members of the medical profession. Our client feedback includes testimonials from medical specialists such as physiotherapists and GPs.
Payment
Orders placed on eBay will have payments go through PayPal, as this secure and fast.
If you wish to place your order over the telephone please call us on 01329 848658 and we will be happy to assist.
Shipping
We aim to dispatch all orders received before 3pm the very same working day.
We know supports like these are often need urgently, which is why we aim to get them to you as quickly as possible, so you don't have to put up with being in pain longer than is necessary.
Because of this most orders arrive within 1-3 working days.
Returns
We are happy to offer a 30 day money back guarantee period.
This means that within 30 days of purchasing one of our products, you can return the item for a full refund, providing it is in a new and unused condition.
We are also happy to exchange free of charge, any item which doesn't quite fit.
Contact Us
The best way to contact us is through the eBay messaging system. You can send us a message by using the "Questions and answers" section towards the bottom of the page.
Or alternatively you can call us on 01329 848658 between 9am and 5pm, Monday to Friday