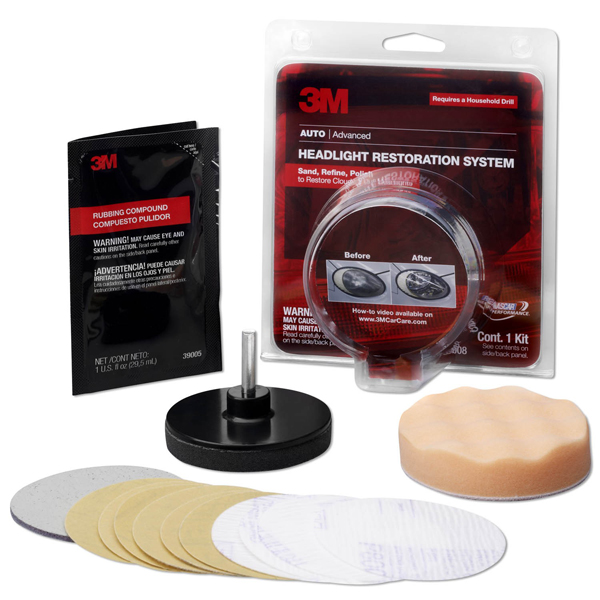 Part # MMM 39008
3M™ Headlight Lens Restoration System Kit

Four step process that restores
the clarity of yellowed, hazed,
or dull headlight lenses.

Kit contains sanding discs and polishing pad with compound. For use with a drill.


System Includes:

One 3" Disc Pad Holder
One 3" Soft Interface Pad
Six 3" P500 Sanding Disc
Four P800 Finishing Disc
One 3" P3000 Trizact Disc
One Headlight Lens Polish, 1 oz
One 3" Buffing Pad
Step by step Directions Brochure
Plastic lenses can yellow with age, reducing headlight brightness, and new lenses can be expensive. The 3M ™ Headlight Lens Restoration System lets you shine and restore plastic lenses, including headlights, taillights, fog and directional lights. Now you can produce professional results with the 3M ™ Headlight Lens Restoration System and a household drill (1200-1600 rpm)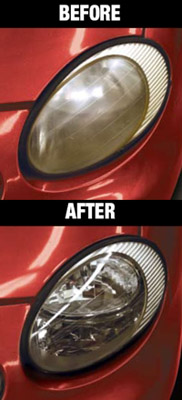 You Tube Video of the 3M™ Headlight Lens Restoration System
Directions for Use: (It's fast and easy to use!)

Clean area with 3M ™ Car Wash Soap to remove dirt and residue; dispense a quarter-size drop of material onto a clean, soft, cotton terry cloth towel and apply to the paint surface; rub over scratch using a firm circular motion until the 3M Headlight Lens Restoration System is dry; remove remaining film using a 3M ™ Microfiber Detail Cloth.

Product Features
Easy to use with a household drill
Sands away the outer layer to restore clarity to headlight lenses that have become yellowed, cloudy or hazed over time
Refines and reduces scratches
Polishes lenses for clarity and shine
Benefits to Users
By restoring clarity to the lens, the performance of the headlight is improved and the appearance of the vehicle is enhanced
More cost effective than paying for a professional service
Kit includes all items necessary to perform the task except for the drill, tape, clean cloth
Large or Extremely Hazed Lenses may require more than one kit.
Company Info:
We are an Authorized dealer for all product lines that we sell.
All Items we sell are brand new.
We currently ship products from our warehouses in California and South Carolina and 4 fulfillment locations throughout US.
Ordering:
Most orders are shipped within 24/48 hours of receipt of payment. Orders received on weekends & holidays may require addional shipping time.
Most items we sell are in stock and ready for immediate shipment from either of our 2 warehouses or fulfillment locations depending on where the inventory is located. Allow time for delivery of your order. It may ship randomly from any of our locations.
Because we utilize other fulfillment warehouses to ship some of our items, cancelling or making changes to an order once it is paid may not possible, so be sure you have selected the product you want.
Some items may sell out very quickly and become unavailable for shipment before we can close our listings. In these cases you will be contacted and issued a FULL refund.
In some cases manufacturer drop ships are required.
Multi-item purchases do qualify for combined shipping. Each additional shipping cost is 50% off.

ORDER & ADDRESS CHANGES

: If you wish to change an order or make an address change, it is best to call our customer service department immediately. We are not responsible for orders being processed and shipped even though the changes were requested via email. If you need make a change to your special shipping address, it is best for you to make that change PRIOR making payment in ebay. If you have questions on how to do this, please message us first. Due to the volume of orders we receive everyday and the fact that we ship from 4 different locations it is sometimes impossible for us to make any changes to an order after the order has printed in one of our warehouses. Some of our locations are simply remote facilities and we do not have the ability to contact anyone there.

WRONG ITEM RECEIVED:

If you receive a wrong item, please contact us prior to leaving bad feedback or attempting to return. We will always make your order right. If the item needs to be returned back to us due to our mistake, we will pay all postage to return the item back to us.
Be sure the provided email address is correct. If there are problems with your order we will contact you via email.

INTERNATIONAL CUSTOMER

S

- All of our electronic items are rated for

US voltage 110V

. It is the customer's responsibility for knowing the correct voltage requirement of their country. We will not refund, replace or return damaged items.
Shipping:
We ship our orders via

USPS or UPS

. We reserve the right to select best option. Most lightweight orders (ie. pens, pencils, inks) ship via USPS. Please provide physical address that works for BOTH shipping companies..
Verify your shipping address is valid in Pay Pal prior to ordering. We are not responsible for problems with orders that ship to the supplied Pay Pal address. Due to us using multiple carriers for our shipping it is best to always provide us with a physical mailing address. UPS cannot deliver to P.O. Boxes.
Tracking information will be emailed once your items ships. Be sure the provided email address is correct PRIOR to ordering.

FREE SHIPPING POLICY

- Free shipping is shipped via USPS or UPS, and is only available for the lower 48 US States. (Orders from Hawaii, Alaska and Puerto Rico do not qualify for FREE shipping. If you live in one of these states, you must place your order by calling our customer service department or by sending ebay message) We cannot process orders from these states directly on eBay.

HAZARDOUS MATERIAL SHIPPING POLICY

- Worldwide shipping is available to most countries by UPS International Priority. UPS Ground is used within the lower 48 US States and Canada. Aerosol cans cannot be shipped by AIR. Flammable items cannot be shipped to APO's. Shipping to Alaska, Hawaii and Puerto Rico will be delivered via UPS 2nd Day Air and incur additional charges.

INTERNATIONAL CUSTOMERS

- It is your responsibility for any Customs (Duties, Taxes & VAT) fees within the bidder's country! We do not collect these fees. Your country does!
Shipping hazardous materials to some

INTERNATIONAL

countries will incur additional shipping charges. You will be contacted outside ebay to pay these charges.

INTERNATIONAL CUSTOMERS

- First Class Mail does NOT include tracking or Insurance. If you select this option, be advised that if package is lost, stolen, or damaged, no claims can be filed.
Feedback:
If for any reason you are not satisfied with your order, please contact us prior to leaving your feedback. We will do everything possible to make sure you are Satisfied with your purchase.
Contact Us:
We are available Monday-Friday from 6:30am to 5:00pm Pacific Time @ 858-909-2111 to answer your questions.
Due to volume of ebay messages we receive daily, it may take up to 1 full business day before we are able to response to your message. Messages sent on weekends or holidays may require up to two additional business days for a response.
Payments:
PayPal is our preferred payment method. Your payment confirmation will reach us in the shortest time and enable us to process your item in usually 1-2 business days.
If you are having payment issues, you need to contact PayPal. We do not have any way to help you with processing your PayPal payments. We do not control PayPal transactions. This is a separate entity and controlled by Ebay.
We are required to collect California (7.75%) and South Carolina (6%) State Sales Tax.

INTERNATIONAL CUSTOMERS

- You are responsible for any CUSTOMS (Duties, Taxes, VAT) fees within your country.
Returns:
SATISFACTION GUARANTEE:

If you are not satisfied with your purchase from TCP Global, return it to us within 14 days of receipt of your order for a full refund (less any shipping charges). Item MUST be returned with original packaging, manuals, and accessories. If item is returned without any of it's original items a 15% restocking fee will be charged. Paint Products and DVD's are excluded from this guarantee. Buyer is responsible for all return shipping costs.

DIDN'T RECEIVE CORRECT ITEM:

If you have received the wrong item, please contact us prior to leaving bad feedback or attempting to return. We will always make your order right. If the item needs to be returned back to us due to our mistake, we will pay all return postage to return the item back to us. When contacting us please provide UPC and Model Number off the wrong item you received to speed up the re-order process. NO reorders will be processed without this information.

DAMAGED ITEM RECEIVED:

If you received an item that was damaged in shipping you must be able to provide proof of damage if requested. This proof may be in way of pictures of item, packaging and shipping label. If this information cannot be provided then claim cannot be processed. You must contact us within 3 business days for damage claims. Once we are contacted and have proper proof of damage we will file claim with shipping carrier. This process takes 3-5 business days for claim to be processed.

DEFECTIVE ITEMS:

If you have a item that may be defective, please contact our returns department for instructions on returning. Defective claims can only be made up to 30 days after receipt of your order. Once we received the item we will inspect the item and issue a full refund. If we determine the item has been abused, mishandled or altered a refund will not be issued.

HOW TO RETURN AN ITEM:

YOU MUST CONTACT US for a RGA number (Returned Goods Authorization). Call us at 858-909-2111 or message us through eBay to obtain this number

BEFORE

shipping your item back. Returns without this number will not be processed. Then send your item back to us with a copy of the original order. Customers are responsible for all return shipping costs. Once the item is received and processed at our warehouse we will issue a refund for the merchandise amount as stated in above return policies. Please allow up to 7 business days for your return to be processed once it is received in our warehouse.

SPECIFIC ITEM EXCEPTIONS:

DVD's & Paint products are not returnable. If defective or damaged they will only be replaced. We must have picture documentation of damage sent or emailed to us on all paint related items in order to authorize a replacement order or return authorization. In the event you are asked to return you paint item it cannot be returned via USPS Mail.