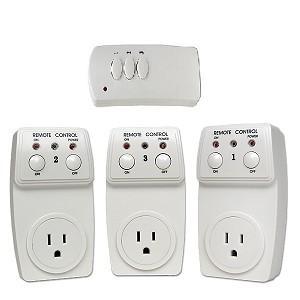 3-Pack Wireless Remote Control AC Electrical Power Outlet Plug Switch 1200 Watt



Super Fast shipping
Overview:
Condition: Brand New

Warranty: One Year Warranty

In Stock and Ships within 24 hours
Product Description
Payment
Shipping
Returns
The 1275 Remote Controlled Switch Sockets are ideal for the remote operation of many electrical devices, including lamps, appliances, tools and more. It even works
outside!
The remote control and power sockets are fashioned in a sleek pearl design. BATTERY INCLUDED. Save your time, gas and a few dollars. You DO NOT need spend
extra money to buy battery. You are ready to go whenever you receive your order. Don't let your low budget poorly operate your life. Get your 1275 Remote Controlled
Switch Sockets today!

General Features:
Remote controlled outlets
Turn lights on from anywhere (even outside)
433.92 MHz frequency
100-foot range
Works through walls, floors and doors
Great for use anywhere in your home
Three (3) Single 3-prong outlets
120 v 60 Hz voltage
10 A current
Very low consumption:<1.8w
Digital codes, no interference
With children protection
With LED indication lights on each socket and transmitter
Max power for each socket: 1200w


Package Content:
3-pack WIRELESS REMOTE CONTROL OUTLET SWITCH 1200 Watt
Remote control

12-volt battery for the remote

Warranty: 1 Year

This item comes with one year warranty supported by HLfactoryoutlet6. If you have any problems with the item, you are guaranteed a replacement within the one year warranty period. If no replacements are available you may choose a full refund or store credit. If you have and questions or concerns please contact us through ebay message.