WinFax PRO faxing software for Windows
Chances are your looking for some fax software for your Windows based computer. WinFax is a good choice, its the most recognized Windows desktop software for faxing for over 20 years, it has many features, outstanding management capabilities, and is very easy to learn. We don't sell WinFax PRO, but we've created this guide for those who you are planning to buy or are currently using WinFax PRO. Before you bid on an auction for WinFax PRO software on eBay, I'd recommend you read the following guide, so you know what you are buying and you know what you will require to use this software. We have over 20 years experience with WinFax PRO and offer our recommendations and tips in this guide. We hope you find this guide to be informative, and useful. If you require any technical support on WinFax PRO, we can help you with our remote support services. Contact us or GetFaxing.com for any special offers we might have.
Some WinFax History
WinFax was developed by Canadian software developer Delrina Technology in 1990. Later versions were known as "WinFax PRO" to differentiate from a 'free' bundled version called "WinFax LITE". Delrina sold millions of copies worldwide, and its "WinFax LITE" software was bundled with virtually every name brand fax modem sold. WinFax propelled Delrina to become one of the fastest growing technology companies in Canada. The WinFax software allowed Windows based PCs with fax modems to easily send and receive faxes using a standard telephone line. It included a easy to use interface and advanced features not found in many competing products at the time. Delrina's success caught the eye of software giant Symantec, and the company along with the rights to WinFax PRO was sold to Symantec in 1995.
Symantec continued to develop and update WinFax PRO until late 2001. It continued to be sold for over 5 years until it was officially discontinued by Symantec in June 2006. Technical Support from Symantec ceased in August 2006 and no new versions or updates were ever released by Symantec.
Fax Software vs. Internet Fax
What is the difference of using your computer to send a fax with fax software such as WinFax PRO (and a fax modem) vs. using your computer to send an internet fax? The end result is the same, you've sent (or received) a fax, but the route the fax takes to get to its destination is very different. Using Fax software with a fax modem is the same process as using a standard office fax machine, the only difference is your using the computer to send or receive the fax and the fax modem handles the dialing of the fax number and converting the fax page to an analog signal that travels across the telephone line to the other fax machine. With fax software, you have a log of your existing sent and received faxes. You can view and print only the faxes you want. If you need to send a batch of faxes, it is also fairly easy to do. This is not true with a standard office fax machine.
With Internet Fax, you're not actually sending (or receiving) any faxes. All you're doing is sending a file (your fax pages) to someone else, (either by e-mail, or by another internet protocol transmission such as http: or ftp: and having that third-party handle converting the file to an analog signal so it can be transmitted over a telephone line. While internet fax is convenient, these services charge you by the page and a bill you a minimum monthly fee whether you use the service or not. Within a few months, you've could have already paid for fax software and a fax modem purchase. When you use your own telephone line and fax software, you don't pay by the page or any monthly fax service fees. With fax software, your faxes are delivered to you securely, as no third-party has access to them and you have a method you manage and archive your faxes in a central location.
Free WinFax PRO Updates, Upgrades, Support?
Since the WinFax PRO software is discontinued, there are no future upgrades or updates to the software. There is a LiveUpdate (Symantec's automatic update software) feature in WinFax PRO, but it does not automatically update your version of the software. Live technical Support from Symantec is also no longer available, and the only source of information for WinFax PRO is what is available from their on-line support knowledge base or third-party Web sites such as GetFaxing.com. So be prepared to solve problems yourself on-line, or with the help a third party Web site, or support service such as the WinFax PRO community support forums at getfaxing.com/forums
Download WinFax, Counterfeits, Google WinFax Search Spam
All retail versions of WinFax PRO 10 included a manual and were sold with the official "yellow" cardboard box. If the auction your looking at doesn't include a manual or box, the CD might be counterfeit, especially if the seller has multiple copies for sale. Symantec in the past has sued many vendors who sold illegal copies of their software. Be aware of what you are buying and what you will receive. Lots of sellers like to include a picture of the yellow box shot of WinFax PRO in their auctions, and many auctions use the wording "SEALED", but you only end up receiving is sealed CD-ROM in an envelope sleeve. Many sellers also claim your buying the "OEM version" but the WinFax PRO 10 (PRO version) was never bundled with specific hardware, so there are no OEM versions of WinFax PRO 10. (There were some BASIC Editions that were bundled with hardware, but these were feature limited)
There are some exceptions and many eBay sellers are legitimate. Loose sleeve CDs may be legitimate software that was never put into a box for retail sale, used for volume licensing sales, some one selling a copy that lose the box and manual, etc. Its very difficult for you to determine how the seller obtained these CDs, so you might want to ask them. Look at the eBay feedback rating and comments to see if they've had any complaints before bidding. Asking the seller for a photo of the CD they are selling is also one way to determine if the CD is counterfeit or not.
Below are pictures of counterfeit and questionable WinFax PRO 10.02 or WinFax PRO 10.03 CDs, notice the silver color is flat matte finish (non-reflective). This is the easiest method to spot a counterfeit CD, when photographed you'll usually see a rainbow color reflection in the silver portion of the CD. Also, all WinFax PRO CDs are printed with 10.0 version number. If the CD is printed with any other version, it is a counterfeit. The 3rd image below appears to be a good quality duplicate, but notice no codes around the inner rim of the CD-ROM? and no reflection, it is likely a counterfeit but a physical inspection of "raised ink" would be required to be certain. Take note that original WinFax PRO 10.0 and 10.01 CD ROMs have a different design that is much difficult to counterfeit (not shown here) and because of this, this is not counterfeited.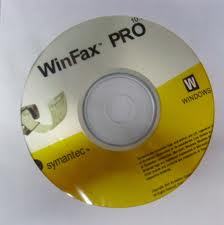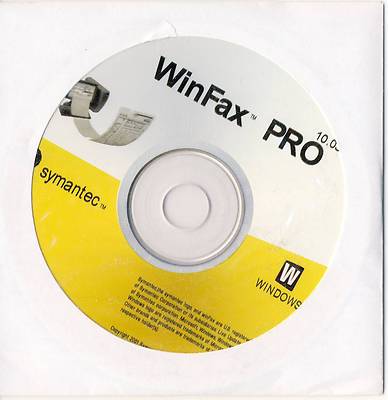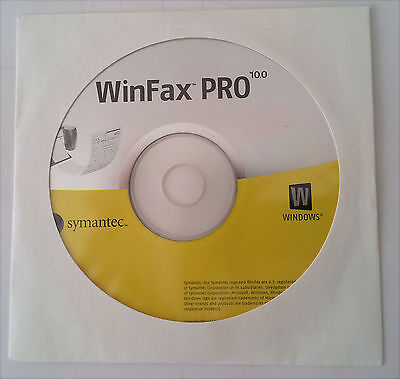 Below is a picture of a genuine WinFax PRO 10.02 or 10.03 CD . Notice the difference in the Symantec logo, and the reflective silver. The version correctly states 10.0 and not 10.03. (All WinFax PRO 10.0x CDs only display version 10.0)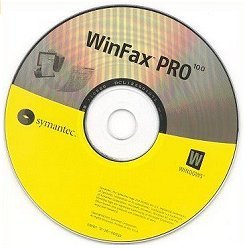 There is no longer any official download distributor for WinFax PRO, so any download that is available for sale is fraudulent. You should stay away from any vendor trying to sell you a download of WinFax PRO. Google is notorious for listing illegal WinFax PRO download sites when searching. Type 'winfax' in a google search and you'll get dozens of illegal and 'hacked' sites offering software downloads. For your protection, do not click on these links, purchase or download any files from these links. Many of these sites are legitimate sites that are unknowingly hacked as "doorway" pages so they get priority listings on Google searches. There is a good chances the software is infected with malware and they're after your credit card information.
Microsoft Windows 8, Windows 7, Windows 2008, Vista and 64 bit compatibility with WinFax PRO
If you're using Microsoft Windows 8, Windows 7, Vista, 2008, or any 64 bit Windows OS, you cannot use WinFax PRO. While WinFax PRO can be installed on the newer operating systems, it will not operate properly. The fax printer driver will not install in these operating systems (it's not compatible). The printer driver is the engine of WinFax, without it, you can't send faxes from applications. There are also several other problems such as system crashes while entering phone book data and install/uninstall problems when using one of these operating systems.
Here's our shameless plug -- An alternative is FaxTalk fax software. FaxTalk is a easy to use software package that is very similar to WinFax PRO. FaxTalk is compatible with both 32 and 64 bit operating systems such as Microsoft Windows 8, Microsoft Windows 7, Windows 2008, Windows Vista and Windows XP. A nice feature included with FaxTalk is the ability to import your fax phonebooks and fax logs into a "File Cabinet" folder, so you can still view your saved faxes from WinFax PRO in your FaxTalk software. For more information on this feature or for more details on the software please contact us. We're both FaxTalk and WinFax PRO experts, so we can answer any of your questions on importing the data over. We can also do the work for you. For more details on purchasing FaxTalk, please visit our eBay store or Web site at store.getfaxing.com
WinFax PRO with Windows XP
If you are using Windows XP you can use WinFax PRO. The latest and recommend version is version 10.03. Version 10.03 is the version if you require access to Outlook 2003 contacts. Other versions will not function properly with Outlook 2003 and can give you problems with your Office applications such as Microsoft Word and Excel. While 10.03 is recommended, it is not necessary. Version 10.02 has problems with the "Software Development Kit (SDK)", so if you plan on using WinFax with any other application integration such as ACT!, PackRat, or Fax Merge, forget version 10.02.
Version 10.04 is only required if you are using a Fax Sharing Host in Windows XP SP2 or SP3 ( but to update you require to have an English version 10.03 installed) We don't recommend using 10.04 for any other purpose. If you don't know what fax sharing is, you shouldn't update to 10.04. If you update 10.04 from any other version or non-English version, you will have problems.
Do not update to the latest version 10.04!
So many times we've assisted customers who had a minor issue, thinking they could fix the problem by updating to the latest version. The latest version is always the greatest right? In this case, wrong. Symantec released an update 10.04 (usually incorrectly listed as 10.4 on many web sites). This was the last and final update to WinFax PRO. This update only works with versions that are English, and are already at at version 10.03. The problem is the updater does not check for these prerequisites and installs the update over any version or language. So you now may have an actual problem with the software that isn't easily fixable without a messy uninstall and re-install.

Why would you need the 10.04 update? 10.04 was released to fix a specific problem due to operating system changes that were introduced in Windows XP Service Pack 2. This update worked around a problem that prevented fax sharing from working in Windows XP Service Pack 2 , and later, Service Pack 3. WinFax PRO Version 10.04 should only be applied to an existing WinFax PRO version 10.03 (ENGLISH LANGUAGE version only) with Windows XP if you are using Fax Sharing.
The only reason why you should have version 10.04 is under the following conditions:
you are using fax sharing with 2 or more WinFax PRO computers, that is, one of your WinFax machines is configured as a "Host" and another is a "client"
you upgraded to Windows XP Service Pack 2 or Service Pack 3, and fax sharing no longer works.
you currently are using WinFax PRO 10.03 that is English Language (North American Release)
Using WinFax PRO with Windows XP Service Pack 3 / Service Pack 2
Yes, WinFax PRO is compatible with Windows XP Service Pack 2 and Service Pack 3. If you've recently upgraded your Windows XP computer to include Internet Explorer 7/8, Service Pack 2, or the latest Service Pack 3, and you use WinFax PRO or TalkWorks PRO, you may have encountered a problem entering fax numbers in a phonebook. You may have also encountered problems entering a fax number, an IP address, or CSID (Caller Station Identifer - a fax number) during the installation or within the user properties setup of WinFax PRO. Visit getfaxing.com/forums for a solution
WinFax PRO 10 Version history
WinFax PRO 10.0 (released prior to Windows XP, it will install with Windows XP. Problems with Office 2003)
WinFax PRO 10.01 (short lived LiveUpdate for 10.0, fixed a few bugs, such as changing e-mail forwarding file type from .exe to .fxm, but generated some other bugs, because of this, it was removed as an update)
WinFax PRO 10.02 (officially planned Windows XP version. Problems with Office 2003 integration still, and also introduced the SDK problem which causes problems with third-party integration (Merge faxing with Microsoft Word, ACT! etc.)
WinFax PRO 10.03 (released to fix problems in 10.02 - much better, Outlook 2003 works without crashing. Still problems with Word macros)
WinFax PRO 10.04 (incorrectly listed as 10.4 on many web sites, it was released as an update from version 10.03 English language only, fixes the security settings in Windows XP SP2 only for use with Fax Sharing) Not recommended as an update unless you are using Fax Sharing and Windows XP SP2 on all computers.
What type of fax modem?
You'll need an analog fax/data modem installed on your PC for sending and receiving faxes. WinFax will not send "Internet faxes" for free using a DSL or Cable Modem. WinFax can be used to send internet faxes, but can only be done with a third-party company called Concord Fax which charges a fee for usage. (I don't think they still offer this service, but you could contact them for more details). Visit getfaxing.com/winfax for more details on using a DSL or Cable Modem with WinFax PRO
The three main internal components of any analog fax modem are the DPU (Data Pump Unit which contains the DSP-Digital Signal Processor,RAM+ROM), the MCU (Microprocessor control unit) and the DAA (Data Access Arrangement which is the portion of the modem that handles the telephone line connection) . Different types of modems will include the DPU & MCU either in hardware in the form of microprocessor chips on the modem itself, or emulated in software performed by the computer. All modems have a DAA as hardware but they are not all created equal. The actual functions of these components are not discussed in detail here, but we mention them so you can understand the differences between the different types of modems you can buy.
"SoftModems"
They're internal and sometimes found as external USB modems and can be purchased at computer stores or on eBay for very cheap or they come bundled with your computer. They work, but not always well with WinFax. They'll come with drivers that are specific for the operating system you are using (usually, this is Windows - many Linux users don't like softmodems for this reason). A "soft modem" is usually missing the DPU and MCU hardware that more expensive modems have built in. Instead of this hardware, the computer is used to simulate this missing hardware, this reduces the overall manufacturing cost of the modem because it uses less microprocesser chips. Why do you think it only cost $10? Some people might have had a bad experience with a "softmodem" and will tell you these modems are junk, but the truth is these modems can and do work if you have a fast computer and the drivers are installed correctly. We have many of our customers working well with these types of modems, so if you've already have one of these modem installed in your desktop or notebook, you can give it a try. You might be successful, just be aware that you can probably do better with the "controller based" or "controller-less" type modem described below. If your sending and receiving a serious amount of faxes while working on your computer doing other tasks, you might want to look at a better performing fax modem. Usually around $20.00 price. PCTel, ESS, Conexant Soft56K, HSF, U.S. Robotics 5670 are all softmodems.
"Winmodems"
Winmodems are often refered to as being the same as "softmodems", but this is not true when dealing with U.S. Robotics types modems. U.S. Robotics came out with the first "WinModem" in the late 90s, and they own the trademark to this brand name. So legally, other modem manufacturers can't call their modems "WinModems". A U.S. Robotics brand "WinModem" is usually a controller-less type of modem. If a modem is a referred to as a "WinModem", and is not a U.S. Robotics brand, you can be sure its really just a "softmodem". I expect because of this consumer confusion, U.S. Robotics has dropped using the name "WinModem" for newer models of modems they manufacturer.
"Controller based" modems, often called "Hardware Modems".
All external modems which use the serial port connection (usually 9pin or 25pin) are Controller based modems. Also often called "Hardware Modem". The processing is done all within the modem itself, and not the computer. These modems have the DPU & MCU built into the hardware so you don't have the computer worry about these tasks. These are the best types of modems. You can also purchase internal versions of these modems in PCI or PCIe format, but they are a rare find as few manufacturers make these. Found new at around $50 and up for external, internal hardware modems PCI/PCIe $70 and up. U.S. Robotics 5610 is a controller based internal fax modem.
"Controller-less" based modems.
A controller-less based modem off loads the MCU to the PC. This lowers the overall cost of the modem but keeps the DPU on the modem itself, so it's one step below performance of the Controller based modem, but well ahead the "Softmodem" design. Many internal PCI modems manufactured today are "Controller-less" based modems, unfortunately, these aren't the modems that usually get bundled with your PC. These are a popular choice for those who don't want an external based fax modem. These modems are sometimes also referred incorrectly as a "hardware modem" when compared with a "softmodem". Found new at a price range from a low of $30 and up. The Conexant HCF type fax modems are controller-less and U.S. Robotics "WinModems" are controller-less.
How can I tell the difference between types of modems?
A "softmodem" is fairly easy to recognize, its the one that is small, compact, and might only have a single-chip on the entire fax circuit board. If the driver name has the words "Soft" , "Flex", "HSP", HSF" its likely a softmodem. Most manufacturers of softmodems will not mention anywhere in their marketing material about it being a "softmodem", so you need to look a the driver, or the modem circuit board, or do some research on the specificiations of the fax modem from the manufacturer. External USB modems also fall into the "softmodem" category, but some external modems have both USB and Serial connections which could be controller based fax modems.
Internal Controller-less and Controller based fax modems usually will have a few microprocessor chips on the fax circuit board, perhaps 2 or more microprocessor chips. They are usually larger in size when compared to a softmodem. Most manufacuters who make these modems make sure their marketing promotes the fact they are "hardware based" fax modems and can get a higher price tag because of this.
External controller based fax modems are easy to recognize, they're external, require an added power supply, and connect to the computer via RS-232 (serial type 9 pin or 25 pin) connector.
When in doubt, find the model number of your fax modem, and if possible, contact the manufacturer for specifications of the fax modem.
Look for an old fax modem on eBay
For faxing requirements, older 28.8kbps and 33.6kbps fax modems are just as good as the new 56kbps ones. Remember this speed is for the "data" portion of the modem, not the fax, which is standard at 14.4kbps. The max fax rate that you can transmit with WinFax is 14.4kbps, so these fax modems work fine. Older modems manufactured in the mid and late 90s (Hayes, Supra. U.S. Robotics for example.) are good for use with WinFax and eBay is a good source to buy used, older 14.4kbps fax modems cheap. Unfortunately, many older internal modems use the old ISA bus which all modern computers have abandoned, so you want to avoid these because they just won't plug into a modern PC with PCI slots. Internal controller based PCI modems are good if you stick with those that are "controller based" or "controller-less". Rockwell based (now called Conexant) chipset are recommended, but external modems using the standard 9 pin or older 25 pin serial port work best. The fax standard is 14.4kbps, so an older modem will perform the same speed as a new one when using WinFax PRO. Some newer USB fax modems, like the Conexant also work well with WinFax PRO.
2 modems in one computer
WinFax PRO will support up to 2 modems on a single PC. If you need to have dual modems, I'd recommend ensuring both modems are different, otherwise, you may run into difficulties. Two external controller based modems are best, or one external controller-based and one internal controller-less. You can try two controller-less modems, but make sure they are different models/manufacturers. Never use two softmodem based modems or two USB fax modems on a single machine, you're just asking for trouble!
Fax Merge/Fax Broadcasting/Sending Bulk Faxes
Yes, WinFax PRO can receive faxes but one of the most common uses of WinFax PRO is to send many faxes, called a fax merge/fax blast, or fax broadcast. You might have a fax that you need to send to each of your customers or clients on a weekly or monthly basis. A properly configured WinFax PRO is perfect for this type of job. A fax merge allows you to personalize individual faxes to your clients.
Hope this guide helps, and good luck with your faxing needs!