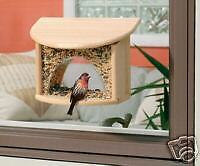 Birds like to have their feeder in a quiet, yet convenient area that has easy access all year around. When the weather is bad, you may be reluctant to refill the feeder, however that this is probably when the birds need you the most!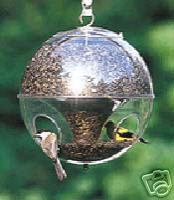 The best place for your birdfeeder is near natural cover such as trees or shrubs. By placing the birdfeeder near shelter you offer a place where the birds can hide from predators while waiting for their turn to feed. Evergreens are particularly good because they provide excellent cover year-round.
Try choosing a tree that isn't easily accessible to cats who will use any surface as a launching pad to catch your birds. Squirrels can use almost any surface to jump onto a feeder in order to fill it's cheeks with seed. Squirrels can jump up to six feet straight up, and even further horizontally to reach a feeder that is full of fresh seed.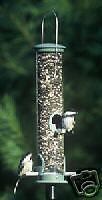 You also need to consider the mess that magicly appear under feeders. Expect feathers, seed shells, and droppings and select a location where clean-up will be easy.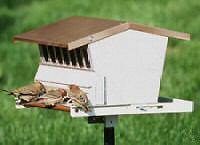 If you have squirrels in your neighborhood, expect these unwanted visitors to arrive shortly after you've placed your new feeder. Squirrels especially love sunflower seeds and peanuts. You should invest in a squirrel proof feeder.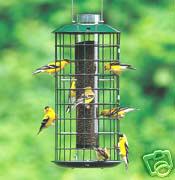 Be sure to clean your seed feeders at least once every two weeks to prevent spoilage and disease. Often seed can become moldy, and diseases such as salmonella can grow in moldy, wet seed. If you have a hummingbird feeder, be sure to clean it at least once per week.
If you haven't purchased your feeder yet perhaps you would like to see our guide on Types of Bird Feeders.
John Patrick, Bird Oasis
How to be the best blue bird landlord
The Migration of Wild Birds
A Winter Spa For Birds
Attracting More Birds wtih Window Birdfeeders