So many rubber ducks.
Perhaps you are overwhelmed with the plethora of rubber ducks available today? There is no need to pull out your hair, because there is a perfect ducky to represent your innermost feelings and carry the symbolism, meaning, and poetic justice that only rubber duckies may fulfill. Whether you are a collector or a gift giver, this useful guide will help you find the perfect rubber duck. Hopefully I can shed some light on the subject of rubber duckie selection accompanied by random thoughts about rubber duckies.
Brief History of Rubber Ducks Throughout history, civilization has yearned for friendship and nothing demonstrated friendship more than the production of the rubber ducky. In the 1800s the processes and equipment were finally invented that gave rise to the spectacular rubber ducky. No one is certain where the idea came from, but today the rubber ducky is a pillar of American pop culture. Rubber Duckies adorn the baby nursery, the dining room, and the bath areas. They have become extremely popular table and bath decor. From gifts to collectibles, rubber duckies have been designed to fit every occasion.
The rubber duckies of today come in all sorts of costumes, there are flag waving, military parading, and halloween dressed duckies. Each one brings a special sampling of adorability with it. Most of your purchases of rubber ducks should revolve around a theme. The following pictures and comments will assist you in finding the perfect duckie for your special occasion.
The Luau Rubber Duckys
These ducks specialize in pool parties, Luaus, Hungies, and any celebration that involves all things Polynesian. The Leis, hibiscus flowers, goggles, floatation devices, grass skirts, and classic flower shirts, make these rubber duckys the stars of the party. Excellent for the celebrations near water.
The non-political-party aligned Rubber Duckys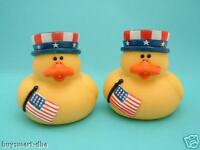 This special group of ducks represent the patriotic spirit of America. Their cute campaign hats and courage are a tribute to the bravery and liberty that we all enjoy. Who knows if they are Democrats, Republicans, Libertarians, Conservatives, or Liberals? But whatever they are, they look great at any party that has to do with Presidents Day, Caucus Meetings, Governorships, election races, Mayoral debates, Senate meetings, and Judicial hearings (I still think Judge Samuel Alito would have had an easier time at his Supreme Court hearing if he had given Senator Ted Kennedy and Senator Orrin Hatch a patriotic rubber ducky). These also go well with fireworks on the 4th of July and New Years Day. May God bless America!
The Military Rubber Duckys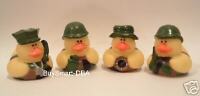 These military duckies wear classic military gear from World War II and Vietnam era. From the Boonie Hat to the Officers Cap, these military rubber ducks represent the Army, Navy, Marines, Air Force, and (if we refer to the compass carrying ducky) the Coast Guard. One sports dog tags, another carries a walkie talkie. We are grateful for our soldiers and for the work that they do. These are perfect for the military family. Whether your military personnel are coming home or heading off, these duckys help lighten the mood. Adorn your table, the cake, or sneak them in their gear, these duckys will represent your thoughts.
The Trick-or-Treating Rubber Duckys
Now don't be frightened when these costumed rubber duckies knock at your door. With all the classic costumes, these work great during October. Halloween parties will rock with these ducks paddling the punch bowl.
The glow-in-the-dark mini trick-or-treaters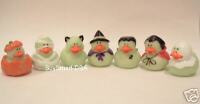 This selection of glow-in-the-dark rubber ducks are a bit smaller than the other ducks. These are perfect for trick-or-treat candy - well, replacement for candy anyway. If you are tired of assisting in the obesity of children, then get these for your Halloween candy.
The Irish Rubber Duckys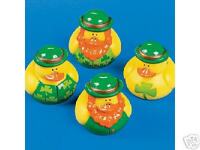 With golden beards, four leaf clovers, and derbies, these Irish Rubber Ducks will aid in the St. Patrick's Day celebrations. I can almost hear them singing their sweet Irish songs.
The Swashbuckling Rubber Duckys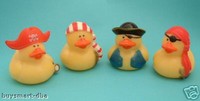 Perhaps you've seen the Pirates of Penzance? These pirates are great for the bath tub. Yo, ho, ho, and a bottle of rum. From the captains hat to the eye patches, these rubber duckys have traveled the world.
The Athletic Rubber Duckys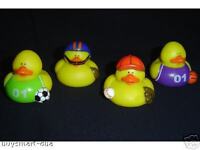 I have always imagined these ducks at some Elementary, Junior High, and High School celebrations. Whether it is T-ball, soccer, baseball, or football, everyone's a winner when their trophy is a rubber ducky. Perhaps instead of pouring the gatorade on the coach, a large bag of rubber duckies would be a great alternative?
The Pilgrim and Native American Rubber Duckys
A chief, a squaw, a turkey, John Smith, and a pilgrim woman make up this selection. Aside from the Thanksgiving shindig, these ducks are just too cute to overlook.
The "Love is in the Air" Rubber Duckys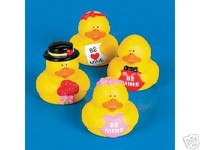 Love is in the air and pleads for some attention. Well don't just sit there, these flower and valentine bedecked rubber ducks shout "I Love You" (not literally of course, but more because of your thoughtfulness in searching out something out-of-the-ordinary). Who can resist the bowtie or ribbon in her hair? With a bunch of roses, love is at the door.
In conclusion, for every occasion there exists the familiar, friendly, and energetically dressed rubber duckys. There are many more collections to be had. When you think of a sensitive, sweet, and loving gift or collectable, you should think rubber ducky. Ernie would be proud!
Rare facts about the Rubber Duckie:
1. Queen Elizabeth II had a rubber ducky that wears a blow up crown.
2. The largest rubber ducky collection in the Guiness Book of World Records had 1,437 unique rubber duckys. It's never too soon to start.
3. Rubber duckys love to live in flocks. So fill the bathtub and get your collection going!
This page is brought to you be the people that love rubber duckies.