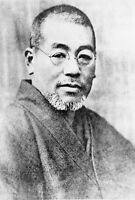 What is Reiki?
Reiki (ray key) is a natural healing technique that feels like a flow of high energy into and through a Practitioner, out the hands, and into another person. This non- denominational healing art is thought to have originated thousands of years ago in Tibet. Reiki was re-discovered by Mikao Usui, a Japanese man, around 1914.
Mr. Usui tested his new found energy on his family and friends then took the resulting process out to the Japanese public. He travelled to Tokyo and began healing and teaching others.
"Rei" can mean spiritual intelligence; "Ki" can mean life energy (the same as "Chi" in Chinese). Thus Reiki is often described in the west as "spiritually guided life force energy".
As each color in the rainbow is actually a different frequency or vibration of white light, the Reiki ray can be considered a range of vibrations of the Universal Energy or The Light, but perhaps a range that is beyond the normal access of each individual.
What is the history of Reiki?
The origin of Reiki can be traced back to ancient Tibet, thousands of years ago. This technique was rediscovered in the early 1900's by Dr. Mikao Usui of Japan.
Dr. Usui spontaneously received the gift of Reiki during a meditation practice on Mt. Kurama.
According to history, Usui spent seven years working in the lower class district of Kyoto. Kyoto is a religious centre and a former capital city. Apparently in most Japanese towns and cities, people on the street are taken in and cared for and each family looks out for its own. So the story about Usui working with the beggars may have been stretched a bit, or just misunderstood in the West. Although Takata said Usui was a Christian monk, the Japanese claim that he was a member of a spiritualist group named "Rei Jyutsu Ka". This group had a centre at the base of the holy mountain, Kurama Yama, just west of Kyoto. They have since left this site and another group occupies it now. Yama translates to mountain and Kurama translates to horse saddle. There are 2 shrines on the mountain; one at the top and one near the bottom. The shrine at the bottom is a very large statue of the Amida Buddha with its base placed well below ground level. Steps lead down to the base where one can sit and meditate. This may have been one of Usui's meditation sites.
Usui did teach lay people. In 1925, a retired naval officer and doctor by the name of Chujiro Hayashi (at the age of 74) took the training from Usui. It may have been this act of creating teachers outside his movement that caused Usui (and Hayashi) to develop an attunement process. A Canadian Reiki teacher named Dave King spent some time with one of Hayashi's surviving masters, Tatsumi, in April 1996. He was allowed to trace copies of the 4 Reiki symbols in Hayashi's handwriting and he also learned Tatsumi's attunement process. This process is shorter, but similar to the one currently used by the Japanese group. Dave was also invited to spend time with the Japanese group of masters during his stay in Japan.
Usui taught a couple of other naval officers by the name of Jusaburo Giuda and Bo Taketomi. The few hand positions he taught stopped at the midsection of the body. The additional hand positions were added by Hayashi to accommodate the 2 Practitioners-to-a-client style that he used in his 8 bed clinic. Initially, Usui may have only layed hands on wherever the person had pain. Since the Japanese had rediscovered and were using the ancient art of Chinese acupuncture (and acupressure), the hand positions seem to evolve around the body's energy channels and pressure points.
Mikao Usui passed away in 1996.
What is a session like?
A standard Reiki session includes placing the hands above, or on, the head, shoulders, stomach and feet. In addition, other positions may be used for specific conditions the client may have. Each position is held 2 - 5 minutes.
A session creates a wonderful radiance that is deeply relaxing and includes many beneficial effects for both client and Practitioner. At the very least, you will feel very relaxed during a session, often to the point of falling asleep.
What can be treated?
In oriental cultures, healing disciplines like Reiki may be applied to healthy people as a preventative method. However, Reiki may also be used to assist you in returning to a state of health.
Reiki is both powerful and gentle. In its long history of use Reiki has aided in healing virtually every known illness and injury including serious problems like cancer and heart disease as well as skin problems, cuts, broken bones, headaches, colds, sunburn, insect bites, insomnia, lack of confidence, etc. Reiki can also be used to relieve stress, to overcome unwanted habits, to achieve desired goals, and to protect from harm. Many Reiki Practitioners have found that plants and animals also respond well to a Reiki session.
How does Reiki work?
Reiki is an amazing energy that comes from the highest spiritual source. It has its own intelligence and knows exactly where to go and what to do. It is multi-dimensional and will heal the cause of a problem on whatever level it may exist - body, mind, or spirit. It does not have to be directed by the Practitioner.
Because it is a channeled healing, the Reiki Practitioner's energies are never depleted. In fact, when giving a session, the Reiki Practitioner is healed as well and always experiences an increase in life force energy.
How do crystals work with Reiki?
You can clear, infuse and charge crystals with Reiki energy. Reiki empowers the crystal, the crystal amplifies the Reiki. Infusing crystals with Reiki is a great way to share this healing energy with others.