Recently there has been increased interest in the textile art of Felting, although it is really an ancient craft used for centuries, for processing wool into a finished cloth. As early as 5000 B.C. civilizations used wool they sheered from herds of Sheep, Alpacas and Lamas, to make durable and warm clothing like hats, mittens, boots, blankets and coats from felted wool.
The technique of felting, or the process of shrinking and bonding wool fibers together, through heat, agitation and moisture, causing the microscopic scales on wool fibers to interlock and tighten together, forms dense cloth with a soft texture. The two common methods of felting are 1) Needle Felting and 2) Moisture Felting. There is also a third type of felting, the manufacturing of industrial grade felt, which includes chemical treatments and machine processing to create highly durable felt materials for industrial applications.
Needle Felting:
The fine art of needle felting involves working with roving, or strands of raw wool fleece often used in felting and spinning projects, and using special barbed felting needles, piercing the wool, along with manual compression, to create the interlocking or matting together of the wool fibers. Needle felting artists create beautiful sculptures and handcrafted stuffed animals, dolls and toys, as well as felted material for clothing, accessories and home decor'.
Moisture Felting:
Moisture felting, or the water method of felting includes the application of heat from warm or boiled water, soap, and agitation through washing and pressing, either by hand or by machine, that casues the natural wool fibers to intertwine and shrink together to form a tightly woven cloth. The washing machine method has understandably become very popular with home crafters because of the convenience. In the washing machine process, soap, and sometimes a small amount of baking soda in the water, help wash the wool fibers, and other items placed into the machine at the same time help provide agitation, along with the wash cycle. This is nice for people working with recycled fabrics, denims, jeans, old woolen fabrics, because usually items can be washed together.
Knitting, Crocheting and Felting:
Felting knitted and crocheting pieces has recently become so popular it can be considered an art form in itself. Washing a knitted or crocheted item or clothing accessory until it shrinks and the wool fibers mesh together creates a more durable and lasting cloth with enhanced texture. Some knitted pieces may require several washings before they achieve a felted texture. Merino wool is generally considered one of the easiest wools to felt. After washing, the item is them shaped and dried, known as Blocking. The many books now available offer patterns in knitting and crocheting that give instructions for making clothing or accessory items like purses, totes, hats and scarves, and estimating the finished size items will turn out once they have been washed and felted.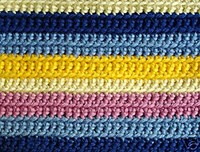 A crocheted piece in 100% wool yarn before felting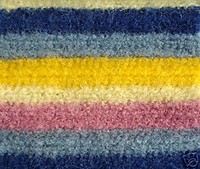 After felting with meshed weave and enhanced wool texture
A favorite beginners felting project: a holder for hooks and needles
Craft Store "Felt":
There is also one more variety of "felt" that we are all familiar with, although it is not really a felted wool textile. Craft store variety felt, often found in square sheets and on bolts like fabric is a 100% synthetic fiber material.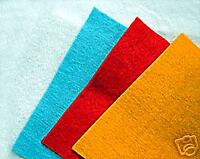 Craft felt is machine processed and compressed together. If you look closely at craft store felt you can see the strands of synthetic fibers that have been compressed together, and it has a waxier feel than wool felt. It is similar to other felt materials in that it can be trimmed and shaped and the edges do not fray. It is ideal for crafts because it is a very inexpensive material to work with and available in many bright colors, which makes it ideal for children's projects, costumes, decorations etc.