Wharfedale Glendale XP2,
3-way bookshelf speaker, 10 inch light coned air suspension woofer, sealed box. Heavy to post, prices on eBay climbing. Not pairs as only 'mirror image' are real speaker pairs, tweeter and mid range are not on opposite sides of the baffle as in a pair of shoes, tweeters are best on outer sides. In room corners it's possible to reflect Glendale XP2 sound off side walls, tweeters inner, one speaker turned upside down! Dome tweeter XP2 give wider dispersion than earlier cone tweeter XP3 and 2XP versions. Obsolete side by side tweeter and squawker like the Wharfedale W45 developed from 1960s 'double tweeters' spreading sound more like a horn (shown in the DECCA AL1500 below), cone tweeters like the mesh covered paper cone tweeter in the older, rave reviewed, 2XP and 3XP have narrow dispersion like the whizzer in 'twin cone' speakers. After
REALISTIC
hid their tweeter under a mesh to help improve its dispersion, Wharfedale moved on from the W45 to a mesh covered 2XP cone tweeter, these had a more pleasant sound than the wider dispersion XP2 hard dome. Glendale XP2 has real deep punchy bass of grander scale than smaller woofer, Linton and Shelton models, the Linton still real popular. Glendale XP2 make great Country 'n' Western speakers with the
REALISTIC
STA-2000 receiver and you'll even be amazed at your old Country tapes, hearing new echo, music coming alive as if you're listening in a Club, you'll need a good cassette machine like a Technics M260 set for head/track alignment. Glendale XP2 suit Sansui DC Servo amplifiers at 4-16 ohm, Sansui AU-D7 are 8-16 ohm, Hitachi HA-330 a good 2XP amplifier!
REALISTIC
Optimus X
-30 beside the 1970s DECCA London AL1500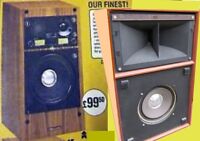 The Optimus X-30 bass unit has an
aluminum 'presence dome'
like 1970s DECCA AL1500, a feature of high power disco speakers of the time, Amstrad 'TS' Systems were quick to catch the market with chrome polypropylene 'presence dome' speakers that Amstrad likely made a 'cheap look' feature. Like SONY, Amstrad in the UK, were prized on their value, followed by bitter disappointment in early failure, unreliability and poor after sales service. DECCA Kelly MK.X 8 inch woofer in larger baffle improves bass quantity and quality, an idea from the olden days of wood cabinet audio! X-30 has ten inch bass unit to smaller baffle size than DECCA but is chosen to sound fine in the smaller space!
REALISTIC
were supported by service for 7 years after sales, SONY and Amstrad trashed after only 1 year! SONY VFET amplifiers suffered a number of major quality defects, the heat conductive paste on output transistors failed, drying out, the output transistors destroyed, many of the power diodes failed quickly or one obsolete transistor in a audio stage would stop working losing one stereo channel! Remaining Sony VFET offered on eBay are a lucky few not used for disco parties, rarely played due to bad after market speaker choices or simply a better component set surviving by chance! Like Carver MXR-150, the SONY VFET is attractive in good working order but seriously flawed in production quality rather than in actual design. Like
REALISTIC,
SONY VFET sound best with same vintage catalog match speakers. Although many SONY sets offer great sound they're seriously unreliable and make for real risky eBay buys.
The Optimus X-30 is one of the world's rarest speakers, model ran for only a year before it was replaced by the
Optimus X-100
. A 10ins woofer like the Glendale XP2, X-30 has the brass voice coil boast of Mach One Cat No. 40-4024A and worked with a
REALISTIC
STA-2000 receiver. These speaker build materials affect the sound and model of amplifier partnered as do the X-30 x-over points being the same as the
REALISTIC
Mach One, though X 30 F.R. was only 30-25,000Hz. Oiled walnut veneer, cutting-edge technology gives a near flat F.R. dome squawker and dome tweeter with x-over volume knobs and V.U. pin meter warning of overload. Eagle, Goodmans and Pioneer feature on-board speaker power meters since many late1970s amplifiers had high power outputs compared to older amplifiers. But speaker power meters add unnecessary distortion, a distraction and worry. Like Wharfedale XP2, the X-30 series has smaller X-20 and X-10 versions, none over 40Hz lowest note. 8 ohm beats 6 ohm for lower distortion and less wasted power, X-30 was able to handle more power, was competitive on price and had a 5-year guarantee to Wharfedale's 1-year warranty! But the X-30 was almost twice the price of
REALISTIC
Optimus 1B, a speaker with F.R. 20Hz-20KHz!
Grilles on Wharfedale XP2 are not the most acoustically transparent and very hard to remove as hard dome and other speech domes got squashed by children at home or in-store. The Optimus X-30 has brown grille cloth like the XP2 but the baffle is not recessed, the X-30 is relatively free from recessed baffle, diffraction distortion. Grille transparency is a selling feature, squashed speech domes remove a resonating cavity - meant to improve speaker tone. The 'rubber edge' on speakers have developed from 1960s EMI speaker research first using a P.V.C. edge called a 'memory suspension' on their 92390BP speaker, damping out unwanted 'ringing' from a previous 'in-out' cone cycle. In XP2 speakers the surround is a roll edge P.V.C. like EMI, rather than rubber. In the late 1960s 'foam surround' speaker cones were commonplace lasting only 20 years. Before eBay came to the rescue many foam edge speakers were discarded. Although the PVC edge doesn't rot, it's seen to distort with heat sources and become as useless, 'grille off' eBay pix useful.
Glendale XP2, 'Leak DEW' style 4" squawker, 'white dome' tweeter & Laser 100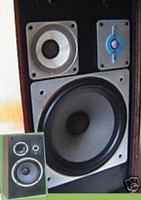 One thing about the Glendale compared with Wharfedale E series of the same age, is power level and quality of amplifier needed to drive Glendale at fairly low power meter readings as the Glendale is power hungry at 86dB SPL and 6 ohm impedance. Glendale need an expensive amplifier around 75 watts per channel, 20Hz-20KHz, with a good level F.R. 40 watts RMS per channel amplifiers are not good enough to power Glendale, the Sansui DC Servo series are '8 -16 ohm only' amplifiers, powering Glendale at 6 ohms and 45 watts, although getting hotter than with an 8 ohm load. The
REALISTIC
STA-2000 is a good Glendale receiver though the Optimus X-100 would probably be preferred. In the absence of Optimus X-100 the Glendale could be a good, more compact choice. White dome Glendale XP2 has a real powerful punchy bass and excellent treble bite, making it a great speaker for modern music. Although quoted only 50Hz-20KHz and 40 watts RMS, the Glendale sounds much better than most speakers given these specifications only it has to be working good. In an Australian post a Glendale XP2 is seen with smaller white squawker and replacement USA Cizek design, silk dome Peerless tweeters (needing a Cizek 'Q' x.o. network). To fit such a tweeter shows the owner thought highly enough of the original sound!
The Wharfedale XP2 hard dome tweeter is not a 'soft dome' like the squashy rubber Celestion kind. German studio speakers also have squawker and tweeter side by side, instead of nowadays, mostly in a plumb line for stronger straight line path or 'mirror' stereo images. Goodmans later made offset drivers on opposite sides of enclosures sold as mirror opposites in stereo pairs. KEF, a popular speaker in England for most of the 1970s had offset drivers not in mirror image pairs, offset are not best for stereo in the most critical of opinions.
Differences in Wharfedale dome tweeters show the black dome as near wall tolerant and the white dome as not wall tolerant, unless reflecting off side walls as already suggested. Details will be lost if the white dome Glendale is moved near a wall or room corner and not reflected toward the sweet spot. The AR 18 is a good near wall speaker, it's designed to back onto a wall, playing AR 18s out away from walls on stands will lack bass, it's 86db SPL like the Glendale XP2 but 8 ohm and at 48Hz -20KHz, given a lower bass note, although the actual bass sound is best compared in a side by side audition, 8 ohm 86dB is louder than 6 ohm 86dB! AR 18 foam rot and the Glendale surround doesn't foam rot, but instead near a heat source, the Glendale PVC suspension will lose its shape and become flat, the glue failing first, gives the speakers a rasping sound. If left for many years in a hot place without playing, the surround will be found to have uncurled and flattened straight out, then you need an eBay donor woofer, found only occasionally. But don't make the mistake of fitting the wrong woofer, only the original model works with the old drivers, cabinet volume and x-over.
Black Dome tweeter helps bass but White Dome offers much better efficiency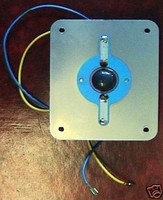 Pulling for spares:
When you pull tweeters for spares don't cut the wires half way! Keep the full length of wire by pulling off the ends at the x-over. Take care in removing the paper gasket that it doesn't tear if sealed into the baffle. Ease it off with a paint brush. Retain the gaskets as spares in removing these heavy tweeters.
WHY A DOME TWEETER? Wharfedale Blue have the purple 'fried egg' plastic of famous old style Wharfedale cone tweeters. Dome tweeters are a lot less sensitive but dispersion is real wide like a horn and a voice coil about twice the diameter of a cone tweeter has a higher power rating, the circular edge of the dome sitting on the voice coil former. Wharfedale Laser range ferrofluid-cooled soft dome tweeters have much higher power rating and lower distortion for more relaxed listening and clearer audio details. Many prefer dome tweeters but as they get squashed in, the soft dome is meant to recover its shape! Early troublesome thin single strand wires each side of dome tweeters easily got broken, or the glue blob came loose causing noisy tweeter sound. Laser series tweeters eliminate old soft dome-side wires, but their ferrofluid (like a light oil) is seen around the dome, leaking from the suspension if it's been squashed in, so rather defeating the purpose of Bill Hecht's original 'soft dome' able to recover its shape if squashed in!
Wharfedale E70 from the 'Efficiency' E series, had no REALISTIC 1310 tweeter know how!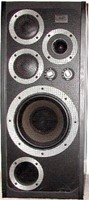 Look out for the Rank Wharfedale E series - E for Efficiency. Some folks say these had a good bass, the E90 was even made for Disco use!
E70 cone moved a great deal with little audible effect using the same maker, Rank, Leak 3900 also suited to the Rank Domus 350 speakers. Wharfedale E were a real stylish unit sought after by most but not 'top of the range' as eBay sellers often claim, just different from the XP or Laser speaker. The white 'Leak Sandwich style' squawker are a shared feature with some Leak speakers but not the hi-End Wharfedale Airedale SP, with driver trims like the Glendale. The 3900 is a twin-powered amplifier with two silver-top fully-shrouded transformers of tube-audio style, albeit Solid State. 3900A has a single powered black fully-shrouded transformer like
REALISTIC
STA-2000 which also has the double mono NEC 'Class B' OCL output and 75 watts per channel! Sellers get 3900/A mixed up, year of 1978, rated a real good tuner/amplifier combination. But like two stacked
REALISTIC
STA-2000s - defeats the advantage of a receiver and the F.R. of these powerful amplifiers is only 30Hz-15KHz - where any visual similarity of a
REALISTIC
1310 tweeter and Wharfedale E horns end. All Wharfedale 'E series' horn tweeters expire at 16KHz, just compare this to the XP etc or Laser series! Wharfedale E series are a quite separate range of speakers aimed at high sensitivity (or S.P.L.) customers but lacking the ultrasound "know how" of
REALISTIC
1310 tweeters that are also high efficiency!
REALISTIC
publish distortion at just 5 watts output for the STA-2000 and only 10 watts output for the STA-2100. This is where Wharfedale E speakers come in! Other amplifiers like Rotel are quite happy being operated at near full power, it just depends where the sweetest results are found!
Looking at the E70 above, it's not 'fitting as many speakers as possible into the baffle' as some clown guides suggest! The tweeter horn with its wide dispersion sits roughly between the two squawkers giving a more satisfying sound, one making it harder to tell where the individual driver sources are. The woofer has a cast basket like the
REALISTIC
Optimus 9 but is a bass 'ported reflex' design for higher efficiency, like the
REALISTIC
Mach Two. Some folks won't know the round silver trim at the base of the E70 baffle, is a hole throwing the bass along the floor, these holes are pipes of the bass reflex concept seen in the B&W P2H tower speaker. (See EMI speaker guide). These pipes make the speaker easier to drive but the cone and magnet need to be heavier, it's not an easy process to get right, some folks prefer the I.B. or infinite baffle (sealed box) bass sound of the Glendale. In I.B. speakers like the AR18, a light speaker cone is supported by a cushion of air pressure, giving a tighter deeper bass sound. Some folks claim the bass reflex gives a 'lumpy' sound, but it needs less power. Needing less amplifier power matters because the distortion of the amplifier increases with the volume knob position, this means you must look at the distortion of amplifiers, for the sweetest sound will be spoiled, if the amplifier match to the speaker is not ideal. It's important to know what kind of speaker and amplifier work best together, because amplifiers like car engines, have an ideal power delivery volume position. Some amplifiers are more flexible in this, just like engines but higher power amplifiers start to lose a certain sound quality, low power tube amplifiers like the Leak TL12 sound best but they're much more expensive than many high power tube amplifiers!
Below 1970 black painted KEF T-15 hard dome influences 1979 Wharfedale Shelton. Many folks in the USA never heard of KEF, they make the drive units for BBC LS3/5A speakers and began to take the place of BBC EMI Studio Monitors in the late 1960s. 'Hard dome' tweeters like Wharfedale XP2 'Blue' are dated since Bill Hecht's 'soft dome' was patented in the late 1960s, Wharfedale slow to come up with its ferrofluid cooled Laser soft domes, not as good at recovering their shape as the more domed Celestion Ditton 100, albeit that the top of the range 1980s SL6 had a hard dome.
Rare Wharfedale W30 D Mk II had these purple 'fried' egg cone tweeters.

Wharfedale's famous 'fried egg' cone tweeter with KEF T-15 and XP2 Shelton dome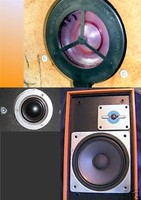 Pictures appear on the Internet with Laser 80, 3-way bass drive units in the Laser 60 box and Laser 60 2-way bass drive units in the 3-way Laser 80 box! The Laser 60 and Shelton both have similar 2-way 'blue cone' bass woofers seen in the Shelton picture
above
and the Laser 80 has a different light gray smaller version of the 3-way ten-inch cone bass driver, in the Wharfedale Glendale XP2 photo 3rd. above, but with an inside roll edge, not the Glendale outside roll edge. The Laser 60 and Shelton units are wildly punchy and being 2-ways, the plumb-line Laser 60 has quite a sound! But the Laser 80 is different, it is not as punchy and as a true light cone, air suspension unit, it is fragile and easily crumpled if powered outside the Laser 80's cabinet air loading. So be careful you know the units you buy are original, or known to be repaired units. The Laser 80 can sound quite good provided it hasn't been opened and the drivers are in good condition. But unlike the XP2, the Laser range driver plastic rim holders can make a buzzing sound with strong bass! The XP2 units have rubber washers seen in the picture of the Shelton driver second below, so they don't 'buzz'. The Laser range have no woofer gaskets! It's a bit like the
REALISTIC
Minimus-7, once you take that woofer out, the whole front of baffle gasket is spoiled! But you can make gaskets from sticky back felt, available in most dress-making stores.
Super 8/RS/DD 'Black Dome' late version replacement for early blue dome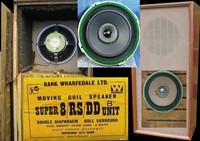 Single Driver speakers like the Rank Wharfedale Super 8/RS/DD above, have no network and they're for tube amplifiers which suffered from complex Output Transformer behavior mostly unsuited to complex networks. The cast basket is only 6 watts RMS but at 10-15 ohms is difficult for some 75 watt 8 ohm amplifiers. Value is affected by whizzer crumpling, the foam whizzer collar often turns to dust or cones are sun faded. Blue metal center dome early version has more metal in the magnet assembly, hiding the basket, its label is thin plastic, black dome final has thinner ferrite ring magnet and less metal in the assembly showing more basket,its main label looks like a metalized paper, check for speech dome dents affecting the ideal tone. Frequency Response is to 20KHz, a cloth roll surround and dust free assembly, 14,500 lines. Check for loose terminal board with intermittent connection. Difficult rebuild in front of baffle mount position is best for bass dispersion adding home made sticky back felt gasket, speaker back of baffle screw bolts are held by improvised threads, fitted during assembly. Original back mount routed out plywood baffle cutout, above, is best for bass quantity as it's more rigid. To improve front mount bass, thicken plywood baffle to 3/4 ins. Whizzer dispersion is best without a grille.
While not the official cabinet for the Super 8 RS/DD, the one seen above has an advantage of giving a 'long baffle', still with its 'partly open back' cabinet H24.75xW12x D9.5 ins. Below the driver compartment, newspapers or paper boards reduce the cabinet volume. Around the outer edges and upper rear panel of the enclosure is a gray type of wadding found in mid-1960s enclosures. The back panel is 3/4 ins. plywood with 5 x 1 cm (approx) horizontal slats, equally spaced down the bottom half, each about 9 ins. wide, sides are 3/4 ins. flakeboard, baffle is plywood, probably 1/2 ins. Gray wadding and slats on the rear panel can be seen in the picture, so slats are not behind the full range driver as in the official Super 8 RS/DD design, one for master craftsmen only, this enclosure likely a useful reference for pre-Thiele/ Small science drivers. Super 8 RS/DD has good, punchy bass, treble as good, real 'tube-like'. Cloth edge Super 8 RS/DD is a partial 'open back' enclosure, back panel a specific routed out pattern, critically affects performance. Seller thought speaker sounded good across the range, 'perfect to improve your tv, Hi-Fi etc'. -Japanese website shows a pair each side of a Pioneer widescreen television set with tube amplifiers.
The later "black dome" Super 8 RS/DD cabinet has a long baffle but empty box with a thick woven fabric grille held to its rear mount chipboard baffle by 8, dome head wood screws, one top and bottom center, with three equally spaced at each side. The back panel is routed out with 13 slats in half inch chipboard, bolted into metal tacked threads through hardwood inch square dowels behind which is the ubiquitous early 1970s, inch of yellow plastic foam, fitting neatly over all the sides. The 1970s combined binding post banana plug speaker terminals are fitted on a hardboard rectangle. Speaker is fitted as above, near the top of the baffle. No box dimensions, eBay Bulk Trader retrorecords064(752) didn't reply on that question. :(
Wharfedale Super 8 RS.DD are beyond expectations for size, they've been compared to a 'value' version of the Lowther PM6 dual cone. Critics on Google claim they 'ring like a bell' due to their vertical edge cone structure. With the Peter Tosh 'Bush Doctor' album, you'll get real powerful bass and sweet treble with super dispersion of highs despite what's said about whizzers. Castle Loudspeakers of England made a Castle Super 8 RS.DD version as their first speaker since they sold so well! It's hard to make a routed out rear panel cabinet and so often better to pay carriage on ready made enclosures than trying to make your own! Super 8 RS.DD cabinet on the internet and has to look the way it does, it can't be a modern Thiele/Small box or on a large open baffle! Some folks think it can still but Wharfedale owner Gilbert Briggs made the best enclosures for these drivers. Foam around the dual-cone, often missing, doesn't touch the main cone, it "dumbs" down the outer whizzer edge and may be reapplied with hobby shop self-sculpting foam.
XP2 electroplated drivers for kits differ markedly from ready built only Laser series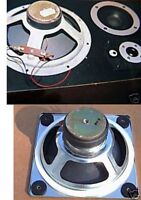 The kits Wharefedale offered in the late 1970s, featured the above electro-plated speaker chassis in a presentation box, but the production drivers were plated too. They were an attempt to compete in the more specialist audio market of the E.M.I. 13 x 8 and
GoodmansTwinaxiom
drivers! Well the Twin Axiom drivers were just awesome value for money but where were they to be found for sale? The Twin Axiom was not in quite the same category as some of the 1940-60s Axiom models, but it was superb. Be real careful if you find a home built pair of speakers, that they're not hiding some of these awesome Goodmans Axiom drivers and be real careful with the domes or whizzer cones in these types of drivers - they're not car audio units, they're far better! E.M.I. 13 x 8 were a little different, 319, 14 x 9 and 901 were studio speakers and E.M.I.'s studio desk mixing equipment, amplifiers etc, were finished in the green later used for these oval speakers. Studio speakers are different from Domestic Audio speakers, although the Wharfedale Glendale was used in some studios. The studio speaker has a wider frequency response and higher sensitivity, the E.M.I. 319 makes a good N.F.M. or near field monitor but its light cone degrades with exposure to dampness. The domestic audio speaker tends to have a poorer bass frequency response and lower sensitivity needing more audio power and giving a better sound in domestic rooms.
The drivers of the Wharfedale Laser series are pretty nasty. The soft dome tweeter is not very good and often leaks ferrofluid as a result of being squashed on display in the store. The Laser 80 was highly respected in its day as the looks of the Technics and J.V.C. amplifiers it was offered with, were among the best styled of all time! We're talking around 1982, with the smoke glass door Technics SU-V9 and its lesser cousins, each, just awesome as CD or vinyl disc amplifiers. The squawker of the Laser 80 (and 100) above is obviously the poor man's version of the Leak / Rank DEW, Habnetfabrik Dortmund 4". Rank is a corporation that bought Leak and Wharfedale, mixing the know how to boost sales.
XP2 all air core beside Laser range network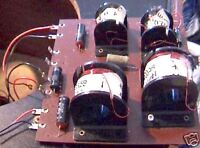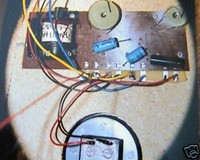 The XP2 x-over have a 1/4 watt resistor value depending on the model, not a very nice part of the speaker as quite noisy. It would mean that replacement with PHILIPS high stability type will improve sound, but the Glendale XP2 already sounds too good for most to be bothered with such an operation. This resistor is meant to make the tweeter noisy if the speaker gets a power peak, it will crackle and the owner is meant to think 'Ouch I better turn the volume down.' When burnt out the speakers have been thrashed in places where the owner would not hear the crackle, in shops and other public places used as background music speakers.
The x-overs in the older XP2 series are better quality but not foam damped like the Laser x-overs, this being an upgrade option. i.e. You put some foam sheet under the XP2 etc x-over boards to reduce cabinet vibrations to the x-over. The black polypropylene squawker developed by Laser technology in the first Laser series, has such a seamless x-over design, that it is very difficult to hear working, even with your ear right up against it!
Original Wharfedale Diamond best bang for the buck take on
BBC LS3/5A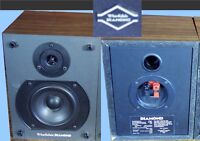 The first Wharfedale Diamond, a very special tiny speaker many years in development is more like the BBC LS3/5A in terms of the research put in, it was quickly discontinued! But this first Diamond partnered with a harman/kardon PM650 may be highly recommended for vinyl music lovers, using the
AR Belt Drive Turntable
and Shure M75EJII cartridge. Diamond Mk1. are not common on EBAY, better than
REALISTIC Minimus-7
and worth comparing, they need loads of power! Other good but power hungry small UK speakers like Royd are suited to smaller room apartments. Royd based on BBC LS3/5A aren't much seen in Canada or the USA, refer to the EBAY UK website for export.