Breakdown on Wakeboard Bindings
A lot of emphasis is placed on getting the perfect wakeboard, but not enough is placed on finding the perfect bindings. Bindings are just as, if not more, important than the board you choose. If you have a super responsive board and bindings that are oversized, you're not going to feel the board's responsiveness.
Knowing your situation is the key to finding the perfect binding. If you want a pair of bindings for the whole family, then it's best to go with an adjustable binding. When you are airing into the flats, spinning, or flipping, it's very important that you don't sacrifice performance for range. So when you are pushing it and going big, you need bindings for YOUR specific foot size. Below is our breakdown on the
six
major binding styles.
Dj's Tip 1: NEWT JUICE, NEWT JUICE, NEWT JUICE!!! Unless you're riding the most adjustable bindings on the market, you need binding lubrication.
We use Newt Juice because it's 100% biodegradable and doesn't break down bindings.
It's cheap and it will save you hours on the swim deck. Don't try to get into a binding dry, this will almost never work. Expect a bit of a struggle when getting into a good pair of bindings. Remember, your bindings are the only piece of equipment keeping you on your board, so a snug fit will be crucial to a good ride!

Djs' Tip 2: Bindings break in. Allow them a little bit of time like you would a new pair of shoes.


1. ADJUSTABLE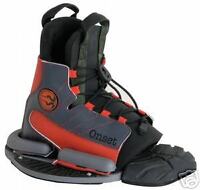 Many people buy an extra setup to have in the boat for friends who want to give wakeboarding a shot. Others just want a setup that the whole family can use. In these cases, adjustable bindings are the way to go. They give you the most range as well as the most ease getting in and out. Nowadays, most adjustable bindings have gone to the front lace style. The adjustable bindings come in size ranges (i.e. XS/M 4-10, M/L 6-11, L/XXL 8-13).
2. FIXED WRAP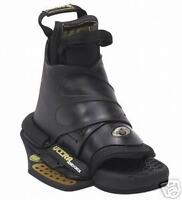 Fixed wrap bindings usually consist of two or more overlay straps that keep a steady feel. There is little room for adjustment in fixed wrap bindings. Because they offer high levels of support and are typically more difficult to get in and out of, they are best for intermediate to advanced riders. Beginner riders can get a bit defeated after spending 10 minutes trying to get a binding on.
3.
FRONT LACE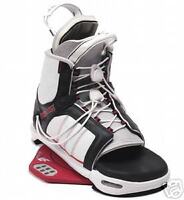 These are like putting on snowboard boots. You loosen the laces, push the tongue out, put your foot in, and tighten to your happy place. The nice thing is that you can change the feel of your bindings in the water. Front lace bindings can provide high-end support and performance with easy entry/exit.
4. BACK LACE



Back lace is very similar to front except...drum roll ... you lace up the back! These also provide high-end support with easy entry/exit.
5. BOA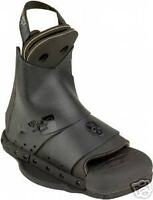 If you're coming off the snowboard season going into the wake, then you may know about the BOA system. The system has been developed very well and is user friendly. The knob on the front/back of the bindings (depending on the model) spins to tighten a cable of surgical steel to your exact comfort zone. It's very quick to tighten your bindings and when you're done, you just pull the knob and the cables loosen.
6.
CLOSED TOE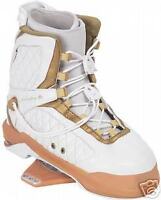 Closed toe bindings are suited for those who like the feel of a snowboard boot. They can come in front lace or back lace. They're new on the market, thus pretty $pendy.
Hope this helps. If you have any further questions on selecting a wakeboard binding, please let us know!
Best,
Dj
Dj's Boardshop