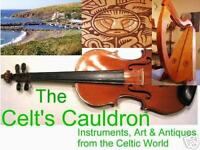 Selecting a Celtic Fiddle
Anyone buying a musical instrument, whether a novice or a professional, should have a high quality instrument. A professional needs one to sound his or her best, and a novice needs one because poor instruments are difficult to play and don't sound good. Compromising for a poor quality instrument can make a new player think he lacks skill, and that can lead to frustration and giving up. It will only lead to pointless frustration and giving up.

Many factors will affect your choice of a violin or viola:
* Volume
* Voice
* Range
* Construction & Wood Type
* Weight and Portability
* Reputation of Maker & Dealer
* Aesthetics
Volume. Many complicated factors affect the volume of a violin or viola. As with all instruments, the larger the sound body, the greater the volume it will produce. Now, these instruments are very standardized these days, and most models are either of the Stradivarius or Guarnarius design. The Strad is a bit smaller, with a more balanced but softer voice. The larger Guarnerius produces a greater volume but is a bit unbalanced, favouring the bass.
Ideally, you want volume with balanced tone. My recommendation is to acquire a newer instrument produced by a quality maker. That way you are more likely to get good balance of voice for a decent price, and the instrument will improve as it ages, just like a fine wine.
Voice. This should be a key factor in your choice of any musical instrument. I have searched the world and spent tens of thousands of dollars looking for instruments with magnificent voices for both the Celt's Cauldron and my personal use. I believe that voice is worth spending on.
Very hard woods, such as maple, will typically yield a bright voice. Softer woods, such as walnut, will yield darker voices. Woods of intermediate hardness will yield voices of intermediate complexity.
There is no right or wrong kind of voice. The voice you want depends partly on the kind of music you desire to play. Country and bluegrass generally need brighter voices. Celtic or Gypsy use a range from dark to bright, complex to simple. Classical generally requires a complex and moderately dark voice. But the final arbitrator is your own ear. What sounds good to you? That is the right voice for you. Good dealers will be able to accurately describe the voice of their instruments if you are buying online.
Bear in mind that strings and bow also greatly affect voice.
Range. The range refers to how many octaves the instrument spans. An octave consists of eight whole notes. Violins and violas are capable of over four octaves range. This is quite extraordinary for a small instrument, perhaps explaining why it has been so readily adopted into so many musical styles.
High quality instruments will play smoothly from the lowest G note to the highest position on the E string. Poor quality instruments will be off balance. They will present undesirable screeches, whines and buzzes at various points of the instrument's range.
Construction & Wood Type. The construction of your fiddle is one of the most important factors in determining its quality. Look for well finished wood with seamless joinery between the components. A few scratches from tool marks are allowable.
The wood should have been naturally air dried. Kiln drying literally cooks wood and ruins its acoustic qualities. Only accept violins and violas crafted from naturally air-dried tonewoods.
You also should look for inlaid purfling. This protects the instrument from developing cracks as it ages. Many cheap violins just have painted on purfling. This false purfling will not shield the top from cracks. You can tell if the purfling is painted on by looking closely with a magnifying glass and observing the grain of the wood. If the grain continues unbroken through the purfling lines, it is painted on.
Check any instrument for cracks, especially on the top where they could become problematic. Most cracks can be professionally sealed, but some could spell the imminent death of an instrument. Avoid instruments with long, deep cracks in the top running lengthwise under the E string. These are called soundpost cracks and result from an improperly placed soundpost. These cracks are often reparable but expensive to fix. Shallow, small cracks are typically those that can be arrested and do not present a great problem, especially on older, valuable instruments which are worth the cost of restoration. Also watch for cracks around the tail pin and the ribs. Such cracks are usually repairable, but they represent costly work for professional luthiers.
Older fiddles often have countless minor dents, dings and scratches. These are harmless and could be considered part of the charm of an elderly instrument. Older instruments also often have smallish cracks around the F holes. If these are not deep and do not give signs of spreading, they are harmless. Most fiddles eventually develop stable cracks in these areas.
Unlike some instruments, like harps, which receive a clear finish to emphasize the natural hue of the wood, violins and violas typically receive darker finishes. This preserves the wood and enhances its natural beauty. Oil and spirit varnishes are the best finishes. For they will also enhance an instrument's acoustic qualities. Polyurethane finishes are only for beginner instruments, as the finish may crack when subjected to sudden temperature changes, and it detracts from a violin's voice. However, a polyurethane finish is inexpensive, sturdy and acceptable for a beginner instrument.
Weight & Portability. An issue with many other instruments, it is rarely an issue with violins and violas. Few instruments are lighter or more portable, and the weight of acoustic violins and violas is pretty standard from instrument to instrument, varying by only a few grams. However, instruments that are unusually heavy usually have been poorly carved and will not sound right.
Reputation of Maker & Dealer. Who built the instrument? That matters, quite a lot. Some makers are renowned for the quality of their instruments. You can count on a fine contemporary fiddle to be around for ages, and improve as it grows older. On the other hand, some of the fabulous $50 and $100 dollar violin and viola deals you might see on the Internet might be nothing more than kindling in a year or two.
While well-made quality instruments improve in tone with age, the cheaper instruments frequently degrade acoustically. We have seen this a lot at the Celt's Cauldron, often on instruments bulk manufactured in Asia from pressed woods. They might sound passable out of the box, but over time they will degenerate until they produce a boxy sound, as if the instrument's voice originated from within a container.
A good violin or viola comes from a maker with a history, who has a reputation for backing up his or her work. Look for dealers who carry only the finest quality and warrant their work for at least one year.
Aesthetics. Many players are perfectly happy to play battered old instruments because of the quality of their aged voices, but a visually appealing instrument is just more fun. There is something magnetic and soothing about the appearance of a beautiful instrument. It will draw you to it, make you want to play it. I have always selected my instruments for visual as well as tonal appeal, and I suggest you factor appearance into your requirements.
Things to beware of. A common scam in the bowed stringed instrument world is to take a factory made junk instrument then drop a misleading label inside it that implies the violin or viola was created by a reputable maker. Beware: if the price looks too good to be true—it is! Good violins are never cheap. You can find a good buy, but they will never be cheap. It takes a tremendous amount of skill to produce a fine violin or viola, and the buyer must expect to pay for that.
Avoid cheap VSOs (Violin Shaped Objects). These look like violins and violas, but there the resemblance stops. They will not perform like a decent instrument. They sound boxy or whiny. Often they are barely playable.
Don't be taken in by offers of bows, cases, rosins, shoulder rests or other accessories. These are impulse items, like candy at the checkout stand, designed to get you to buy. When shopping for an instrument, focus on the instrument—that is the heart of your music.
Don't get caught up in the dealer trade-up game. Trade-ups only benefit dealers. They make more money trading in an older instrument and selling you a new one than just selling you the best to begin with. If they can get you to go with the trade-up strategy, they have essentially sold you not just one, but a whole series of instruments. You will lose money with each transaction.
Conclusion. A quality instrument will help you sound better, play better, and have more fun. Always go with the absolute best you can afford.