Unfortunately, there is a long-standing misconception with regards to the sea turtle skin, which was banned from trade in the early 1970s by an international agreement through CITES (Convention on International Trade in Endangered Species of Fauna and Flora). Glossy and pretty, turtle skin is often mistaken for alligator or crocodile and sold as such. The difference between the two is quite obvious: turtle has distinct, angular scales randomly arranged in swirl patterns, whereas alligator has oval or rectangular-tiled scales neatly arranged in a symmetrical, vertical design.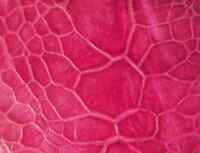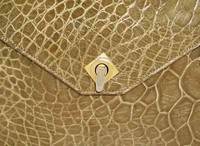 Pic. 1: Swatches of genuine Turtle skin (various cuts and colors)
Soft and leathery, turtle skin comes from over-six-feet-long leatherback turtles, which inhabit the Atlantic, Indian and Pacific Oceans. Once in abundance, leatherback turtles are now endangered. The United States and 115 other countries have banned the import and export of the sea turtle skin through CITES, in order to encourage the development of breeding programs and educate the public about their impact.
Nevertheless, the enforcement of trade restrictions is never an easy task. Every year, contraband reptile products, worth millions of dollars, are smuggled across international borders. Sea turtle leather accessories are among the items most commonly seized by U.S. Customs and Fish and Wildlife Service (FWS) officers. That's why the World Wildlife Fund urges the public to become educated before traveling abroad, in order to be aware of the laws that govern the trade. "When in doubt, don't buy," the FWS counsels American travelers.
Today, the production of accessories from turtle skin is not permitted in the United States. But in the 1960s, several leading brands, including Rosenfeld, Saks Fifth Avenue and Lucille de Paris, specialized in the manufacturing of cute and colorful turtle-skin purses. They were usually made in France or Italy, and labeled 'Genuine turtle', to assure authenticity.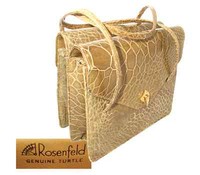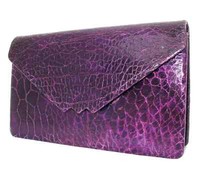 Pic.2: Duo of pretty genuine Turtle skin handbags, from the 1960s, by Harry Rosenfeld, made in Italy.
The year 1967 was noted in fashion history as the year of the turtle, when a rash of advertisements proclaimed turtle as the new "status symbol" in accessories. To the untrained eye, turtle skin remotely resembled alligator, but its price was considerably lower. The quality of turtle products ranged from hopelessly dreadful to relatively fine.
The fashion industry itself was quite indifferent toward the new skin. Jacomo and Gucci did not believe in it. "We don't consider that they are in our class," a spokesman for Gucci announced. George Wasserberger, president of Mark Cross, stated his position differently, "I don't think the poor turtle makes a very handsome handbag .The crocodile has a more symmetrical, even graining."
Turtle skin made its debut in the American market when French tanners came up with the idea of using the skins of the turtles that were hunted in Caribbean waters for their meat. The idea was prompted by a necessity to find a new reptile as a substitute for scarce and expensive alligator. At that time, the best baby-alligator handbags could cost about $1,400 - huge money!
The best sea turtle hides came from Honduras and Mexico. They were sold in pairs, because only the soft and pliable skins from turtle legs could be used for making handbags. Turtle skins did not really compete with the best alligator and crocodile skins from Louisiana, Madagascar, Singapore and Java; rather it competed with low-grade, South American caiman.
The first collection of French-made, pastel turtle handbags was introduced by Saks Fifth Avenue in March of 1966, at a price from $50 to $180. The industry observers maintained that the only reason for the turtle's success was its low price, which was about a third of that for alligator. The collection sold fast, but prompted protests from conservationists.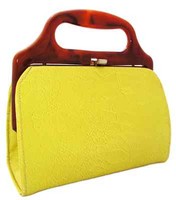 Pic.3: Adorable, faux-turtle vinyl satchel, with molded plastic frame and handle, ca 1968.
As a sensitive alternative to genuine turtle skin, embossed cow hide or vinyl imprinted with the turtle pattern was introduced a year later. Such faux handbags made from leather or vinyl printed (embossed) with turtle pattern were sold by Saks Fifth Avenue and Neiman Marcus. The featured above adorable chartreuse evening bag is made with printed vinyl.
Check with your regional FWS office to find out if you're allowed to ship your turtle purse (brand-new or vintage) domestically or overseas.
Source: "Exotic Skin: Alligator and Crocodile Handbags", a fascinating fashion encyclopedia and collector's guide packed with history, artful photos of important vintage designer handbags, and period ads from Vogue and Bazaar. Copyright 1999-2013 Victoria Stowe. All rights reserved.