There are a lot of vintage panty collectors who no doubt already know this information but for newer collectors this brief article may be helpful. This article is specifically on vintage nylon panties from the 1950's to 1970's. Silk, acetate, rayon, wool, and cotton are not included.
I. Why would anyone collect old panties?
They are scarce and a desirable collectible as an investment
They can be collected and categorized in lots of fun ways such as by manufacturer, color, particular embellishment(s), gusset shape/lining, size, style, year, and RN numbers. There are regular panties, pettipants, tap panties, panty-slips (panties attached to halfslip at waist), panti-slips (culotte type branded as such), and bikini panties.
High quality fabrics that are super silky soft with a luxurious hand
Exquisite details with an enormous variety of designs, trims, inserts, appliques, ribbons, laces, and colors
Oo-la-la sexy!
Great eye candy, very fun to look at
Many simply like to wear them for the comfort of the full brief cut, the nylon lined gusset, and the unbeatable glamour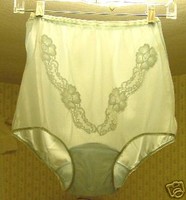 Pictures are often backlit to show off the sheerness, cut, and embellishments. This is a regular pair of vintage nylon panties.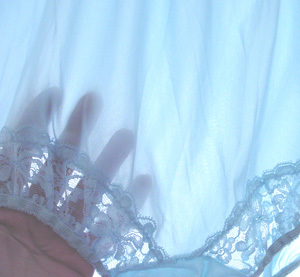 Sellers sometimes take pictures with their hand inside the undies to show the sheerness of the fabric. These vintage nylon panties have nylon inserted above the leg openings.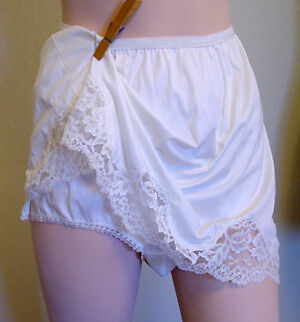 Above is a vintage nylon panty-slip.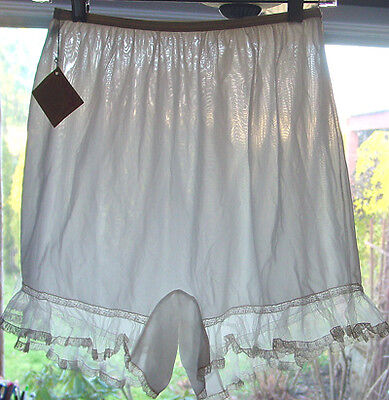 Above is a pair of vintage nylon tap panties.
II. Why are they scarce?
Vintage panties are difficult to find because they are such an intimate clothing item that many women would rather throw them away, particularly if worn, than chance somebody else seeing their panties! There is an old saying about "airing your dirty laundry in public" that is not used much anymore but women are persnickity about such things. Men may not mind a skid mark in their shorts but most women would be mortified if someone saw discolorations in their undies.
This reticence about anyone seeing panties that may have any spots or stains is why so often vintage panties are offered up as NOS (new old stock) as the panty survivors were usually not worn. Many of the fancy pants were kept folded away in drawers and the more serviceable and sturdy cotton ones were worn everyday. So although there aren't a whole lot of vintage panties around, the ones that made it are usually in excellent or new condition. Some still have the store tags on them are advertised as NOSWT (new old stock with tags) but usually there are not store tags on them.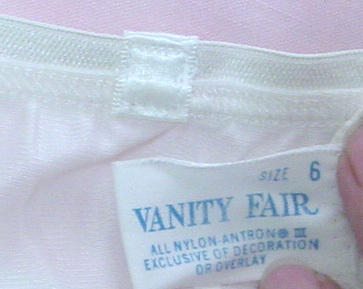 You can see the satin tab at the waist elastic above the label. You might also see the satin tab detail on vintage slips and pajama bottoms.
III. Satin Tab = Pillow Tab
When a listing boasts satin tab it is referring to a small square of satin sewn over the elastic joining at the panty waist. Satin tabs are sometimes also called pillow tabs. Satin tabs are a little luxurious extra that cheaper panties did not have.
Satin tabs are found either at the side seam or centered at the back of the waistband. The satin tab usually wraps around both sides of the waist but sometimes it is only on the inside of the waistband.
The satin tab is really to strengthen the joining of the elastic. It also does protect your skin from the seam edge of the elastic seam.
IV. Lace Inserts - Applied Lace - Sandwiched Lace
There seems to be confusion about what these different terms mean so this section is being added in. Additional pictures may be added later for further clarification.
Inserted lace is when lace is inserted between fabric edges so that there is no fabric behind the lace - the lace replaces the fabric.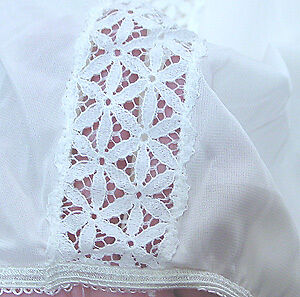 Above is another example of inserted lace.
Applied lace is sewn on top of the fabric like an applique. The fabric underneath remains whole. Often lace floral lace motifs are applied on top of vintage panties on the front side(s).
Sandwiched lace is lace that is in between two layers of fabric or sandwiched. Usually the fabric is sheer to show off the pretty lace underneath. The top picture shows sandwiched lace in a "V" design.
V. Gussets (Inside and Out)
The gusset, or crotch, of vintage panties also helps greatly in identifying the older undies. To some, the term gusset is preferred as it does not sound as crude as crotch. The shape, width, and inner lining of gussets are all important to collectors.
The gusset shape you may see mentioned in vintage panty listings is mushroom-shaped. Vintage gussets are literally shaped like a mushroom top (on both ends) with the top of the fabric obviously wider at top than at the narrowest point. The gusset mushrooms out from the stem or narrowest point of the gusset and has a curved seam. If you look at modern panties most gusset seams are straight across. The curved seams provide a nicer fit and fuller coverage, particularly in the back.
Gussets were generally much wider in vintage panties with 3-4" wide being normal at the narrowest part. Modern day design is usually 2 1/2" and sometimes up to 3."
Most gussets have two layers of fabric although very cheap panties or panties that go with baby doll pj's may be a single layer (often with no gusset at all). The outer layer is almost always identical to the panty body fabric. The lining, or inner layer next to your skin, is where there are different treatments such as:
The same fabric as the body of panty

A super soft brushed nylon in the same color as body of panty

Cotton lining in some of more modern vintage nylon panties, late 60's or 70's
VI. Labels - Manufacturers
For vintage undies, sellers often take pictures of the labels. The reason is that you can be sure of the maker and often label design and color helps nail down the age of the garment. Some labels have embroidered script, some have a more stamped appearance. The RN number is of interest to some buyers so they can research the Registration Number. Some buyers are interested in a particular collection, which is often mentioned on the label. An example would be Van Raaltes Sheerio.
A few of the great vintage panty manufacturers are Vanity Fair, Rogers, Van Raalte, Gaymode, Vassarette, Val-Tric, Gotham Gold Stripe, Shadowline, Vassarette, Adonna, and Lorraine. There are many more plus some unbranded ones but those without a specific manufacturer label and not easily identified as being made by a particular manufacturer would not be as valuable.
VII. Vintage Panty Wanna-be's
Sometimes it is hard to wade through the vintage category to get to the good stuff. There are repro's (reproductions), vintage-like, vintage design, vintage-style, pettipants, French cuts, culotte slips, square dance pettipants and panties, sissy panties (or panties for men), plus no name panties that are not labelled as vintage or anything specific in the title.
Repro's, vintage-like, vintage design, or vintage-style are not vintage at all. There could be arguments about if they belong in the vintage category but eBay states that they should not. Because the panty business can be so lucrative, entrepreneurs are making panties similar to the vintage ones and some of them look pretty good! But they are not vintage and not going to appreciate in value. Also the fabric is likely to be inferior, the embellishments poor quality, and the workmanship not as good. Most collectors would not want to sully their collection with these items.
Pettipants or petti-pants are not really panties. Panties were usually still worn underneath pettipants. Women wore hose when pettipants were a big fashion item in the 60's and 70's so the pettipants helped cover up the top dark area of the hose and the girdle or garters, particularly when the skirts were shorter.
French cuts or French legs are high cut on the outer thigh and are a fairly modern style. I would use caution if an item listed as vintage touted French cut.
Vintage culotte slips are not panties although even manufacturers called them panti-slips possibly hoping that they would sell more because they were multi-use. It is hard to believe though that these would be worn instead of slip and panties. They would replace a half-slip. Culotte slips are a cross between pettipants and a half slip because they are loose legged.
Square dance or round dance pettipants and panties again are not panties and most listed on eBay are not vintage. If they are old the value would not increase anyway as square dance pettipants and the underpants like panties do not have the collectibility. For the pettipants think of Little Bo-Peep bloomers only shorter. Square dance pettipants do come in varying lengths, from very short (think running short length only tighter) to capri length. The underpants are similar except they are like panties not pettipants. These are worn over pantyhose so that when dancers twirl and spin their bottoms, etc. are covered up prettily. Give-aways for these dancing pants are horizontal rows and rows of lace that start about 6-8 " down from the waist. The whole garment is horizontally elasticized with rows of tiny elastic. Sometimes these are called sissy panties or rhumba/rumba panties but they are usually square dance pettipants.
Sissy Panties (panties for men)
Sissy panties can be listed just about anywhere but many seem to be styled after the classic vintage lady's brief and so erroneously listed under vintage categories. Sissy by definition means effeminate and many of these are wildly over-the-top feminine. You could say lace and embellishments on steroids! This is more of a warning for those faint of heart that a perfectly lovely vintage pair of undies may actually be recently made for men. Sometimes you need to read the descriptions that often boast things like extra-wide gussets but usually when all of the pictures are seen it is clear these are not vintage panties.
No Name Panties
No name panties can be tricky if the seller does not list the manufacturer, vintage-style or repro or even vintage in the title but lists the panties in the vintage categories. Again, because the vintage panty business is pretty lucrative as they are so difficult to find, they are being manufactured for sale to the vintage market. The auction listing may not even say new anywhere in the listing so always feel free to ask the seller a question or two. One clear clue is if there are lots of identical panties listed by the same seller. Although sometimes a seller can just luck out and find a lot of old stock lingerie but the manufacturer and age would definitely be in the listing.
VIII. Purchasing Vintage Panties
This guide was written due to my dismay at seeing all of the non-vintage panties listed in the vintage categories and deciding to share my knowledge. While not an expert, oldersbetter and sofem (a second ID that specialized in lingerie now incorporated back in to oldersbetter) have sold hundreds of pairs of vintage undies over the years and much has been learned. I have a love for quality vintage lingerie so am quite happy to have an excuse to buy (when I can find it) all sizes to offer them up for buyers on eBay. I get to appreciate the beauty and details for a brief time and know that I am passing on a bit of old-time glamour with each sale.
***
The information contained in this guide has not been gleaned from any other source. Content has been compiled from knowledge personally obtained through years of sewing experience plus selling, studying, and loving vintage clothing. I have had requests asking if it is okay to link to this article and it is fine, however please don't copy my material. Many thanks!
~ Please vote "Yes" if you found this guide informative. ~
Thank you!
Oldersbetter's Mission Statement: To procure interesting fun merchandise and to present, sell, and ship this merchandise honestly, accurately, and quickly to happy customers.