Owning a piece of vintage Louis Vuitton is owning a fabulous little piece of fashion history! If you've read
Part 1
and
Part 2
of my guide to buying vintage,
French Company Louis Vuitton
... then you are in the right place. If not, please go back and start from the beginning so you'll have the right background. If you are looking for help shopping for more current, gently used
Authentic Louis Vuitton
on eBay... feel free to read that guide as well!
The French Company- Louis Vuitton Bucket
One of the more popular Louis Vuitton styles today is the
Louis Vuitton Bucket Bag
! There are two sizes... the Large (27) and the Petite (23). The French Company also manufactured a large and small bucket bag that are different from the current versions in many ways... The problem is that the counterfeiters did too! In this guide, I'll be focusing on the smaller bucket- although the rules are the same for the large.
Below, you can see the center picture is a 2004 authentic Louis Vuitton bucket bag. To the left and right are vintage buckets. One is a vintage French Company bucket, and one is a fake. Can you tell the difference?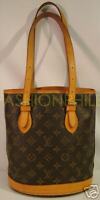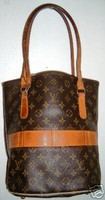 You probably noticed my watermark on the left bag and figured out that that one was mine! The one to the upper left is a vintage authentic French Company bucket bag. The bag to the upper right is a vintage counterfeit.
1. Notice the base trim...
on the French Company Bucket, the base trim comes up around the base a bit... On the fake bucket there is just thin piping.
2. Notice the tabs that hold on the straps...
on the French Company Bucket, they are very rounded and full... On the fake, they are thin and rectangular almost.
3. Notice the interiors...
The authentic French Company bucket lining (as seen below) will be very dark brown cotton. It will have the tyvek "French Company" tag unless that has been removed. It may also have a chain with a cosmetic case attached as you will see below. The bottom right is an example of what an authentic FC bucket will NOT look like- never suede and never an oval (or any other shaped patch) with the Louis Vuitton name on it: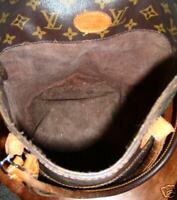 4. Notice the cosmetic case...
The French Company buckets originally came with kisslock style
cosmetic case
that were attached by a chain. These cases were either monogram or leather like the ones below (thanks jackietucker62 for letting me use the picture to the left):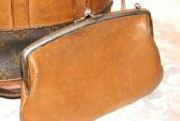 5. Notice the stitching...
The French Company bucket may be older, but it's still wonderful quality. The stitching should be very evenly spaced- almost perfect. The top stitching on the outside will be white, not brown or yellow.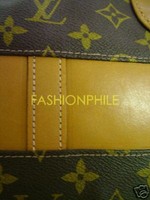 6. Notice the hardware...
It may be more of a nickle than the brass that we are familiar with in traditional International Louis Vuitton- but the zipperpulls should be Talon (see picture to the right above) or Eclair.
Counterfeit French Company pieces...
Just because an item is vintage, with treated leather, and a tucky lock as a speedy, or a leather band across the middle like a bucket- does not mean that it is authentic. As I mentioned before, George Vuitton designed this "LV" monogram toile pattern in 1896 to try to put an end to the counterfeiting of his travel pieces.
In 1896!
There are many fake French Company pieces of varying quality. If you watch for the specific tips I've pointed out in this guide- you should be able to stear clear of a fake!
Thanks for reading!
I am a
Trading Assistant
and sell authentic Louis Vuitton items for woman all across the country! I
list new (well, new to you!)
items weekly, so come check it out! I'd also love to help you sell your Louis Vuitton! Send me an email and I'll tell you how it's done. I get to occasionally appear on our local morning show on ebay related programs... They always want me to bring some bags- and try as I might, no matter what I came for- that's always what we talk about!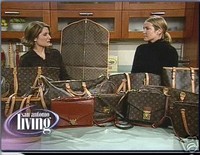 FASHIONPHILE
--- My auctions, I list new (well, new to you!) authentic Louis Vuitton items weekly!
More about Louis Vuitton...
MY GUIDES
--- Read more about Louis Vuitton in general!
LOUIS VUITTON
--- My first and most basic guide to buying authentic Louis Vuitton on eBay
MULTICOLORE
--- My guide to buying multicolor murakami pieces on eBay
THE FRENCH COMPANY
--- This guide- from the beginning!
OTHER DESIGNERS
--- I don't know it all- guides written about other designers from other eBayers!
BOUGHT A FAKE?
--- So you think you've bought a fake? Check out my guide to getting your money back!