Vintage Lingerie Guide created by Sweet Cherry Vintage on Vintage Lingerie, Dating Your Vintage Lingerie, Vanity Fair Labels & More
If you are in the market for classic vintage lingerie than look no further! Buying vintage lingerie on eBay can be quite fun and a learning experience. Vintage lingerie is something that is desired by many people believe it or not! The newer lingerie of today does not compare to the soft and subtle materials of the eras gone by. Sadly enough, soft nylon satin's, rayon and such are not created in today's lingerie.
When shopping for your vintage piece, make sure it is genuinely vintage by following some of my tips here. eBay makes searching such a breeze and you can search by category, keywords, or era.
Trying to Date your Garment?
Dating vintage lingerie can be a little tough to pinpoint down to the exact date when it was produced. If you familiarize yourself when labels and fabrics were used, styles and cuts, you can estimate when it was made. Vintage magazine adverts and vintage clothing catalogs will tell you the approximate year of production.
Prior to 1941, most lingerie was created in glorious fabrics of rayon satin's and silks. Shortly after 1941, you will see a lot more lingerie was being created in various nylon and nylon blends, although rayon was still used too. Nightgowns and peignoir sets created in fluffy chiffon nylons were very popular in the 1950s and 1960s, and moving forward to the 1970s/80s you will see more all nylon sets without chiffon.
Vintage lingerie can be dated other ways. If there are "care instructions" on the label, your garment is AFTER 1971. Most vintage slips had metal hardware/sliders etc, prior to the late 1960s. Half waist slips, might have a "pillowtab" in the waist. Labels mostly are placed in side seams, and hems. Panties that have all nylon gussets are most likely made before 1970, and might have a "pillowtab" in the waist. Caution of warning! There are panties being recreated and produced now with all nylon gussets/crotch areas that are and being called "vintage style or retro style and even vintage". These panties are even being created in what the seller calls "vintage nylon" and getting away with calling them vintage. When in doubt ask your seller if they are authentic vintage or not and not reproduction panties.
There are many other ways to "guestimate" your era of your vintage piece, such as garment labeling (Union labels, RN numbers, and garment care instructions).
Garment Labels:
1. Wool Product Labels (WPL): Used from 1941 to 1959.
2. Registered Numbers (RN): Starting in 1959 and still currently in use. If your garment has no RN number, it most likely is made before 1959.
3. Care of Garment Labels: The FTC required in 1971 that textile manufacturers list the garment care instructions on labels (Care Labeling Rule). The labels must have washing, drying, bleaching, ironing, and/or dry cleaning instructions. Rule of thumb, if your garment has care instructions it is most likely created AFTER 1971.
4. Union Labels (ACWA & ILGWU)
A. ACWA: In 1933/34 the Amalgamated Clothing Workers of America (ACWA) started adding labels to garments. The label had a picture of a sewing machine symbol and scissors in the center of a diamond with red numbering across the center of this tag. On the left side of the label says "Union Made" and on the second line it will say either 'Suite', 'Work Clothes' or 'Garment'. On the left lower corner reads "Workers of" will read copyright 1934 by ACW of A. Tags identical to the 1933/34 tag have been found with copyright date of 1936 and was used from 1936 to 1939.
1939 new labels were issued. The 1939 label is exact to the 1934 label, except they added new copyright date of 1939 followed by ACW of A and on the right side has the union bug mark with the number 80 after it.
1949 labels were redesigned and used from 1949 to 1962. This time it features a sewing machine in the center, without the scissors. The text "Amalgamated Clothing Workers of America" is laid out differently. The left side has red numbers and "copyright 1949" is on the right with a code of 3 letters, and on the left lower corner they omitted the circled R trademark symbol.
1962 The circled R symbol was added to the lower left corner of the label, and still has the copyright date of 1949 on the right side. Later on, the red colored numbers were changed to black color.
B. ILGWU: International Ladies Garment Workers Union. Formed in 1900, briefly joining the CIO in 1937, rejoined the AFL in 1940. AFL-CIO merged together in 1955. In 1995 the ILGWU reformed as UNITE. Union labels will show these name and date changes.
Vanity Fair, History in the Making
You may ask, "Why Vanity Fair?" Because Vanity Fair makes some of the most beautiful lingerie I have ever seen and becoming so highly sought after. Created my skilled artisans of the lingerie business these pieces are the works of masterpieces and pure geniuses. (In my opinion anyhow!) Dating back to 1899, the company started producing it's lovely wears in 1919 and is sadly ended in 2007 when Fruit of the Loom bought them out. Each garment is to be cherished for many years to come. I own and possess some of the most gorgeous pieces ever created and I offer them to you here on eBay! (Well the one's I can only part with of course!).
Key Dates/Timeline on Vanity Fair
1899 Reading Glove and Mitten Manufacturing Company was founded by 8 men in Reading, Pennsylvania
1911 John Barley, one of the 8 men buys out the other men
1913 Name change: Reading Glove and Mitten becomes SCHUYLKILL SILK MILLS
1914 Silk lingerie starts being produced by the company, this is the start of the Vanity Fair lingerie!
1917 The name "Vanity Fair" is chosen through a name competition within the company for it's lingerie line
1919 Name change: Schuylkill Silk Mills becomes VANITY FAIR SILK MILLS, INC.
1921/22 Rayon, Acetate were used in addition to Silk, sometimes blended.
1929 Vanity Fair opens the Vanity Fair Stocking Company, producing silk stockings
1939 Designer NANCY MELCHER (assigner for VF) applies for a patent for the "Corselette", an "all in one" open bottom skirted style girdle, with bra and garters attached
1940 Production is stopped on all foundation garments (bras, girdles, etc.)
1941 Patent for the Vanity Fair Corselette was approved
1942 Name change: Vanity Fair drops the name "Silk" from the title, because of the embargo on silk during WWII
1945 Embargo on silk, elastic and nylon are lifted, and company resumes production of their foundations
1948 Vanity Fair announces halt on silk production and will convert everything to nylon, and this is when TRICOT was first used in VF lingerie.
1948/49 Hues in soft pinks, yellows, minty greens and blues, "Perma Pleats, and various "prints" were introduced in the line of lingerie
1950 Vanity Fair Stocking Company closes
1951 Vanity Fair Mills goes "public"
1950s (known around 1952/53) Novelty prints (leopard, zebra, butterfly, etc.) were introduced, and higher end "conversation pieces" such as gold lame' items were produced in the mid 1950's
1958/59 Lycra (Spandex) is used in foundations along with rubber which was still being used
1961 Vanity Fair announces the discontinued use of rubber, and uses Lycra Spandex now.
Mid 1960s (65 or 66) Themed lingerie was introduced in the entire line of their negligee's, slips, panties, girdles, brassieres, pettiskirts, loungewear etc. Some of these "themes" included: Rhapsody In Bloom, The White Collar Look, Fuji Drama, Luxory Liner, Hush Honey, Moon Flight and more.
1969 Name change: Vanity Fair Mills becomes VF CORPORATION. Company starts producing jeanswear after purchasing the H.D. Lee Company. Company acquires BERKSHIRE INTERNATIONAL CORP.
1970 Hosiery reintroduced
1981 Cotton panties introduced
1984 Fleecewear is introduced after Bassett-Walker, Inc is acquired.
1998 Bestform (Exquisite Form) and Lily of France are acquired by the VF Corp.
2007 Sadly, Vanity Fair sells to Fruit of the Loom.
Rule of Thumb on Vanity Fair Labels: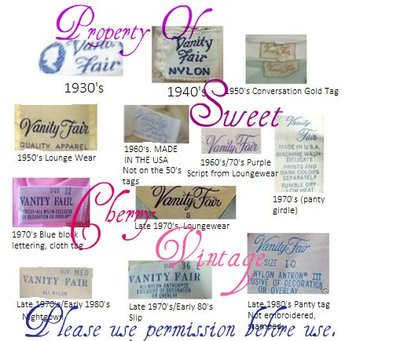 Lingerie labels currently still in production and approximate dates of start up:
Bali-1930's
Barbizon -1920's
Frederick's of Hollywood-1930's or 40's
Gilead -1950's
Hollywood Vassarette (Munsingwear)-1940's to still in production just under the name Vassarette
Komar-1950's
Lily of France-late 1800's
Lucie Ann II-1980's
Miss Elaine-1920's
Olga-1948 still in production (although her nightgowns went out of production in the late 80's to early 90's). Rule of thumb, gowns with the 5 digit style numbers are 80's gowns. 4 Digit style numbers are earlier, and Olga NEVER created nightgowns before the mid/late 1960's. All her items were foundations/panty-slips prior to that.
Rago: unknown
Shadowline-1940's
Val Mode-Late 1930's
Vanity Fair-1899
Victoria's Secret -started as a mail order catalog in the 1970's
Warner-1930's (interesting side note, Warner's invented the A,B,C,D Bra Cup sizing)
Wondermaid-1930's or 40'
The following are all OUT of production and great finds:
Aristocraft
Artemis (later Gossard merged with Artemis)
Bien Jolie
Cattani of California
Charmode (Vintage Sears exclusive brand)
Christian Dior
Deena
Eye Full-Flaum's
Fischer Heavenly Lingerie
Gaymode (Vintage JCPenney exclusive brand)
Glydons or Glydons of Hollywood
GMc
Gossard
Henson Kickernick (later Kickernick merged with Henson)
Intime' of California
Jenelle of California
Juliana
Lady Leonora
Lady Lynne
Leona
Lucie Ann~Claire Sandra
Luxite~Kayser
Mary Barron
Michelene
Movie Star
Odette Barsa
Radcliffe
Radelle
Rovel / Ro-Vel of California
Seamprufe
Trillium
Van Raalte
Yolande
Youthcraft
The following CONDITION GUIDE is what is recommended when buying or selling vintage (not new) lingerie:
MINT/NEVER WORN: Although rare for vintage lingerie and clothing, using this condition would mean never worn, still with original store tags, and absolutely no flaws.
MINT TO EXCELLENT: Clothing can have slight wear, no flaws, usually no store tags.
EXCELLENT: Clothing shows usual/normal wear due to age, handling, storage and occasional use, may have ONE or TWO small flaw that is noted and is in wearable condition.
GREAT: Clothing could have some surface flaws, minor stains, missing buttons, small holes, etc., with all flaws noted and in wearable condition.
FAIR: Clothing usually is not in wearable condition, sold as is, and normally sold for "study pieces" or for use of the material, etc.
Measurement Guide:
When taking your measurements use the following guide:
Bust/Chest - Around armpits
Bodice - Around ribcage
Waist (NOT Bodice) - Around BELLY BUTTON area
Hips - obviously at hip area
Length – Top of shoulder to hemline
Very important! Always measure your bodice/ribcage area and do not go by bust/chest measurements alone. Most vintage clothing and lingerie was very fitted through the bodice/ribcage area so it doesn't matter if the bust area was enormous, if the bodice was fitted and you have a big ribcage, it isn't going to fit. When in doubt ask the seller what the measurements of the bodice ribcage area, and this is of course just below/under the breast area.
Conclusion:
*All images and text are PROPERTY OF SWEET CHERRY VINTAGE* and came from my own personal collection or with permission from other vendors. This is a work in progress and has taken me over 4 years of reading and research, I know it is not perfect, and some dates might be off a bit. I will continue to revise as I learn, read and research more. If you would like to contribute with any information you would like me to include, or errors you see, or have pictures to contribute, please by all means let me know!
This material is copyrighted and registered with the Library of Congress, United States Copyright Office. I am the sole intellectual property owner of this material. You can use this as a reference, but it is not for you to copy and post anywhere on the internet, or here on eBay without my permission. Thank you.
Sweet Cherry Vintage Lingerie
Copyright © 2006-2013 by SweetCherryVintage.Com, SweetCherry Vintage Lingerie, Sweet*Cherry*Pops
All Rights Reserved
Did you think this was helpful? Can you do me a favor and vote "yes" for the helpfulness vote? Thank you so kindly, have a blessed day!