*~* Vintage Czech Perfume Bottles *~*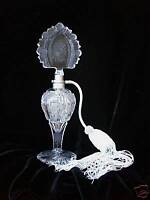 There are many reproductions in the marketplace today, so knowing how to find and recognize an authentic signature on a vintage Czech perfume bottle is very important.
Most sellers will be honest and disclose the age of the bottle if they know anything about these wonderful treasures.... If this information is not given in a description...take a moment to ask. The seller may mention that old molds were used to produce a new bottle....in other words, they are reproductions. These new pieces are quite inexpensive compared to the original bottles and are not manufactured with daubers. Finding a bottle with a dauber intact is becoming more rare as time goes on, however the reproductions are not manufactured with daubers. The new perfume bottles are marked "Made in the Czech Republic" or they may not be marked at all. Most often they will only have a paper label attached....although they are quite attractive, they certainly do not demand the high prices that the vintage bottles deserve. If you compare them side by side you will see immediately that the older bottles are far more detailed.
The original vintage bottles from the 1920's - 1930's are usually signed on the bottom with an acid etched, ink stamped or moulded mark. Occasionally the mark can be found on the side of the piece if the bottom is faceted... This mark is most often oval or round in shape and reads "MADE IN CZECHOSLOVAKIA". (Or sometimes simply "Czechoslovakia") The signature may be very faint however, and quite difficult to find at first. Take the time to search it out...I would never purchase a bottle that claims to be Vintage Czech if I could not find the signature.
A simple trick that any serious collector knows is that if you rub the bottom of the piece with a cotton cloth until the glass is warmed the mark will magically appear! I have found that denim works the best!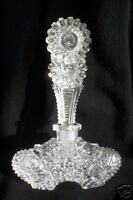 Happy Hunting!
*~* Perfumeandpharmacy *~*