Verizon Wireless Replacement Phone Activation Guide
Please Read: We do not recommend taking your phone into any Verizon Wireless Store, the people do not get paid to switch your phone number to a new phone and sometimes they will attempt to charge you to activate your device. They tend to tell you a wide variety of things designed to either (1) get you to buy a phone from them, or (2) get you to leave the store without activating your phone. Most store representatives are only trained on the few models that the store sells and sometimes are not familiar enough with your new phone to do the activation. The best trained people are found when you follow the steps below.

Help make this guide easier for others to find. Please make sure to mark "Yes" to was this guide helpful in the blue bar area below this guide.
Steps before calling Verizon Customer Service
Step 1 - Make sure to charge your phone's battery for a full 12 hours prior to using it. PLEASE NOTE - Full charge may not take place for 2-3 charging periods. Power on your phone once battery is fully charged.
Step 2 - Locate Your ESN / MEID number located behind the battery of the phone.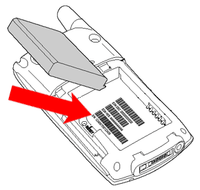 Please Note: If you can not locate the ESN / MEID Number on the back of the phone - your phone also has an internal ESN / MEID number. Each phone is different, but customer service should be able to help you locate the internal ESN / MEID code if needed.
Transfer Your Existing Verizon Contract Service to the Phone You Just Purchased:
Step 1 - Call 1-888-294-6804 and at the prompt enter your 10 digit phone number. When the Customer Service person answers the phone, tell him/her that you would like to activate your phone number on another cell phone. You will be asked some security questions, and then they will ask for the ESN number of the phone that you want to switch your service to.
Step 2 - It takes about 30 seconds and then they will ask you to turn your phone off and back on and dial *228 and press send. Your phone will be programmed over the air in about 60 seconds.
You Want to Use Your Phone for a Prepaid Plan:
Call the Verizon Prepaid Customer Service Line at 1-800-326-2578 and follow the prompts to prepaid. You will need a Credit/Debit or Check Card to activate or buy prepaid cards. They will ask you for some general information and the ESN number of the phone.
To buy more minutes over the phone dial 1-800-201-0521 or 611 from your cell phone, the 611 call is free. You can also buy the calling cards at a wide variety of convenience stores and gas stations.
Activate your phone through the Verizon Web Site:
We can not provide links here - google search - "verizon wireless activation" - the first link will take you to the online activation page.
Verizon is encouraging their customers to use their web site to switch phone service from one cell phone to another one. There is never a fee to switch your service to your new phone over Verizon's web site. You have to register on the site which takes about five minutes. Once registered, there is a link that takes you to a page that you can enter the ESN number of your new phone to activate it. Customer Service Representatives are available from 6am-11pm, 7 days a week. They are available to answer technical support questions 24 hours a day, 7 days a week, by calling 1-800-922-0204.
Help make this guide easier for others to find. Please make sure to mark "Yes" to was this guide helpful in the blue bar area below this guide.
Other Helpful Codes -
#BAL (#225): Check Your Balance
#MIN (#646): Minutes Used
#PMT (#768): Make a Payment
#DATA (#3282): Check Number of TXT Messages and kilobyte usage
*611: Customer Service (dial for free from your phone)
These instructions work only if your phone is for Verizon Wireless (Not for use with a Sim Card)
We guarantee our phones to be ready for activation with the carrier mentioned in the product description. In the unlikely event you have trouble activating the phone you purchased from us, please do not hesitate to contact us - we will gladly help you. We only receive about 5 out of every 1, 000 phones back to us for activation issues. We check the ESNs upon receiving them, but there are a number of reasons why a phone will not activate upon receiving the phone. Rest assured, we stand behind every product we sell!