There are various card reader for iPad, including the one made by Apple themselves (Camera Connection Kits) which comes with a USB adapter and 100% compatible with all generation of iPad (1st, 2nd and 3rd aka The new iPad). The one made by Capdase also certified by Apple with Made for iPad label for full compatibility.
Capdase Dock Connector Card Reader for iPad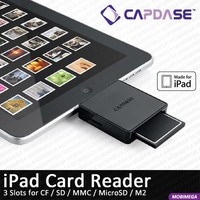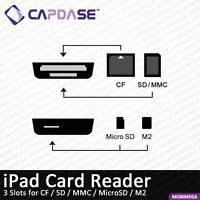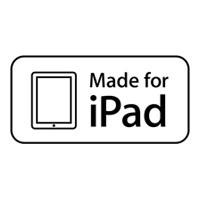 This card reader supports Compact Flash (CF), Micro SD and M2 in additional to the ordinary SD cards. Certified by Apple with "Made for iPad" license, means this device is always recognized and works well with iPhone products, no matter of system or firmware upgrade.
The design of card reader feature for iPad is only used for import photos to iPad's album and no more! It is not advised or official support for load any other files from memory card to iPad. The initial Apple's idea was to import photos directly taken from digital camera which altered photos from MAC/PC or other devices are not advised. Apple uses several mechanism to check if the photos being imported is directly from camera or it shows "No Photos to Import".
Here are the tricks:
Connect the USB flash drive to your Mac
Create a folder in the root directory of the memory card called "DCIM"
Drop the images you want to transfer into that "DCIM" directory
File names should be exactly 8 characters (not counting the extension name). e.g. IMG00001.jpg
Plug the memory card into the card reader and install the card reader into iPad's dock connector
You can now import the photos to your iPad as usual!
This guide was written by MobiMega - "Your Genuine Gadget Web Store".
If you think this guide helpful, we appreciate if you could vote "YES" for this!
About MobiMega - MobiMaxx
We sell premium GENUINE gadgets for mobile phones and tablets as well as PC peripherals, all items are in 100% NEW IN BOX and well packed for fast air mail with tracking to worldwide. Top selling includes accessories for iPhone, iPad, Samsung Galaxy, Bluetooth Headsets, Car Mount Holders, etc. Worldwide retail and wholesale orders are welcomed.
Visit MobiMega's eBay Store for more excitement.