When purchasing a used boat, there are a few things you need to think about before plunking down your money.

Most people don't realize that a Fiberglass boat, especially those made before 1995, probably have a good amount of Wood in them. Most manufactures use marine grade plywood as structural components, such as stringers and subdecks. It wasn't until around 1995 or so, that new (affordable) closed cell foam products came to market where a boat builder could offer a Wood Free boat. (fiberglass foam injected stringers)

The wood stringer and deck boats are fine and will last a lifetime, IF the boat is properly maintained. Unfortunately most owners that have these boats don't realize it is partially made of wood, think fiberglass is indestructible, and maintenance becomes an after thought.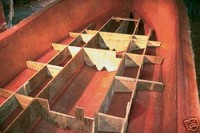 (Wood ply stringers in a typical boat)
A few things to consider are, Fresh water is Wood's greatest enemy.(ie: rain) Salt water is not, and will act as somewhat of a preservative. When putting your boat back on the trailer after a weekend of fishing, you should sponge out the excess water and open the inspection ports and hatches, so the boat can ventilate itself. Ventilate so mold and condensation doesn't build up. (mold plus condensation plus rain equals ROT) Buy a good breathable cover and keep the rain out.

In the Northern States such as Michigan, most people pull the boats from the water just after Labor Day. (last weekend in August) This gives the boat plenty of time to dry out before the big Freeze happens. If wood is wet when it freezes, the fibers in the wood will break, thus causing accelerated rotting. This is not an issue if the boat is kept in a heated building and not allowed to freeze.

One of the problems that occur if the boat is allowed to sit uncovered, unventilated in the rain is, the wood subdeck (under the fiberglass) begins to delaminate (rot) causing Soft spots in the deck. The quick Cheap fix for this is to drill holes and inject epoxy into the subdeck. The Proper fix is Expensive, and involves cutting the fiberglass and wood sub deck away, replacing the damaged subdeck and reglassing.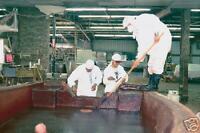 (fiberglass over the plywood subdeck)

It recently happened to me when buying a used Key West boat. Before bidding, I talked to the owner about Soft Spots on the deck. He had no idea the boat had wood stringers and wood subdeck. After educating him, He assured me the deck was Rock Solid. I drive down to buy the boat and the deck had soft spots all around the Console and some near the stern. (this was a 1991 center console boat) It had alot of rain water sitting in the bilge and was left un-ventilated and uncovered. He also said the trailer tires were in great condition. They were rotten and deflated, the lug nuts were so rusted, they would have crumbled had you tried to remove them. I refused to buy it and he was mad. I didn't expect to find a perfect boat, just one that had been well maintained like he said it was over the phone.


There are many glaring clues to how a boat was treated over it's life. Heavy scratches and gouges on the bottom and topsides, heavy oxidation on the gel coat, fresh water and a heavy scum layer in the bilge, Soft areas on the deck, trailer wheels with rotten (cracked) tires and corroded lug nuts, are all indications that the boat wasn't maintained or operated as good as it could of been.

Quality boat covers are relatively Cheap compared to the protection they give to the boat.

Good Maintanence plus Good Seamanship equals, a boat that will last a lifetime, and maintain a higher resale value. Then again, if you don't care, go ahead and leave that new boat out in the weather uncovered and unprotected. It will become worthless and un sellable in a few short years.

Those trying to dump dilapidated boats on the unsuspecting, probably won't find this guide too helpful
!! But you Might!
This guide was created under the guidance of a Professional Marine Surveyor, (member of SAMS,Society of Accredited Marine Surveyors) and US Coast Guard Master.