Trilobites are marine anthropods that lived between 500 and 250 million years ago. Trilobites are found all over the world and range in size from mere mm's to a couple of feet. For jewelry, a more practical sized trilobite is used that is found commonly in the Utah desert. In fact, there are vast swaths of land where for a small fee you can go and collect as many as you like (Bring water and sunscreen!). For an excellent resource on everything trilobite, there is a great Wiki page, the link to which I am not allowed to add here but google 'trilobite' and it's right at the top.
I just want to talk a little bit about use of trilobites in jewelry. Trilobites are super cool fossils and popular in ring, pendants, and earrings alike. But, you should know that not every trilobite fossil is created equal. A well preserved trilobite fossil consists of several parts, a body (the ribbed section), a head (center top) and lobes on each side of the head. Bigger trilobite specimen quality pieces (usually still left in the matrix) even have antennae. The picture below shows a good jewelry quality trilobite, in natural condition, as found in the Utah. You see the ribs of the body, the top center is the head and on each side of the head you have well-defined lobes.
Unfortunately, eBay wouldn't be eBay if there were not sellers who try to cut 'jewelry' corners. Trilobites are priced by size and how intact they are. Whole trilobites are fairly rare and command the highest prices, they get up to 1 1/2" in size but those are pretty hard to find. The majority of trilobite fossils unfortunately do not stand the test of time. The side lobes are usually broken off, and the head goes next. They are cheap of course, so they find their way to eBay, the ultimate clearing house of rejects.
Here is an example of a ring that features a trilobite that lost its lobes somewhere along the way: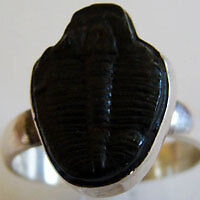 And this poor bugger has been decapitated entirely: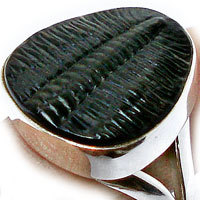 Note these stones have also been lacquered to spruce them up. I generally do not trust lacquered stones because it is often applied to disguise imitation stone. Not in this case though, these low-grade trilobite fossils are so cheap it doesn't pay to fake them.
Surprisingly, poor quality items like the above are being offered often at silly expensive prices (eg. the lobeless ring was $60), taking advantage of unsuspecting buyers and providing an out-sized return to the seller.
Fortunately, they are easy to recognize when you know what to look for. Something to keep in mind as you are shopping for your perfect trilobite fossil.