Among the most common and treacherous fakes of early 20th century stamps that I come across is imperforate issues being perforated the resemble scarce coil stamps. I was once told by an expert for one of the notable expert certificate companies to be suspicious of ANY well centered and never hinged example of an early coil single or coil pair. You should only purchase more expensive coil varieties with the right to certification. If the seller does not offer that right then you should beware! Even seller with the best intensions often don't realize or recognize many of these early fakes! Shown below at left is a common imperforate pair. Shown at right is the same pair that I virtually perforated to show you how easy a fake coil pair can be created. Remember that a stamp "mechanic" is far more sinister and will create a much more convincing example than I could create on my computer!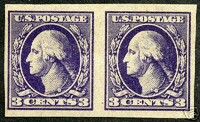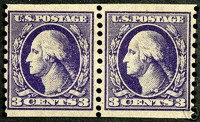 Shown here at left is the same pair with a line added to make the item a scarce line pair. Many times this is done with a colored pen to fool unsuspecting buyers. Shown at right is the same pair perforated to resemble a scarce error. I have also seen these fakes offered at online auction!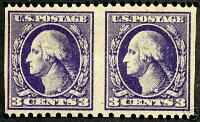 Much more common is regular stamps trimmed to resemble more expensive and rare coil varieties as shown below. Usually used examples are more likely to be trimmed as they are inexpensive and readily available. If genuine, the pair on the right would be worth $6,750.00!
Another thing I notice is imperforated pairs or singles being perforated to resemble scarce private vending coils as shown below.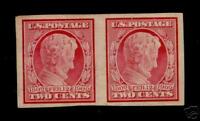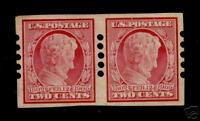 Show here is a common alteration that is done on many 19th century examples. The old trimmed off perforations to resemble an imperforate trick!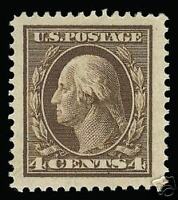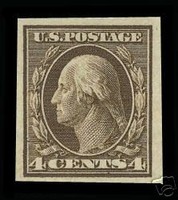 This all goes to show that you must keep your eyes and mind open and that anything is possible. As always, only buy more expensive varieties with the right to certification!
I spend my time and write these guides to help the philatelic community. I feel that my guides can help both buyers and sellers properly identify certain issues that I notice have been often misrepresented at online auction. Even If you personally already are familiar with the information presented in this guide please vote "yes" for helpfulness as it allows me to know that people support my effort to help the philatelic community . I would appreciate any emails with questions or comments on how to better help with any of my guides. If anyone is considering buying a stamp that is mentioned in any of my guides and have doubts about authenticity please email me and I will be glad to help Best regards, Mike