HP Roses Decals - Trash to Treasure!
I paid $16.43 for this pile of "diamonds in the rough" at Goodwill. Most people would see it as junk, but I see blank canvases for some lovely roses for my garden theme guestroom.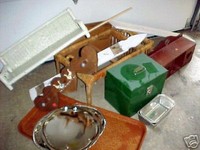 In this home decor guide you'll see how you can take junk you'll quickly & easily find at the Thrift store or Garage Sale and turn it from trash into treasure. Photos included, with detailed step by step instructions.
You can find full size photos and more detailed instructions and tips in my eBay store:
We are redecorating our guest bedroom - I want to do a shabby chic / garden theme - on NO budget... and I heard the local Goodwill calling my name! My goal is to create a "Garden Retreat" to make guests feel special, pampered, & loved.
Paint is a great way to customize & breathe new life into boring old items. I love to take an old garage sale find and give it a "Shabby Chic Makeover" with white paint & roses.
However, my efforts at hand painting roses sometimes turn out less than lovely.
If you aren't so handy with a paintbrush, you can create the handpainted look we all love with decals made from hand painted china.
You can order these decals, or custom decals to coordinate with your own home decor theme in my eBay store: Cozy-Cottage Decor
Before & After:
Here are a few before & after photos to inspire you and to show you how the projects turned out.
Wicker "Breakfast in Bed" Tray: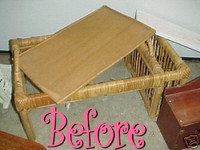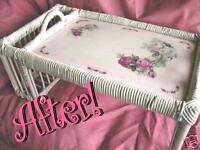 This gorgeous white wicker "breakfast in bed" tray is for my guest room - all it needs is some tea & toast, & a few issues of "Romantic Homes". It was broken, so I got it for $2.99 - thanks Goodwill!
Teatime Cabinet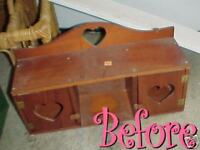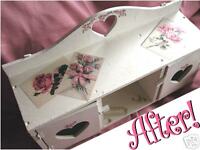 This is an old 70's cabinet - designed to hold extra rolls of TP. Cost $4.99 & now I have a perfect tea cabinet for my guests - holds a teacup in the center space, and teabags, sugar & a tea warmer behind the doors.
Also, the "Trompe L'oeil" Decals make this cabinet a fun conversation piece - 3 "faux" postcards, some earrings & a bracelet look like someone casually tossed them down. But look closer! They are all Trompe L'oeil (French for "fool the eye")
Peg Rack / Organizer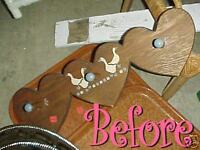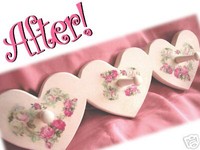 This old 70's peg rack makes a charming & convenient place for my guests to hang hats, jewelry, etc.
Step 1: Primer
Wipe down all items with a damp cloth, allow to dry completely, and prime with Kilz or Glidden Gripper. Glidden Gripper is guaranteed even to stick to glass. I even got it to stick to the old plastic hospital tray pictured. It sticks to metal with no problems at all.
I never sand off old finishes. Why bother? Today's primers are such good stain blockers, they will cover anything. Twice I have had the old finish bleed through. I let it dry, applied a second coat of primer, & it didn't come through again.
Step 2: Paint
Decals work best on glossy white paint. I paint a LOT of stuff for eBay, so I "dunk" all my items in diluted paint & hang them dry. Any drips get sanded off.
Here's my new guide on my "Dunking Station" setup: "Confessions of a Lazy Painter: How To Paint Stuff Quick"
I like to sponge different shades of white on top of the "dunked" coat (sponging covers a multitude of sins!), and while the white is still wet add accents of "granny green" or pink - accent with whatever colors coordinate with your decor.
Step 3: Decals
Coat the spot where you'll place the decal with glossy clearcoat - I use Delta Ceramcoat from Michael's. The decals need a glossy surface to adhere properly. While that's drying, cut out your decals.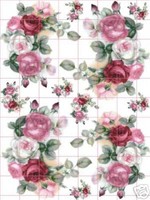 When the clearcoat is dry, dip the decal in a cup of warm water for 60 seconds. Placing the decal between your fingers, "feel" if the decal slides from the paper. If it does, you are ready to slide the decal off the backing paper into position on the object. (more detailed photos to follow in another guide)
Gently blot excess water and remove any air bubbles with a damp rag or a wet paper towel. Allow to dry. Apply a few coats of spray varnish (like Krylon) or a brush on varnish (like Delta Ceramcoat)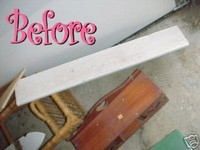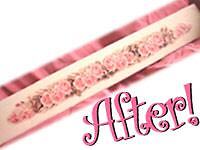 This old board was a freebie - a piece of old fenceboard from my friend Crystal's fence redo. I hung this over the door to my guest room for a rosy "welcome".
Shabby handpainted rose architectural headers are HUGE home decor sellers on eBay - but they can cost hundreds of dollars! This lovely alternative was created with decals available in my eBay store: Cozy-Cottage Decor
More home decor tips & ideas to follow in another guide - I'm at my maximum of 10 photos.
Creating this "Shabby Garden Style" guest room has turned out to be a lot of fun - and my guests will feel they've been on a retreat at a very high end B&B! I'll post photos of the completed room soon...
Hope this "HP Roses" home decor guide has been helpful! Please vote below!

View more guides by cosycottage here!