Top Trends in Women's Winter Boots for 2008 - '09!

Venus Shoe
is ready for this winter! With the morning frost already on the ground in some parts it's not too early to start shopping the hottest trends to keep you warm and fashionable all winter long. We've listened to you, watched designers' trends, and procured the best selection to give you what you want this season - options! We're talking about shoe-booties, ankle boots, knee high, riders... you name it - we've got everything you're looking for.
Get Winter's high fashion footwear at a fraction of the cost
and read on...


Fashion Winter Boots with An Edge
Once you put a cuff on a boot, what's left but the fur to apply, right?
Fancy fur cuffed boots
are extra hot this winter, in both real and faux furs. Add a wedge, and you've got a hands down chicly cosmopolitan look working for you. Women are also looking for an
extra dose of attitude this season
, looking for such extras like buckles, fancy zippers, hooks and straps.

Flat or Low-Heeled Winter Boots

When the snow blows in, the heels on our boots retract, or so the perennial de facto winter fashion rule dictates. We especially love Victoria Secret's versions of the mukluk (left, center), as well as these very popular flat chocolate faux fur cuffed winter boots by brand Blossom (right). And, it goes almost without saying that Uggs, or anything that resembles an Ugg like these wallet friendly micro suede look alikes, are always hot. All of these are your best friend when treading through lots of the white stuff.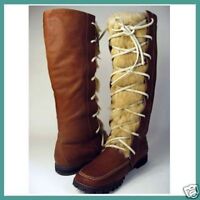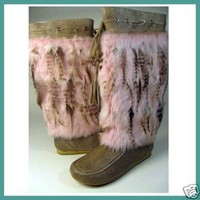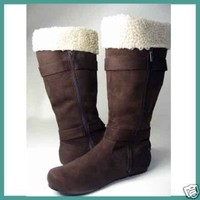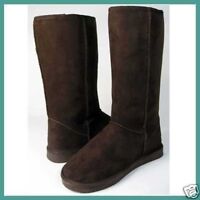 Riding Boots

Out of the Fall season and still strong for Winter 08/09 - the comfortably forgiving and foot-friendly low-heel or no-heel leather riding boot. These are fashion boots that you can wear everyday, while you stay comfortable and glamorous. Wear them with designer jeans tucked inside for the best casual look. The boot below, reminiscent of saddle seat riders, are particularly edgy. So if you like the comfort of flats, but were reluctant to give up the style that usually comes with them, here is your best friend this season!

Brand Name Waterproof Work Boots

Women work hard too, and they want all the ruggedness in their workboots that the guys have! Brand name waterproof women's work boots always rise in popularity on eBay beginning about now. Sorel, Columbia and Timberland are some famous names you'll want to look for this winter.