Interested in whiter, brighter teeth, but don't know which brand to choose from? Do you think smokers are the only ones with dark teeth? Will a tooth bleach really work? Well, I can help with many questions you have on bleaching/whitening. There are two main types of whiteners (I prefer that term, but it's the same as bleach): hydrogen peroxide based, and carbamide peroxide based. They can be purchased over the counter (OTC), or through a dental office. NO MATTER WHAT ANY COMPANY THAT SELLS OTC CLAIMS, THE DENTAL OFFICE ALWAYS PROVIDES A MUCH STRONGER CONCENTRATION THAN ANY OVER THE COUNTER WHITENING PRODUCT. THIS IS DUE TO THE FDA REGULATIONS.
HISTORY

Whitening started by accident by a periodontist (gum specialist) treating gums 30+ years ago, & noticed gums bleached white for a short period of time (which still happens with all bleaches-but it's perfectly ok-they'll return to normal the same day with a bit of sensitivity), but it also lightened the adjacent tooth. BLEACHING WAS THEN BORN!
TWO MAIN TYPES OF WHITENING BLEACHES
*CARBAMIDE PEROXIDE- HAS DIFFERENT PERCENTAGES, OBVIOUSLY THE HIGHER, THE PERCENT, THE STRONGER THE GEL, & THE FASTER THE RESULT. THESE TYPES SEEM TO CAUSE THE MOST SENSITIVITY. THESE ARE ALSO THE BEST TO USE IF YOU HAVE EXTREMELY DARK TEETH, IF YOU'VE NEVER USED ANY TYPE OF WHITENER EVER BEFORE, or IF THIS IS CURRENTLY THE TYPE OF WHITENING AGENT YOU'RE USING . You would use approximately 2- 4 of these syringes in your tray system (provided by your dentist), then, to become brighter, graduate to a hydrogen peroxide based product. There is a new type of carbamide peroxide based gel WITH FLUORIDE made by Opalescence, that is great to cut down on the sensitivity issues with this type of bleach. THESE GELS GET THE JOB DONE!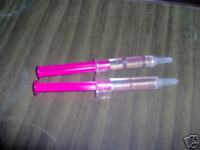 A carbamide peroxide gel,Perfecta 16% by Premier (through dental office).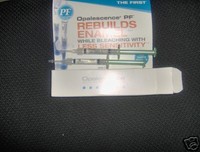 A carbamide peroxide gel 15%,w/fluoride,by Opalescence (thru dental ofc).
*HYDROGEN PEROXIDE-SAME AS ABOVE WITH DIFFERENT PERCENTAGES. SENSITIVITY SEEMS TO BE LESS. THESE TYPES REALLY SEEM TO BOOST YOUR WHITENING!! RECOMMENDED FOR USE AFTER A CARBAMIDE PEROXIDE REGIMEN IS COMPLETE, IF YOUR TEETH ARE ON THE LIGHTER THIRD OF THE SHADE GUIDE, OR IF YOU HAVE EVER WHITENED AT ANY TIME IN THE PAST. (This is also what Crest WhiteStrips are-they are just a lower & super controlled form of concentration.) These types REALLY do the job,especially after using carbamide peroxide!!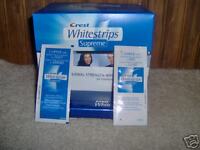 Crest Whitestrips-available OTC & through dental offices(88% stronger)

Colgate Whitening,hydrogen peroxide, through dental offices.
BRANDS AND IN-HOUSE DENTAL OFFICE WHITENING

IN HOUSE DENTAL OFFICE WHITENING is a very powerful hydrogen peroxide based gel, placed on the teeth, then activated with a light for rapid results in 1-2 hours in the office.You still have to use take home whiteners in the trays to achieve the desired results. The 'blue light' is used due to manufacturer recommendations. Whether these really activate the gel is unproven, as the take home gels and whitening OTC products work just fine without the light. You should also be given a tube of some kind of desensitizer or fluoride gel/paste to help with the 2-3 day sensitivity that is apt to follow.( I'll let you ponder the one regarding the light-I have to be neutral since I'm in the dental profession. :)
Just because ZOOM is not offered at your dental office, does NOT mean it is a lesser brand of in-office whitener. It is simply the most widely known brand name. Other, but not all, brand names are: BRAVO, PERFECTA, OPALESCENCE, NITE WHITE, REMBRANDT, COLGATE,&CREST. They are all EQUALLY effective in achieving the brighter results for you. It's like buying Kleenex or Puffs-the brand of choice in your dental office is strictly up to the dentist, or strictly up to you.
BASICALLY, IF A WHITENER HAS A CARBAMIDE PEROXIDE BASE, IT WILL WORK. IF IT HAS HYDROGEN PEROXIDE AS A BASE, IT WILL PROBABLY WORK BETTER FOR YOU. YES, CREST WHITESTRIPS WORK, BUT THE ONES OFFERED AT A DENTAL OFFICE ARE MUCH BETTER, AS WELL AS ANY OF THE GELS. AFTER ALL, YOU GET WHAT YOU PAY FOR!!!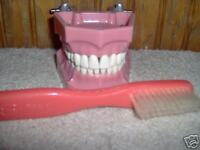 SENSITIVITY IS COMMON WITH ALL OF THESE GELS, SO IT'S RECOMMENDED YOU USE A FLUORIDE RINSE, SUCH AS , A PRESCRIBED DENTAL GEL LIKE GELKAM, OR SENSODYNE REGULAR TOOTHPASTE, OR TO WHITEN EVERY OTHER DAY INSTEAD OF EVERY DAY TO GIVE YOUR TEETH A BREAK.
SENSITIVITY CAN ALSO BE CAUSED BY TARTAR CONTROL OR WHITENING TOOTHPASTES-AND ARE NOT, I REPEAT, NOT EVER RECOMMENDED!!! They have more abrasives in their formulas, and can cause major abrasion. If you brush correctly, you're removing plaque (sticky film) that hardens into tartar, thus there being NO need for tartar control. Whitening toothpaste only removes extrinsic (outer) stains, from smoking, coffee, tea, wine, soy sauce, tomato based foods, etc., which a professional cleaning and proper brushing and flossing does anyway-thus eliminating the need for whitening toothpastes,too.
There are 16 basic shades on the classic shade guide, & 3 'bleaching' shades off the classic scale, which some refer to as 'Hollywood white'. MOST people think their teeth are dark, but most who do this procedure are in the lighter 1/3!!Results are most noticable on people in the darker 1/3 of the guide, since the change is most drastic. Usually, their stains are intrinsic (inside) which is the color of the dentin, the layer under the enamel everyone sees in people's mouths. This is caused by-medications taken while adult teeth were developing, getting older, and genetics. So, if the bleach soaks into the enamel pores through to the dentin to change the shade of the teeth, why would whitening toothpaste work if it doesn't do anything except clean the enamel? Also, crowns (caps), and composite resins (white fillings) DO NOT BLEACH-PERIOD!!
With 16 years in dentistry, I hope this information helps. Please feel free to contact me with any questions regarding this issue-and please rate if this was helpful to you-I appreciate it!!