Shipping 70 pounds for only $4.95? YES YOU CAN.
By now, you should be shipping from your eBay sold page by generating your label with free delivery confirmation and paying for it through Paypal, pitneyworks.com/ebay for tutorial. Ship only to the address provided by Paypal, not eBay. Don't stand in line at the post office and pay extra for delivery confirmation. Since you have electronic postage, you need not wait in line. Simply put your items in the outgoing mail box or hand them to the postal clerk at the counter. The 13 oz rule applies to mail with stamps. Your buyer will receive an email from Paypal or eBay that you are shipping the item and provide a link to the tracking. Ship with Ebay, use Paypal to pay for your shipping and collect that 1% as a purchase with Paypal, every little bit adds up.

You can order all of these Priority Mail boxes and have them delivered FREE, simply sign up at usps.com or on your next visit to the post office, while standing in line, pick up some from the Priority Mail display.
We all have used that small and medium 1096 Priority Mail box, the ones about the size of a video tape box. The post office charges you by weight. But hold on! Did you know that you can fit either of those small video tape size boxes into a Flat Rate Envelope for only $5.05 online and combasprice of $4.95. Yes you can, just pinch the lower corners of the envelope and the box will slip right in. Don't let the Post office clerks try to stop you. The DMM (domestic mail manual) has only 1 restriction, the primary sealing of the envelope must be made with the adhesive strip on the envelope, and YES you may add more tape to insure it does not pop open. Some clerks say only 1 piece of tape? How long of a piece? Three feet? The "one piece" regulation is a myth. If any clerk enforces some sort of shipping restriction, have them SHOW you the section of the DMM they are talking about. The manual is online and all of the post offices can look it up and print it out. The only mention of 1" thickness limitation is for large 1st class envelopes in the 1 to 3.5 ounce range.
Here is the postal service regulation on taping flat rate packages section 123 subsection 1.5 in the postal explorer:
1.5 Flat-Rate Envelope and Boxes
Any amount of material may be mailed in a USPS-produced Priority Mail flat-rate box or flat-rate envelope. When sealing a flat-rate box or flat-rate envelope, the container flaps must be able to close within the normal folds. Tape may be applied to the flaps and seams to reinforce the container, provided the design of the container is not enlarged by opening the sides and the container is not reconstructed in any way.
The tape myth regulation:
5.0 CLOSURE, SEALING, AND REINFORCEMENT Tape
5.1 Cellophane and masking tape may not be used for closure or reinforcement of packages but may be used to augment adhesive closures on envelopes or to cover staples on bags

simply means, cellophane and masking tape are not suitable to reinforce a package or even seal the flaps of a box.
1.5.1 states that all priority mail envelopes legal size and smaller qualify for the flat-rate price even though they do not say flat rate on the envelope. These are the paper envelopes, older envelopes and the window envelopes. This does not include tyvek envelopes.
Link to flat rate services and prices usps.com/prices/priority-mail-prices.htm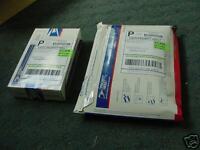 <small 1096L and 1096S box fits inside.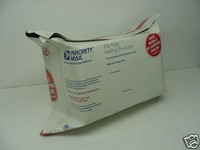 There is a 5" x 5" x 8" box inside this envelope.
This is a distorted envelope (which has no prohibition), it is not MODIFIED.
Modified would be making the envelope longer, shorter, or combining two envelopes into one and is prohibited to qualify for the flat-rate.
Postal bulletin says " it does not have to be FLAT to be flat-rate" uniform thickness only applies to 1st class letters. There is no thickness limitation to Flat-Rate envelopes. Postal system advertizes "if it fits - it ships" and as of a March 19th 2011 retail huddle bulletin from the Baltimore MD. office, postal clerks are not to refuse or upcharge any distorted flat-rate parcels. They do not want a mass public action for false advertising.
When printing the label, a pop-up goes to your printer window. Choose to print 2 labels. One for the box on the inside (in case it comes out) and one for the envelope. The Priority Mail Tyvek envelopes make good padding by slipping the box into one of them first. (they are free too). DO NOT FOLD THE CORNERS OVER AND TAPE THEM DOWN. If you do that, you now have "modified" the envelope and weight applies. It must look like an envelope. Notice the green home made "SCAN BEFORE DELIVERY" label.
My personal record is sending 8 brass padlocks weighing 12 pounds. The limit is 70 pounds in a flat rate Priority Mail envelope. Filled a box with nuts and bolts, could only get it up to 46 pounds. I will have to try lead fishing weights!
Now that the new postal rates are in effect you cannot ship 1 pound coast to coast for $5.25 anymore. In order to get that rate your item must fit into the small flat-rate box or the flat-rate envelope. So that sweater you suffed into the flexible Tyvek envelope is now costing more unless you can get it into that flat-rate envelope. So don't pay $5.75, $7.10 $8.80 $37.01 or MORE $$$$ for weight of those small boxes. Parcel Post & Media Mail may even cost more than the Flat Rate Envelope! You can get at least 4 or 5 DVDs into a flat-rate envelope. Don't bother to even weigh it because the flat rate envelope has no weight filed to fill in when shipping online with paypal. Send everything with free delivery confirmation (when you purchase online) to Alaska, Hawaii, coast to coast. Priority Mail is the same rate to Guam, Puerto Rico, the Trust Territories, Marshall Islands (those little islands in the South Pacific) Don't forget our service personnel at APO and FPO addresses (you may have to ship from the post office for certain apo fpo locations) By the way, Hawaii is one of the lower 48 States with Alaska and Minnesota being the 2 most northern states. worldatlas.com/webimage/countrys/namerica/usstates/hilatlog.htm Minnesota has a piece that sticks up into Canada and Alaska is one of the Continential United States. The correct term for UPS and FEDEX shippers would be "we only ship to the contiguous 48 states"
List your shipping as Priority Mail. Stating that you ship by standard flat rate shipping gives the buyer an expectation of some slow shipping method that you plan on making extra money on, and waiting longer for the item to get to them. You can offer 3 domestic and 3 international methods of shipping your item in the listing. Give the buyer a choice of three but list the 1st method as your choice. You can also state the weight of the item in the listing, especially if it is over 1 pound. Should they calculate the shipping cost themselves, they might think it is costing YOU more to ship than you are charging! Everybody loves a deal.
Flat Rate boxes are great too. Stuff them full, for only $10.95 , Same deal. No weight restriction up to 70 pounds. 2 sizes FRB-1 is 5x8x11 and FRB-2 is 3x11x13 . Starters, hardware, flywheels, cast iron, brass, anything the size of a shoe box that is heavy. Use all the tape you like. (I can only get 46 pounds into one) The Large Flat-Rate-Box is $14.95 flat rate shipping in a 5" deep 12" x 12" box. Alaska and Hawaii are included in the shipping rate. A $2 discount when sending to APO or FPO destinations in the specially marked APO FPO Large Box!
Now available January 21, 2009 the small flat-rate-box, you will not have to put the specially marked small video tape size box into a flat-rate-envelope anymore. (I have been dong just that for 5 years) costs the same $5.25 with no weight restriction. Protect small items with the convenience of a FREE box when sending by Priority Mail. Rolls of coins, hardware, VW door handles, lug nuts, etc. But the rate is 30 cents higher than the flat-rate-envelope so go ahead, stick it in the envelope and save 30 cents.
Now available January 2011 are the reigonal boxes A and B, which allow you to ship 15 pounds (a) and 20 pounds (b) . So if you send small heavy items it may be cheaper than the flat-rate medium boxes to zones 1 2 3 and 4.
March 2011 there is now another LARGE flat-rate box nicknamed the Boardgame box, You can fit 2 Monopoly sets in it. Size aprox 3x12x24
March 2011, you can now ship online international 1st class. No more filling out slips at the post office, standing in line, click and ship online just like Priority Mail International. Same international parcel rate, still no delivery confirmaition, it only tracks to usa customs then it is gone.
August 2011, The postal system is now giving a discount when shipping Priority Mail regular package 8 oz or less. You will see lower shipping prices, below $4.80 flat-rate envelope prices in some instances. Example: $4.40 when sending 8 oz to zone 3, flat-rate is $4.80. Similar to Express Mail which offers a lower rate for 8 oz or less to some zones. Zone 8 shipping of 8 oz is $5.08 in stead of the $5.73 for 16 oz to zone 8.
January 2013, Rates have increased again, electronic flat rate envelope is now $4.95. One pound is now $6.25 to zone 8, so now it is cheaper to send two 8oz items by first class parcel to zone 8 v.s. Prioriy Mail one pound. International shipping to Canada by any service now has E-DELCON service and is included free, that is electronic delivery confirmation for all classes of mail, 1st class, flat rate, etc, but at a price, 1st class 1oz went from $3 to $6.16, so you are paying for that DC. We all wished for it, now we have to pay for it! Hopefully the UK, Europe and the rest of the world will have this service soon. International rates have doubled but remember, you can send up to 4 pounds at the 1st class rate.
But.... is that a good deal for your customer? Sure it is. The difference between 2 items may be the shipping cost. If seller 1 and seller 2 buy from the same source, sell for the same price, then the edge is SHIPPING. Offer the same rate nationwide and get the highest bid for your item by leveling the playing field with equal shipping cost for all bidders.
In April 2011 the 1st class mail postal rates for small parcels will be a 3oz minimum.
Now ebay takes 10% of what you charge for shipping to eliminate fee circumvention with 1 cent items and $10 shipping.
So, if you ship small items by the flat-rate method:
1.You don't need a scale. Postal system won't even ask for dimensions or weight on flat-rate packages.
2. You don't need to learn to use a web site to find out shipping costs or have a calculator in your listing.
3. Stuff whatever packing material you wish to use, weight does not matter. Cardboard, newspaper etc, no need for lightweight styrofoam or bubble wrap.
*The Post Office provides FREE boxes and envelopes to ship Priority Mail. Why buy padded envelopes or small boxes at your expense, then pay postage when that combined expense is more than $4.95 Use Priority Mail for all small and or small heavy articles.
Uniform box sizes make for efficient shipping. Irregular boxes from home are 2nd class citizens when the volume gets heavy around the holidays. Red, white and blue Priority Mail boxes travel faster.
Don't forget the Flat Rate Priority Mail International envelope at $24.95 Worldwide ($19.95 to Canada) Weight limit is 4 pounds. All types of Priority Mail flat-rate envelopes are the same price when sending international.
You are now able to use the Priority Mail Flat Rate boxes (frb-1 and frb-2) to send items worldwide as Priority Mail International. Weight limit is 20 pounds. You will need customs forms filled out and you can do it online with Paypal shipping. Yes it costs more, $59.95 worldwide! The large flat-rate-box is $77.95 Worldwide.
Parcel post $5.25 for up to the first pound is NOT a cheaper way to ship and you have to pay for the delivery confirmation! For 3 ounces it will cost you $5.25! Parcel post forces ground transportation. (costs more in gas & time to drive coast to coast than to fly) So small items that weigh 1 to 13 oz ship cheaper with 1st Class Mail Parcel in a bubble envelope or small box. Priority Mail is often only 10 to 60 cents more and the Postal Service provides the box!
Watch out when exceeding 17" on any one side of your Parcel Post package. The post office charges a BALLOON RATE for being too big if your item weighs less than 20 pounds. ( 12" on Priority Mail) Dimensional weight restrictions apply to Priority Mail. anything more than 1 cubic foot must weigh 20 pounds or you pay for 20 pounds when going to zone 5, 6, 7, 8 .
Here is a little tidbit if you want to calculate your zones for shipping postcalc.usps.gov/Zonecharts/
Now that over 95,000 people have read this guide, and are probably saving on shipping, how about a YES to this guide was helpful since it did not cost you anything.
Thanks,
Mark