This guide has tips for Selling on Ebay full time. Many people would like to make a living on Ebay but soon realize that it involves more than just listing a few items here and there.
I love my full time job and even though it has been a struggle to refine everything, I"ve made a fairly good living in recent years.
I had sold on Ebay full time for many years. But truthfully, I was a stay at home mom who didn't HAVE to contribute to the family income to survive.
I would make anywhere from 1K-3K a month --but there wasn't any stress involved, because we were debt free and could afford some ups and downs in my business. Then 911 Hit and the economy had alot of issues for months and even into the next year.

I listed this toy horse trailer in less than 10 minutes including a bunch of photos. Time is money and a good description is key; however, many sellers never list enough to make a living.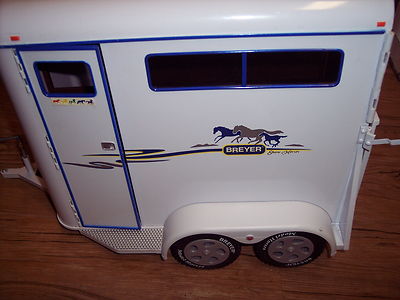 I was selling Sports books for a living and doing well, but sports books were a luxury item or a non needed item in some buyers minds during the economic downturn. I also had a child with some health issues that made it very hard for me to get my listing done at the level I had before. In addition, our medical bills were not all covered by insurance and they began to mount.
So I should have dug in my heels and listed and found more information on selling and googled ebay sellers who were successful. But I didn't. I gave up, became discouraged and went to school to be a nurse.
Of course now that i'm a nurse I am not totally regretful I did it. I now have a good career with good insurance benefits. However, when you are an entrepreneur at heart, no job will completely make you happy. So right now as this guide is republished, I am working full time as a nurse, but have completely restarted my ebay business over, with the new information that I now know after years of struggle. The purpose of the rest of my guide--is to save you some of that lesson learning and make what I went through worthwhile to someone else.

UPDATE: I have now quit my nursing job and work full time only selling online.
So step number one:
don't reinvent the wheel.
You need to practice on ebay, become familiar with how to list, make some small mistakes etc. But the one thing I do now that I never did before was to BUY information. I often buy ebooks from other sellers who are making good money--but Be careful whose ebooks you buy. The best thing to do is to start looking for one of the ebay or top rated sellers and powersellers who have over 3-4K feedback. It is an assurance they have some real experience. Then see which sellers offer information on selling. Here are some Ebay sellers who you should study in my opinion. I have paid hundreds of dollars in monthly subscriptions, and ebooks from the people I am listing--and they will tell you who they study and it's a great circle of mentoring--but I have gained instant ebay profits but knowing what to sell; what others are having success at and little tweeks to my store that I never could have researched on my own in the time I have.
We can't put links in these guides, however some people to start studying are:
Janelle Elms has taught me a monumental amount of information. She has information that teaches you how to start your store right from the start.
Study Tim Chapman; Mr. Customer SERVICE--although he doesn't sell alot of ebooks etc. ; just by watching his auctions and customer service; you can see how successful sellers do what they do.
Lynn Dralle, She is an amazing seller. She doesn't do alot of fancy stuff; but she always always always lists 100 auctions a week; no matter rain or shine; thats the one thing you can learn from her. If you want to get to the top fast; this is the first place to start; it's exhausting; but if you list and list consistently and alot; you can make a living at this.
youtube and itunes are full of podcasts about selling on EBAY.

For the magazine lot I have below. I will type out the issue numbers and dates of the magazines i am selling. I also will put a brief listing of some of the articles that they will find in these magazines. I then took about 11 more up close photos of articles and nice photos from within the magazines.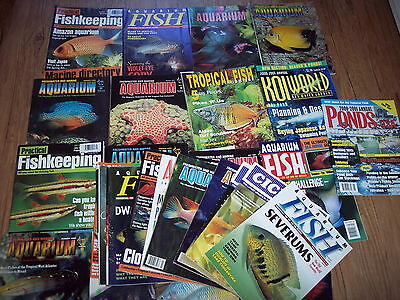 The next thing I would encourage you to do is to NOT get discouraged. I wish I could tell you it would happen overnight, but selling on ebay is an education, just like going to school. You have to be willing to spend time purchasing information. So many people want more inventory, more listings, etc etc. When the key, is also to at some point refine what you do. It really truly does take the same amount of time to find, box and list a $20 item as a $10 item. Remember NOT to look at what ebay sellers want for an item. On the left hand side of any search you do on ebay--there is a Completed link; only research what sellers have gotten for their items. That is an actual amount you would likely get.
Selling something on Ebay is not difficult. You can list and learn fairly quickly how to add good keywords and make your item sell. Ebay provides so much help in that area that if you search for help you can find any information you need on the actual structure of your auction.
The issue comes in with being honest with yourself about the items you are selling. How many times your normal selling price do you need to sell to make a living? for example. If you want to go to Garage sales, find the items, photo, list and ship the items. You would need to sell over 500 items a month to make $5000 if you are only selling $10 items. You therefore must learn to do good research. It only takes minutes and once you do your time listing will go down; or your profits will go up.
The difficulty in making your full time living on Ebay is to balance your selling with your time and with your Business Expenses. I believe this is true of any Brick and Mortar Retail venture. Ebay is the same. A business has to refine it's expenses but not be so cheap with advertising that nobody can find you. Although I am still refining and trying to learn. I have learned some great lessons in recent years that i'd love to share.
1. Use the Ebay store. Ebay wants to make it easy for items to be constantly available to your customers. The problem with running only auctions is that inevitably you will get the Flu; You will have sick kids; or you will want a vacation. You can't Gear up new auctions all the time if you need a few days off. It usually ends in frustration and no income for the week or two until you can get back in the mode of listing. In the meantime you've lost customers who looked for you and you didn't have any items listed. So please setup and use your Ebay store. In addition, your listings can all be found in one place by someone who stumbles upon all your links that are ALL over the internet. This is just a brief guide--but you will soon learn how to put links on many social networks etc and get your store found.
2. What to sell and how much to buy. You have to research your product by looking at others on Ebay with the item. Can you do better. Can you do it cheaper? If not move on to another product. And last but not least--Can you find enough of this product to make a living. I can sell a certain set of books for $250.00 everytime i list it--But i can't find those everyday. You need something you can get your hands on to sell. Once you are sure it will sell you have to find a source. That is the biggest area people struggle with.
You have to research reputable dropship companies and Wholesale companies. You can go to Trade shows or find a reputable company that researches the wholesalers for you. This guide won't allow me to tell you the name because it's outside of Ebay; but google it and you will find it. Just remember; you aren't trying to find a wholesaler; you are trying to find a company that has verified that all the wholesalers they list are verifiable companies that do ship their product.
How to pick a product eventually:
What is your expertise in? What have you been doing until now? How can you use that to find a relationship with someone with a product? The biggest mistake i made in this area that Contributed to keeping my expenses high--Was to stock up TOO much on inventory. I did get a Wonderful price for buying alot--but in my case it was about 3 years worth of stock. The downside is not the initial money I spent on the inventory--That was relatively a bargain--But it was the STorage costs and the Interest costs on the debt. THat has taken over $500.00 out of my profit each month that i just didn't budget for. Thankfully i've Refind the system again and typed as fast as possible and I'm now down to $90.00 a month in STorage costs and $250 in interest on my debt. THat is going down fast and I'm very optimistic. Only buy what you can sell within say 3 months. Carrying dead stock is a drain to your entire operation. Walmart gets rid of anything that hasn't sold after Christmas.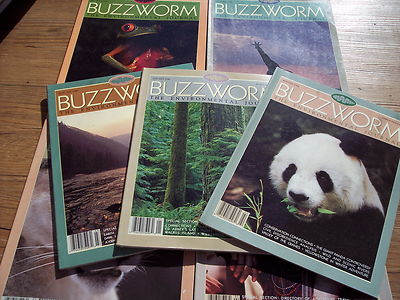 They don't pay storage to keep it until the next year. You can't either. GArage sale it; Sell it at a bargain on Ebay itself; Whatever it takes--Rotate the low end stock you have. A side note to this is do you really need the Credit card machine? Do you really need the FAX? Buy technology that helps you list your items or helps you provide something important. Don't buy items like I did--I might lose one customer by not having my own credit card machine but i'm not paying $25 a month anymore which adds up quickly.
3. Listing fast and furiously is the key. YOu can't make a living listing 10 items a week or even a day in most cases. You have to refine this part of your operation. Use a listing service; or use Turbo lister. Type in the basic information so you aren't retyping it. .

I take up close pictures so that I save on typing time--when someone in my listing clicks to enlarge--they can literally read the text. I also try to make sure that most auctions are worth at least $25.00. Garage sales and thrifts are FULL of $25,00 items. You have to learn about a topic or area on ebay. Whether it be dinner plates or tennis rackets. Doing $5.00 auctions will never get you to a full time income!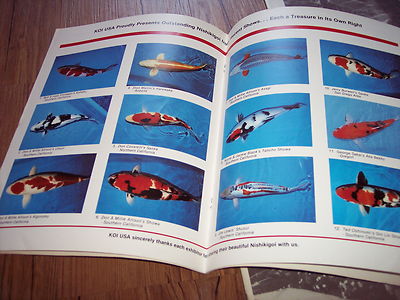 4. Advertising your listings and building a customer base is the most vital thing you can do. This won't happen overnight. You need to do some Auctions and Fixed price listings to get exposure to yourself and get customers in your store. Be sure to mention in large print To go to my Store. See my other items. Get a shipping discount-Go look! Something to let them know they even have such a thing. Some buyers are new and don't have any idea about Stores. You have to lead them to you. Advertise using Keywords also. This seems to have helped my business.
5. Keep your Feedback high by slowly but surely handling each problem. That's why you need to build a system. I have a system for each piece of paper that comes into my hands. I file it and make notes as to what i did with that customer; Date i shipped the item etc. Your feedback is EVERYTHING. Give a customer a refund for ANY reason. You can resell the item and keep your customer happy.
6. Treat this like a business. If you are rushed before you leave for work, then having to come home to dirty dishes in the sink is expected. However, when we work from home, sometimes we end up using a toothbrush on the tile grout; and then ask ourselves why we didn't make any money. Remember that you if you sell on Ebay full time, you still have a BOSS. Your boss is now your customer and the orders that need to go out on time and the listing that must be done in order to be able to make this work. Don't fall into the procrastination trap and then wonder why income is not coming in at the level you would like it to.
I hope this helps a seller trying to make the leap into Full time or Successful Ebay selling. It's the toughest job you'll ever love as the military says! It's not FREE money but it is a viable way to support a great lifestyle.
THanks for reading! If this guide helped you, please click below and let Ebay know. It will allow me to keep adding to my guides.