Okay, Fisher Price has done it again!
I remember all the "HOOPLA" 10 years ago when my twelve-year-old daughter was little & now i am doing it all over again with my three-year-old. I managed to get an Elmo back then among all the other frantic moms & now this time i managed to get 2, one for the baby & one to resell for some other frantic mom. lol.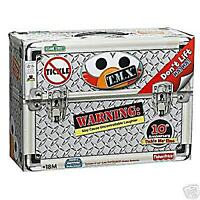 Okay i couldn't wait until Christmas. Sorry! But now i can tell all of you waiting until the BIG Holiday to let your little one open his or hers what fun it really is. This Elmo is hysterical to watch.
First the box:
The box is like a Top Secret Case so you & your child feel so IMPORTANT opening it. lol. And when you do peel open the flap on the case Elmo talks to you right away. Cute! The excitement builds!!!
Second:
You need to know Elmo's 3 Tickle Spots.
Third:
When you FINALLY open the case carefully no to rip it Elmo does such wondrous things:
TICKLE ELMO ONCE ON ANY OF HIS 3 TICKLE SPOTS & HE LAUGHS & SLAPS HIS LEG TWICE THEN FALLS DOW IN A SITTING POSITION & ROCKS HIMSELF BACK UP TO A STANDING POSITION.
TICKLE ELMO TWICE & HE DOES THE SAME PATTERN AS THE FIRST TICKLE BUT THIS TIME HE SITS DOWN A SECOND TIME & FALLS BACKWARDS KICKING HIS FEET INTO THE AIR LAUGHING EVEN HARDER THIS TIME!
TICKLE ELMO A THIRD TIME & HE FLIPS PUT, DOING ALL THE THINGS HE DOES THE FIRST TWO TICKLES BUT THIS TIME HE ROLLS ON TO HIS TUMMY & HITS HIS FISTS ONTO THE GROUND ALL THE WHILE HYSTERICAL & EVEN MAKES HIMSELF STAND BACK UP AGAIN & SIGHS IN THE END!!!
This Tickle Me Elmo T.M.X. Doll is really awesome & worth every penny & minute you might find searching for it. We just love it but the thing is... I AM NOT SURE WHO LOVES IT MORE, MY DAUGHTER OR ME? lol.
Good Luck in getting yours!!!