An Olympic theme is fun for kids that love sports, being active, and/or the Olympics in general. This theme is great for birthday parties, as well as for parties when the Olympics are going on, especially for the day of the Opening Ceremonies or Closing Ceremonies.
Invitations
You can make them using clip art on the computer or have the kids make them by hand. Send out a couple weeks before party. Make sure you give address and directions to party, as well as phone number for parents to call to RSVP or if they get lost.
Food
Some think the decorations are most important, while others think the activities are the most important part of a kid's party. Although all are important, personally I think the food is most important. You do not want to deal with a bunch of hungry kids. Believe me they are the toughest.
For an Olympic themed party a Buffet of dishes from around the world is a great way of displaying the international aspect of the true Olympics. Below is a suggested menu, but of course you should try to tailor it to the preferences to your child and the other children attending (if you know their preferences). An alternative is to have each guest bring one of their family's favorite dishes and tell the country of origin.
Buffet Ideas:
Chinese Fried Rice (China will host the 2008 games in Beijing): You could order from a Chinese restaurant or use this
recipe
.
Chips (England, which will hosted the London 1908 and 1948 summer games and will host the 2010 summer games): You can find chips (fries) in the freezer section of the grocery store. You can also make them at home.
Click here
for recipe.
Spinach Dip (Greece, the home of the Ancient Olympics and the host to the 1896 and 2004 modern games): This
recipe
goes great with bread, especially pumpernickel, but can also be used with chips.
Sweet Potato Fritters (South Africa): Great
recipe
to add an African dish to your buffet.
Tomato, Basil, and Mozzarella Bread (France, which is the home country of the man who brought about the modern Olympics, as well as the host country of the 1900 Paris games, 1924 Chamonix winter games, 1924 summer games, and the 1992 Albertville winter games): You can just buy and slice up some French Bread or you can make your own bread using this
recipe
.
Cake: One can be ordered sports themed from most local grocery stores. You can of course make one using you kids favorite cake mix. Decorate it with small medals, Olympic rings, and/or sports figurines. The Olympic rings look great on a white frosted cake and ends up resembling the Olympic flag.
Drinks: Gatorade and Water are perfect for athletes even if it just being an athlete for a day at the party.
Decorations
Have the kid(s) help make the decorations. You can have them draw and cut out medals, sports balls, other sports equipment, and/or their favorite Olympians to be put up around the party area. You can also find related coloring pages for them to color. You can add streamers and balloons, too.
Flags: Hang flags from countries around the world all over your party area. You can find coloring templates for most flags on the Internet and have kids color them in. You can even connect them to make a flag chain. I once made a chain that started with the Greece flag to represent the 1896 modern games and put a flag for each host to represent all the modern games up to the 2004 games back in Greece. Picture below is part of that chain.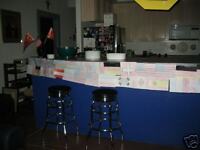 Olympic Rings: You can either draw the Olympic rings on a piece of white paper or make rings out of strips of paper and hang up. Below is a picture of Olympic rings I made and hung up. If you hang them against a white wall it will look like the Olympic Flag.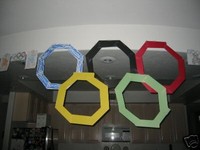 Activities
Competition: You could have a competition with certain activities tailored to the age group and season. Some examples are water balloon toss, darts, basketball (21, Horse, or 3-on-3), hurdles, obstacle course, dash race, and beanbag toss. Make a point system that allows every to win points that translate into prizes. These can be small toys purchased from the Dollar store or homemade cardboard medals (simple ones pictured below).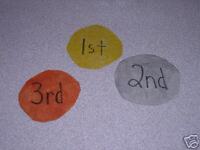 Pin the Torch in the Runner's Hand: Draw a torch relay runner on a large piece of paper. Make little torches and cut them out. You can either make the torches on sticker paper or use tape to make them stick to the paper. Make sure you make some indication of whose torch is whose attempt of putting it in the runner's hand. You can number them or put the attendees names on the torch pieces.
Sports Movie Marathon: This works great if the party is also a sleepover. You can also just show one movie that fits in with you time limit of the party. Some possible movies include Cool Runnings and Miracle. Check out my
Sports Movie for Family Movie Night Guide
for more ideas.