With the new Pirates of the Caribbean movie and young boys (and girls) fascination with pirates the theme of pirates and treasure is a great one for a kid's birthday.
Invitations
You can make them using clip art on the computer or have the kids make them by hand. Send out a couple weeks before party. Make sure you give address and directions to party, as well as phone number for parents to call to RSVP or if they get lost.
Food
Some think the decorations are most important, while others think the activities are the most important part of a kid's party. Although all are important, personally I think the food is most important. You do not want to deal with a bunch of hungry kids. Believe me they are the toughest.
Below is a suggested menu, but of course you should try to tailor it to the preferences to your child and the other children attending (if you know their preferences).
Main Dish: Golden Nuggets (These can be chicken or veggie alternative nuggets. Serve with dips such as ketchup, honey, and BBQ sauce.)
Side Dishes:
Cannon Balls: I like using cheese balls, but many kids do not like them, so you can do
Peanut Butter Balls
instead.
Veggie Tray: Even if you cannot get the kids to eat them, the parents that attend will appreciate the effort. Serve with ranch dip or you could use cheese dip (works great with broccolli).
Cake: One can be ordered pirate themed from most local grocery stores. You can of course make one using you kids favorite cake mix. Decorate it with small pirate toys. I found these buildable ship card game packs that work well (The cards come in booster packs and can be found at some places that sell trading cards. I have found them at Target and at my local Party Store.) You can make an island with graham cracker crumbs. Use Reese's Pieces and Skittles as treasure. You can use normal candles, number candles, or purchase pirate themed candles at most party stores. A straw can be turned into a palm tree by putting green paper on top cut in the shape of palm leaves. Raisins or chocolate chips can be used to represent cannon balls.
Buried Treasure Birthday Cake Recipe
. Example cake pictured below created for boy's 12th birthday.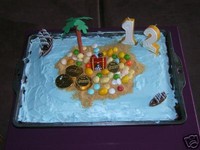 Drinks: You can serve fruit punch. Another idea is root beer floats. Even better if you can get some steins.
Decorations
Pirate Flags: A Pirate Party would not be one without the flags. You can have your kid(s) make the flags themselves with black construction paper and white chalk. You can also print out pirate flag coloring pages or images.
Anchor Chain: You or your child can draw and cut out an anchor shape. A chain can be made using the paper chain method with the anchor on one end and the chain as long as desired. Example of hanging anchors pictured below.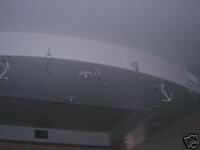 Treasure Chests: You can make your own or buy them at a party store. Fill them with butterscotch candies to represent gold, bead necklaces, fake coins, chocolate gold coins, or whatever else you can think of. You would be surprised what you can find around the house to represent treasure. Ask your kid(s) to help on this and use their imagination to fill them.
Table Centerpiece: Treasure Chests make good table centerpieces. You can make it represent a treasure island with the treasure chest in the middle and a ship off to the side. Example centerpiece pictured below.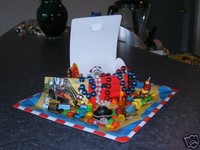 Welcome Sign: The sign can be a simple Happy Birthday sign the party is for a birthday. My favorite wording to use for a pirate party is "Arrr! This ship is protected by Captain (insert kid's name). Enter if you dare!" You can also make a simple Pirate Party sign. Let the kid(s) make and decorate the sign.
Activities
Sword Battle: Depending on your budget (and size of party) you can buy inflatable swords at most party stores or make them out of cardboard. If making them out of cardboard, I suggest using stiff cardboard or double layers. Cut the swords out before the party. During the party let the kids decorate them with crayon, markers, glitter, or any other craft materials you may already have laying around or wish to purchase. Once done let the sword battle begin. You can also make eye patches for the battle using cardboard, a hole puncher, and string.
Treasure Hunt: I have seen kits for doing treasure hunts at party stores. You can of course create you own map using landmarks in your house or backyard. Make clues and hide them at each point. At the end put some treasure. The treasure can be the party favor bags.
Pirate Movie Marathon: This works great if the party is also a sleepover. You can also just show one movie that fits in with you time limit of the party. Some possible movies include
Muppet's Treasure Island
,
Pirates of the Caribbean: The Curse of the Black Pearl
,
Treasure Planet
, and
Sinbad: Legend of the Seven Seas
.