We did, and have been testing a set on the rear of a mountain bike for some time now. They replaced a Shimano XTR rim brake set.
Like so many other specialty bicycle parts, these things are expensive in comparison to many other models, but they are rock solid and very simple in design.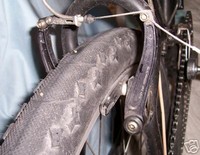 Avid is part of the same company with SRAM and Rockshox, and a few other value oriented brand names as well. If you appreciate good craftsmanship and don't mind spending a few more dollars then these may well fit the bill. On the other hand, there are many quite a few other brands of rim brakes that will stop a bicycle as well.
Either way, rim brakes are mainly for traditionalists (which is a huge segment of the bicycling industry), and will slowly disappear as the newer generations grasp on to the more valid technology. Actually, we will have to admit that we like many of the old school aspects of bicycling ourselves. Also, under certain organizations, bicycle ROAD racing requires the use of rim brakes, especially in Europe. Look at it this way, just recently have helmets been accepted by most bicyclists, where as in other sports, many with a lesser chance of head injury, the helmet has made a requirement long ago.
Anyhow, with these Avid rim brakes we will again state that they have a rock solid feel, and also vice like gripping power. We run an Avid disk system on the front of this particular machine, and if it ever goes south we may very well go with the Single Digit Ultimate rim brakes up front also (even though we are huge advocates of disk brakes, especially on mountain bikes. Disks stop the same even when soaking wet, don't fade like rim brakes on the steep descents after heating up, have higher braking power, and still function perfectly even with a trashed and/ or bent rim, and are far easier to tune in a way designed for near silent operation in all conditions. Alternately, there is the environmentalist argument about brake fluid leakage, but then again there are the mechanical [cable] actuated disk brakes available if leakage concerns you), and realistically mountain biking leaves a substantial impact on the environment anyhow, but a reduction in that impact can be good. There are still ruts in the earth from horse drawn wagons that are many centuries old. A long term study by Shimano was released indicating that MTB trails have the same wear on the earth as equestrian and motocross trails.
Considering the Avid rim brakes again though, if it matters to you, also remember that a certain kind of person is resentful about comparatively expensive items such as these. This is generally the same person that makes snide remarks about titanium frames and so forth. Personally we get into almost everyone's ride; bargain basement, or space tech weird: Everyone has a purpose in mind, and that purpose could well be that their bicycle is also considered art to them, or maybe a study in technology, a conservative ride, or maybe one as durable as a tank.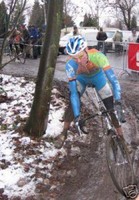 Also, more than a few people have complained that these Avid Single Digit rim brakes cause squealing noises to occur, and while it is true these may squeal where the old pair did not, it would almost definitely be caused because they were not properly installed (or because of using the wrong pads for ceramic rims, or visa versa). In fact, these would generally be less likely to squeal, than most other models, if properly installed, due to the tighter tolerances, simpler design, and more solid engineering.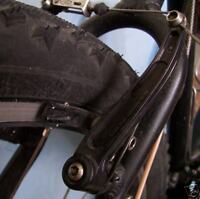 The brakes pictured here squealed like a banshee on the first ride out too, but after doing a little toe in adjustment, they are now as silent as rim brakes get. Also make sure you have the proper pad type if you have ceramic rims. Basically, the proper adjustments need to be within a few millimeters, but once you know the proper way to set them it is easy from then on.
It seems like working on bicycles would be super simple, but there are many more adjustments to be made than we ever imagined when we starting out doing our own work. "ZINN & THE ART OF MOUNTAIN BIKE MAINTENENCE", by Lennard Zinn is a really good book if you need, or want, to learn how to do a lot of things on your own bike.
The big question would be are the Avid Single Digit Ultimates a good choice? Generally, we'll have to say yes, and would probably buy them again if we had it to do all over again. One thing that was unexpected, and irritating, was the fact that we now have to deflate the rear tire to remove or re-mount it (and we definitely see our share of rear flats). The Avid brake pads hit the frame on our bicycle and do not leave enough room for the tire to pass through fully inflated. This is just a standard 2.0 mountain tire also. The Shimano XTR brakes the pads are on folding type pivot system, and that moves the whole pad equally away from the rim, or tire, at the same time (which allows the tire to be handled, or removed and reinstalled, fully inflated). With the Avid system the brakes are solidly mounted to the brake arm, so they move at an angle away from the rim which leaves less space for removing the tire. This may not be a problem on your particular frame. The good part about this, though, is that there are fewer moving parts and pivot points on the Avid, so this adds to simplicity, durability and the more rock solid feel. The boot system also does a nice job of keeping most of the crud from working its way up the cable which used to be a major annoyance with the standard Shimano setup.
The brake arms are forged aluminum. They have sealed cartridge bearings, and are interchangeable as either front or rear; so two identical sets will cover the bike on both ends. They are fairly simple to install with the most difficult stage probably being setting the proper pad offset, which entails using the proper shims and washers in the right stack height under the pads.
We also like to always recommend --> mtbr.com
There are tons of reviews by riders testing the products they had purchased, and you may well decide against buying a bicycle part you were favoring after reading the reviews about that part from others, or, on the other hand, your decision may be solidified by backing it up with favorable reviews from others. You will also learn about about some previously unknown and interesting parts, along with different viewpoints on parts you may even own. We decided against many parts we were on the verge of purchasing after reading the reviews at mtbr.com because many people had experiences with them that we had not even considered.
Vote below if you would like.
Hornwaddler