4 Things You Need to Watch for When Using a Drop Shipper
Many new and seasoned eBay and online sellers use Drop Shippers. This is a viable method for product sourcing, however you must be very careful or you can easily lose a lot of money quickly.
1. Days it takes the Drop Shipper to ship your item – You want your Drop Shipper to ship quickly, within 2 days is best. They'll take longer during the holidays, so you need to allow for this. Your customers want their items right away. A Drop Shipper who takes a week or more just to ship your order will lead to unhappy customers.
2. Check out Drop Shipper return policy – All Drop Shippers have different return policies. Some don't accept ANY returns, even if the item is defective. This could cost you serious money and I'd avoid them completely. Others will accept returns, but you pay all shipping. This can be very costly, also. Look for a policy you can live with.
3. Charging too little for items on eBay - Many new sellers will try to undercut every other eBay seller. They've forgotten to calculate the fee's paid to eBay and PayPal. I've seen some who have lost $5 or more per sale. You won't stay in business long with this practice. Do your research before listing an item. You may need to choose something different to sell.
4. Not changing Stock Photo's and Description – It's wise to edit the stock photo and make it a little different, otherwise it'll look like all the rest. The same goes for the description. Rewrite it to some degree. You'll want to set yourself apart for the rest of the crowd. Below is a simple example of changing the look of your stock photo: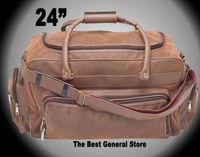 The Best General Store
These hints will help you have a positive experience using the drop shipper of your choice.