This guide will give you some information on the lovely craftsmanship of ENID COLLINS and her amazing kitch creations. It gives a brief biography and other information with pictures on identifying, buying, and selling of this renowned Folk Artisan from the 1950's.
A Brief biography
Miss Enid Roessler grew up in San Antonio, Texas and went to college at Womens University where she majored in fashion design. She then met and married a sculptor, Frederic Collins and lived on a ranch. To help out with finances, she opened her first shop in 1959, creating local motifs she grew up with like horses, and also mexicana themes of sun (sol) Pax (peace). She also did an amazing Zodiac series. She expanded her Texan roots to also include French & Hometown Americana themes, as well as the movements from the era of the 60's. She did hundreds of designs of these purses in a canvas tote style, a bucket style, as well as her famous wood box purses adored with kitchy jewels and sayings like "NIGHT OWL", "GLAMOUR PUSS", "COCK O' THE WALK","MONEY TREE", "LOVE BIRDS" and so many more. They were expertly designed and bedecked with jewels, charms, & beads. There are so many varieties even in her famous wooden box purses. Some have a flip up lid with full square mirror and others have a round smaller mirror. Most of her purses did have handles even the totes. Some are clutch or wristlet style that have a small carrying handle.
Identity & Examples
Her early works sport the EC logo usually on the right outside corner of the box or tote. By the 1970's she had sold her company to The TANDY LEATHER COMPANY continued to make only a few bags and had the logo, COLLINS OF TEXAS on them with a horse. After a time they stopped production on these one of a kind purses forever. The purse below sports the long ridgid carrying handle and a genuine leather clasp. The one below that is a flip top type with a full square mirror inside and one leather strap.
This is a earlier example with EC logo called, "GIFTS FROM THE SEA"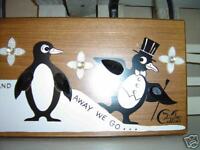 Later example with Collins of Texas horse logo called "AND AWAY WE GO" This came with the original tag and the price was $ 16.50.
More of Collins work
Many have tried to copy her styles and motifs throughout the era and even today, Gary Gail of Dallas and many other box purses from Japan and marked JAPAN pop up all over Ebay. Ebay has been the best place to buy and sell these purses. It is more common to come across her pieces in the Texas or midwest area, but they do pop up once in awhile at estate sales or flea markets throughout the country and beyond. Early Enid Collins Bag just sport the EC logo usually on the right outside corner of the box purse or tote.
Anyone who was anyone carried her purses, a type of folk art that still exists today and often demands high prices for her rare and unusual bags. She also has made items like bangle bracelets, pins, and wastebaskets, all very rare and highly sought after, since they were only two years of production of paper mache and that perhaps it was a little more delicate (1966-1968). Purses also came with key fobs, original tags with adorable care guides, and original boxes, which are worth more if they have been preserved intact. These are identified with an EC logo/signature on the piece (See pictures below.) These are examples of her brooches with the letters "ec" on the back. The vintage box purse today are highly collectible and most well known.
If you do have a collection of these purses or want to start collecting them, there are always listings on Ebay for her purses and once in awhile you find listings for her jewelry or wastebaskets. Many command extremely high prices due to the high collectibility of her items. Everyone who comes across these masterful works of art, falls completely head over heels for them, myself included having been an avid collector.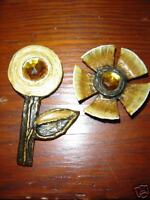 Enid Collins Paiper mache flower brooches with ec logo on back
CLEANING YOUR ENID COLLINS PURSES
I have contacted you before re Enid Collins and you were very helpful. I love your new guide and was wondering if any you tried to clean EC purses? Thanks ranae!!! Marti
Hi Marti, good question! I have used leather conditioner on the handles to keep them from cracking and making them soft. As far as marks, like on the wood, I have used orange oil in very small amounts. It takes off sticky and pen marks and the like. Always test a small area first. Otherthen that I dry dust them and keep them out of extreme hot or cold temperatures. The canvas can be more difficult. I would try DAWN liquid detergent and spot treat. I have used a soft toothbrush becasue of the texture. Hope all of this helps! Cheers!
Cheers!
If you do come across these great items, enjoy the history and workmanship. If you are a seller, look for examples in other listings to help determine what it may be worth. Most collectors of Enid purses will pay high sums if the bag is in good condition, rare, and needed for their expanding collection.
Lara, the grandaughter of Enid Collins has an online shop called ENID and you can go to enidlifestyle to see that this gal has got some talent in her genes! I am really glad to see this and found it quite by accident!
Christian Collins emailed me and invited me to contribute to the site enidcollection This site is slow to get started but I am sure now that you know it is there fans will be able to research and contribute to it. This site does show rarer pieces from collectors in the form of mirrors and wall sculpture that is so unique and most have never been seen before.
On Ebay, countryyardenidcollins http://stores.ebay.com/COUNTRYD-ENID-COLLINS has the best offering available of original enid collins spare parts such as jewels, purse straps and more, check her out if you are looking to repair a purse and are in need of replacement parts
Thank you for so many questions over the years since I wrote this review. I hope you have found a little extra insight on enid collins.
Stella Ranae