Product selection
Do you believe dreams really do come true? That monsters come out of your closet? Or, do you really just love a mouse in red shorts and yellow shoes? Then you should know about Disney Electronics, for the child in your life and the child in your heart.
From the color-schemes to the graphics, these way-cool gadgets are designed to give you the best in movies, music, and communication, while adding a touch of the Disney magic to your home and office. (We know they'll look fabulous on your desk.)
They're designed to bring home the magic of Disney, but the technology is state-of-the-art. For instance, the TV has front and rear A/V jacks for easy hook-up of video games; the DVD player is compatible with Dolby® Digital surround sound; and the cordless phones use 2.4GHz technology and feature Caller ID. See, technology can be fun!
Styles for every kid
There are three different collections, which will make your child laugh in delight. You can design a whole room based on one collection, or mix and match so you get all of your favorite Disney characters.
Classic
These red and yellow models are inspired by the Main Mouse himself. The Classic features include Mickey, Minnie, Donald, Daisy Duck, and Goofy.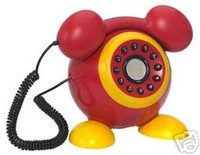 Princess
Come on, admit it, you love to watch Disney's The Little Mermaid every time your child pops it into the DVD player. Perfect for your little girl, these pink and purple electronics feature Disney's Princesses including Snow White, Ariel (Disney's The Little Mermaid), Sleeping Beauty, Cinderella, and Belle (Disney's Beauty and the Beast).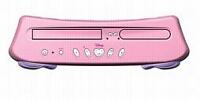 Buzz and Beyond
How could we forget our favorite Space Ranger? Made with Buzz Lightyear in mind, these models feature a green and white color-scheme - just like Buzz's space suit. You'll also see appearances by characters from the Disney/Pixar animated hits Toy Story and Monsters Inc., as well as Disney's Lilo and Stitch.