The United States issues of 1861-1868 are a fascinating and widely studied area of philately. All too often I see the 1861 3c rose (Scott #65) being offered as the 3c pink (#64) or the 3c rose pink (#64b)! The 3c rose issue only has a catalogue value of $3.00 while the 3c pink issue has a catalogue value of $850.00! Big difference! Only about 100,000 copies of all three pink shades were printed while 1.8 billion copies of the 3c rose were printed. A good cheap reference copy to keep as an example of the "true" pink color is Scott #248 the 1894 2c pink Washington issue. This particular stamp will give you a good idea of the true pink color. As you can see in the images below Scott #64 is truly pink and has no hints of rose .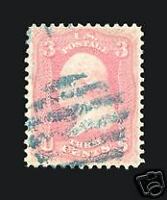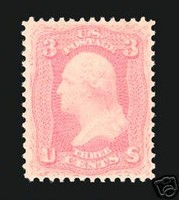 Pictured here is the 1861 3c rose pink variety. Notice that the color is still pink, but with just a slight hint of rose.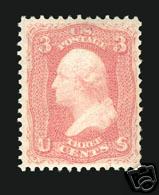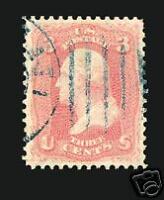 Pictured below is the common 1861 3c rose (Scott #65). Some of these stamps do have a hint of pink and are offered as #64 or #64b.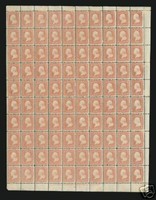 Before purchasing any of the pink shades it would be a wise idea to contact the seller and ask if they allow time for you to have your stamp certified. I do recommend having the pink shades certified by a qualified expert.All the stamps shown above are certified copies of the shades stated. I hope this guide will help when you are considering purchasing one of the pink shades of the 1861-68 3c issues.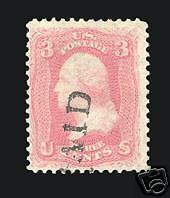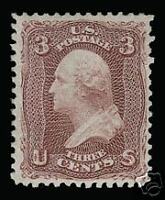 #64a Pigeon blood pink #66 Lake
I spend my time and write these guides to help the philatelic community. I feel that my guides can help both buyers and sellers properly identify certain issues that I notice have been often misrepresented at online auction. Even If you personally already are familiar with the information presented in this guide please vote "yes" for helpfulness as it allows me to know that people support my effort to help the philatelic community . I would appreciate any emails with questions or comments on how to better help with any of my guides. If anyone is considering buying a stamp that is mentioned in any of my guides and have doubts about authenticity please email me and I will be glad to help Best regards, Mike