The Top 10 Arnold Schwarzenegger Movies Ever:
Ranking Arnold's Best Movies
Admit it. Somewhere deep inside, you have a love for Arnold Schwarzenegger movies. Though, hee hasn't won an Oscar yet, he is the staple of action movies, corny one-liners, big muscles, ridiculous explosion scenes, and unitelligible english. Thats why we love Arnold Schwarzenegger - because he's the best at what he does. He's so good that no other actor (regardless of skill) comes close when it comes to ticket sales and grossing:
7 Movies over $100M
25 Total Number of Movies (starring)
Total Gross of All Movies: $1,638,128,559
Avg. Gross of each Movie: $68,255,357
Those numbers are incredible - and to think, this came from the man who started as a seven-time Mr. Oylmpia champion. Below is a list of his major films and the box office gross:
6/16/04
Around the World in 80 Days
$24,008,137
7/2/03
Terminator 3: Rise of the Machines
$150,371,112
2/8/02
Collateral Damage
$40,077,257
11/17/00
The 6th Day
$34,604,280
11/24/99
End of Days
$66,889,043
6/20/97
Batman and Robin
$107,325,195
11/22/96
Jingle All the Way
$60,592,389
6/21/96
Eraser
$101,295,562
11/23/94
Junior
$36,763,355
7/15/94
True Lies
$146,282,411
6/18/93
Last Action Hero
$50,016,394
7/3/91
Terminator 2: Judgment Day
$204,843,345
12/22/90
Kindergarten Cop
$91,457,688
6/1/90
Total Recall
$119,394,840
12/9/88
Twins
$111,938,388
6/17/88
Red Heat
$34,994,648
11/13/87
The Running Man
$38,122,105
6/12/87
Predator
$59,735,548
6/6/86
Raw Deal
$16,209,459
10/4/85
Commando
$35,100,000
7/5/85
Red Sonja
$6,948,633
10/26/84
The Terminator
$38,371,200
6/29/84
Conan the Destroyer
$31,042,035
5/14/82
Conan the Barbarian
` $39,565,475
1977
Pumping Iron
n/a
My Ranked List of Arnold Schwarzenegger Movies:
BEST ARNOLD MOVIE EVER.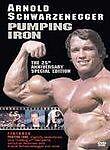 It just doesn't get any better than this. A documentary tracing the early Arnold Schwarzenegger's chase to win the 1975 Mr. Olympia title and defend his five-time title. In fact, Arnold never lost a competition – and Pumping Iron was the behind-the-scenes story of Arnold Schwarzenegger's sixth title chase against big body-building names like Lou Ferrigno Serge Nubret, Franco Columbu, Mik Katz, Ken Waller and others. Even Joe Weider himself is in the movie. Pumping Iron was a huge hit during the 70s and, after the Cinemax special in 2003, Pumping Iron enjoyed a rebirth of success that was only heightened when Arnold himself was named Governor of California months later.
Whether you are a Schwarzenegger fan or not – this movie is fantastic – partially because it documents the sport of body-building in a fascinating way – and partly because Arnold is absolutely hilarious. His candor and ego are wonderfully funny to watch and provide endless entertainment. In fact – and I'm embarrassed to admit it – but I've seen the movie at least 10 times. Its too funny.
Arnold and Carl Weather team up... pretty good one, two punch
Arnold and Jesse Ventura team up... almost as good of a one, two punch. Some classic one-liners.
Arnold goes vigilante for 90 minutes. Great stuff.
This movie changed the industry.
This movie changed special effects.
This movie proved that - even at 60 - Arnold is still the top action star.
"The system gave him a Raw Deal. Nobody gives him a Raw Deal."
9. Conan The Barbarian (buy on eBay)
Arnold's first mainstream movie grossed nearly $40MM. Turned him mainstream.
Arnold was fit for this role.
Worst Arnold movie ever: Junior. Who funded this idea? Arnold as a pregnant man?! Come on...
I am an eBay employee and this guide reflects my personal views and is not written on behalf of the eBay company