What's behind the price differences in artisan, gemstone jewelry?
Without an expert's eye, you may look at similar pieces of jewelry and wonder why one costs so much more than the other. The pricing of hand-crafted gemstone jewelry depends on several factors, including the quality of the material, the workmanship, and the complexity and uniqueness of the design. This last factor is especially important in artisan, gemstone jewelry.
-GEM QUALITY: I'm not going to elaborate on the "c's" (cut, color, clariy and carat) that are already familiar to many people. I'm going to provide some real life examples.
In my eBay store, Halne Designs, I have two different styles of citrine and amethyst chandelier earrings. One is "dressy" and the other is more casual; therefore less expensive. In the more casual style, the round citrine is non-faceted. In the "dressier" style, I used faceted citrine briolettes. A faceted stone that is well cut will cost more than a smooth, non-faceted stone. The amethyst that is used in both chandelier earrings is faceted, but the amethyst in the dressier pair is a better cut. While the amethyst in the more casual chandeliers shines and reflects light well, the amethyst in the more expensive chandeliers has more brilliance. It also has greater clarity. Remember, these are all the same natural stones. They just have slightly different appearances because of the grade and cut.
A good example of how different the same kind of gemstone can look is demonstrated by the garnet. Most people think of one type of garnet: the clear, red garnet used in rings. But there are actually several kinds of garnets, some of which have pink or purple tones and some that are green, yellow, orange and black. The amount of iron in the same kind of stone makes a difference in color. For example, one type of garnet I use is an opaque garnet (cloudy) that looks maroon and is beautiful paired with rose quartz.
-METAL QUALITY: Sometimes you may see auctions on eBay with "silver" in the title, but when you read the full description, you see that it is silver-plated. That means it's possible for the plating to come off. Sterling silver won't flake. But it is a soft metal that can dent. It also tarnishes if you don't keep it covered. (Just wipe it with a silver cloth to remove the tarnish.)
Like silver-plating, gold-plated material can also come off because the gold is a thin film over a metal core. Gold-filled material is more durable and costs more because it has an actual layer of gold instead of a film. Of course, real gold to the core is the most durable and the most expensive choice.
I use both gold-filled material and 14-karat gold at Halne Designs, putting the 14-k in a separate categoy. I'm planning to phase out.the gold-filled material, but I'm still using some of it because it makes trendier items affordable. In addition, since I'm introducing a new jewelry product, I 'm using it in some of my convertible halter-necklaces while I'm introducing them to the market.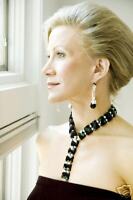 -QUALITY OF WORKMANSHIP: Bottom line: if a piece looks sloppy, it's not well-made, That's simple. But there are some other less obvious factors to consider. One is: are the wire ends filed so they don't snag your clothes? When you see knots in pearl necklaces, it's not just to keep the delicate pearls from rubbing together, knotting also keeps you from losing all your pearls if the string breaks. For smaller pearls or stones that are less delicate, there are other ways to make the piece secure. I double-string whenever possible so you have a second string as a back-up in case of breakage. (Some holes in stones are too small to double string, though.)
Remember that you have to be careful with your jewelry. If you're rough with it, any piece can break. (Throwing your jewely in your purse is a great opportunity for it to snag on things and break.) Be careful when you lay your jewelry down too. You may toss your stones on a hard counter one day and they're fine. But if you put them down and hit a stress point another day, you can end up with chips or worse. I once heard somone say that jewelers seem to handle jewelry more roughly than anyone. But the jeweler knows how to handle a piece. Handling jewelry quickly is not the same as handling it roughly.
-UNIQUENESS AND COMPLEXITY OF THE DESIGN: When I began making jewelry and was picked up by an art gallery, I asked the owner about his pricing. His answer was essentially that if you're making something that nobody else is making, you can charge whatever you want. But he also posed this question: how much of it do you want to sell and how quickly do you want to sell it?
When a jewelry product is protected by copyright, trademark or patent laws, it can cost more. I've created a new product, the convertible halter-necklace, which attaches to any strapless top as a halter and converts to a "y" necklace with the addition of the pendant. The convertible halter necklace and shoulder strap necklaces are new 2006 jewelry trends. But, I'm charging reasonable prices because I'm introducing my new product to the market.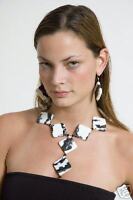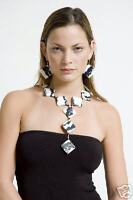 The complexity of a design also enters into the cost. My single, freshwater pearl earrings take a fraction of the time to make compared to my six-strand, seven-layer crystal chandelier earrings that are hand-looped between all the crystals. That's why the single, freshwater pearl earrings are in the bargains category and the crystal chandeliers are not. When you buy hand-crafted, artisan jewelry, you're paying for the artist's time as well as the design.
So, all factors considered, why does an artist put up items for auction for very low prices? The auction process provides greater visibility and directs more people to the on-line store. So an auction item can be a loss-leader. It can also be a clearance item. Some artists like to keep their merchandise moving. It's nice to have jewelry admired in your store, but it's better to have it hanging around someone's neck and adored.
(You can see examples at http://stores.ebay.com/Halne-Designs)
.