Do you own a Marvel comic book from 1974-1976? Are you proud of its impeccable condition? Did you buy it for investment? Hey, what if it's missing something (that you are totally unaware of) that has caused it to be considered practically worthless by collectors? Well, then you had better read on!
Have you just stumbled upon a box of 1970's Marvel comic books in either an attic or basement? Did you just walk away from a flea market or garage sale with a stack of Bronze-Age Marvels that you considered was a steal at the price you paid? Are you excited because you plan on selling these on eBay for a hefty profit? Wait, want to avoid receiving negative feedback for those auctions? Well, then you had better read on!
I am writing this guide to educate the beginning collector or general eBayer about a little thing called a Marvel Value Stamp, or MVS for short. Does it sound vaguely familiar or something that you have never even heard of? Well, then you had better read on before you buy or sell another one of these comics on eBay. . .
The History Of The Marvel Value Stamp
Series A
In March 1974, Marvel Comics ran a very creative campaign that was both fun for the readers and sensational for its sales. Each month pictures of its popular characters, both heroes and villains, were printed onto the Letters Pages section (Where Stan Lee/Bullpen printed comments, editorials or fan mail) of its various comics. These images appeared in the form of a numbered stamp and the readers were encouraged to both "clip 'em and collect 'em". There were 100 in the set and are referred to as the Series A group.
Series A Stamps 1, 25, 50, 75, 100
Listed below is each one by number and the character it showcased.
The Amazing Spider-Man

The Incredible Hulk

Conan The Barbarian

The Thing

Dracula

The Mighty Thor

Werewolf By Night

Captain America

Captain Marvel

Power Man (Luke Cage)

Deathlok The Destroyer

Daredevil

Dr. Strange

The Living Mummy

Iron Man

Master Of Kung Fu (Shang Chi)

Black Bolt

Volstaag

Balder, Hogan and Fandral

Brother VooDoo

Kull

Man-Thing

Sgt. Fury

The Falcon

The Human Torch

Mephisto

The Black Widow

Hawkeye

Baron Mordo

The Grey Gargoyle

Modok

The Red Skull

Invisible Girl

Mr. Fantastic

Killraven

The Ancient One

The Watcher

Red Sonja

Iron Fist

Loki

Gladiator

The Man-Wolf

The Enchantress

The Absorbing Man

Mantis

Mysterio

The Green Goblin

Kraven The Hunter

Odin

The Black Panther

Bucky Barnes

Quicksilver

The Grim Reaper

Shanna The She-Devil

Medusa

The Rawhide Kid

The Vulture

The Mandarin

The Golem

Kazar

The Red Ghost

The Plunderer

The Submariner

Sif

Iceman

General Ross

Cyclops

The Son of Satan

Marvel Girl

Super Skrull

The Vision

The Lizard

King Pin

The Stranger

Morbius

Dormammu

The Swordsman

The Owl

Kang

The Ghost Rider

The Rhino

Mary Jane Watson

Dragon Man

Dr. Doom

Lilith (Dracula's Daughter)

Baron Zemo

J. Jonah Jameson

The Leader

Hammerhead

Hercules

Hela (The Goddess Of Death)

Byrrah

The Silver Surfer

Electro

Mole Man

Dr. Octopus

Black Knight

The Puppet Master

Sandman

Galactus
Wow, that's a lot of stamps! That's also a lot of comic books the reader had to buy to get them all too. Ads were printed for the reader to send away for a Mighty Marvel Value Stamp Book to place them in. It was just .50 cents and a limited number of orders received a free Spider-Man poster.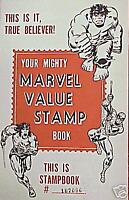 Series A Bonus "18" x "26" Poster
Series B
The campaign was so successful that in December of 1975 Marvel produced a second set, referred to as Series B. This group consisted of 100 too but these were radically different from the first. Each one was not an individual character but a single piece that was part of a full image. . .a puzzle!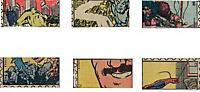 Series B Stamps
Ten stamps formed one image and there were ten of these. Each is listed below.
The Amazing Spider-Man

Captain America

Conan The Barbarian

Dr. Strange

Dracula

The Fantastic Four

The Incredible Hulk

The Silver Surfer

Stan (The Man) Lee

The Mighty Thor
Completed Puzzles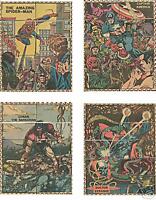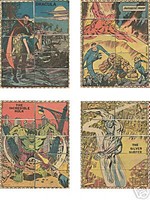 Pretty neat, huh? Once again, ads offered another Mighty Marvel Value Stamp Book to paste them into for the same price of .50 cents.
Series B
The Benefits
What was the payoff for buying all those comics and taking the time to clip and paste each one? Well, first and foremost . . .praise and admiration! At the 1974 San Diego Con, pictures were taken of a group of fans who successfully completed the challenge: These photos can be seen in the 1975 Marvel Comics Convention Program Book. It was at these venues that compensation was rewarded via MVS discounts, free gifts and other goodies. Also, Marvel strongly advised to ". . .hang on to the Stampbook itself, which is sure to increase in value as years, months and weeks go by." Well, their prediction was partially true. Unused stampbooks sell from $75-$150+ while complete ones can reach as high as $200+. Individual stamps, which are rarely offered, usualy don't sell for more than $1 each. However, the term value in MVS would evolve into something completely different and continues to affect buyers and sellers to this day.
The Unforseen Outcome
Enivitably, the MVS affected how Marvel Comics from 1974-1976 are graded. An issue from this era with its MVS clipped loses approximately 75% of its current value. It is so important in grading that it even has a term specifically created to identify it, the Marvel Value Stamp Flaw.
Buying
When buying a Marvel from this year be sure to read the auction's description. If there is no mention of its MVS then contact the seller and ask if it is present. If it has been removed then do NOT buy it for investment purposes regardless of its condition or if the missing portion affects the interior story pages or not. As stated earlier, this reduces the value by 75% and very few collectors will want it if you decide to re-sell it, and surely won't give you the same price you bought it for if you paid too much. If you are buying it as a "filler" or just a "reading copy", and the price is marked accordingly, then purchase it until you can obtain one in a higher grade.
Some of the stamps were not printed on pages that would have affected the comic book's story if clipped. BEWARE, for these examples cannot be easily detected (When hastily inspected) if the entire page is neatly and intentionally removed by the seller. Take your time and carefully examine each and every page before you leave feedback. Three of the most sought after comics in collecting are among this group. They are listed below along with their MVS.
The Incredible Hulk

181

(First Full Wolverine Appearance) -

Shanna The She-Devil Value Stamp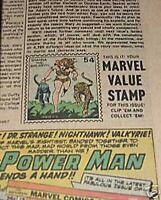 Hulk #181 - MVS Intact
Also, count interior pages (numbered at the bottom) and make sure that all "Letters Pages" are complete and present: These are usually the last pages of the comic book.
Selling
If you are not a collector and occassionally sell comics on eBay that you come across at flea markets and garage sales pay close attention to the following tips. First, try to take them to a respected comic book dealer for scrutiny and grading. If you can't, then carefully examine and count each interior page. Let the potential buyer know that you lack the professional knowledge to grade the book by collector's standards, and encourage them to both use the picture provided and contact you with any questions. If a stamp is intact then mention it in your auction's description, just like you should if it has been clipped. Negative feedback has been left to quite a few sellers I am sure who unknowingly listed one without any previous knowledge of its existence. Below is an example of an Astonishing Tales #25, the first appearance of Deathlok, that I purchased from a seller who listed it as Near Mint. When it arrived, its condition was accurately described until I turned to last page and found this.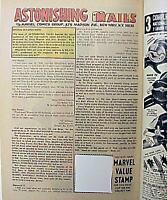 Astonishing Tales #25 - Clipped MVS
This was not only clipped but affected the story as well. I contacted the seller, who was not a collector, and he profusely apologized and said that he didn't even notice it. My money was promptly refunded and no negative feedback was posted. However, some collectors are not patient or understanding and immediately leave negative for an oversight like this. For clipped comics to sell on eBay they must be practically flawless, with the exception of Hulk #'s 180, 181 and 182. These titles are so important that they will sell regardless of condition, but still for the very lowest of prices.
Questions
I hope this guide was helpful to both collectors and novices alike. I hope that you don't own a title that has had the stamp removed (without your knowledge) but after reading this then you definately won't make such a mistake (another) in the future. If you have any questions please contact Me, and also check out my About Me page to see some great Marvel Comics collectibles.