If you own a Honda CR-V its no doubt you've had troubles with your AC system. Don't feel that you're the only person. If you do a search online, you will find that an enormous amount of owners have encountered the same exact issue. In fact, this issue is so wide spread that there is a class action lawsuit being filed against Honda. Ask any mechanic. They've seen countless CR-V's that have been plagued with "Black Death".
The air compressor found on the CR-V has the issue of "imploding"; the internals completely shattering, forcing debris throughout your AC system, plaguing all of the associated components and causing the compressor to seize or "lock up". This debris will find itself lodged in these parts and a simple flush just won't do. Replacing ONLY the AC Compressor and drier is not sufficient enough to have reliable AC once again. By doing so, you will only put yourself through the entire replacement process over again as the debris and contaminants will only find it's way back into the compressor and it will seize once again.
There is no simple way to repair the CR-V's AC System. You MUST replace the following parts to remedy the problem:
1. Compressor
2. Condenser (with Drier attached)
3. Expansion Device
4. Evaporator
5. System Seal Kit
6. System Oil
7. Both low side and high side AC Hoses.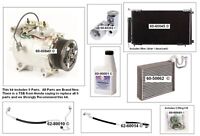 If you have been affected by the CR-V's "Black Death", be sure to repalce ALL of the listed components!