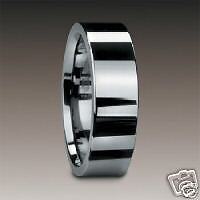 The Brilliant Polish of a Tungsten Ring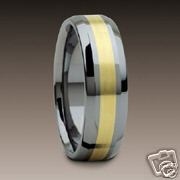 What is Tungsten?

Tungsten is a very hard and dense metal symbolized by a W or number 74 on the periodic elements table that is extracted from Wolframite ore. Tungsten is used as the filament wire in light bulbs because it melts at temperatures around 6,000 degrees F.

What are the benefits to buying Tungsten rings?
Hardness, assuring long lasting beauty. The tungsten carbide ring takes a brilliant high polish, like a mirror, and resist scratching longer than any metal ever offered to the public. Roughly ten times harder than 18k gold and four times harder than Titanium. When Tungsten is processed with carbon and other elements it is transformed into Tungsten Carbide,WC, between 8 and 9 on the Mohs hardness scale, which is what most Tungsten rings are made of.
What is the process of creating tungsten rings?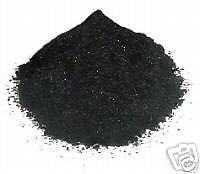 Tungsten is processed with carbon/other elements and ground to a powder.
The mixed powder is compressed into a ring blank The blank is fired in an oxygen-free furnace at around 2,500 degrees F, resulting in a solid dull blank .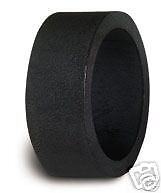 The rough blank then goes through a multiple stage grinding process typically using diamond embedded tools. These are then polished to a brilliance and luster that holds for exceptionally long periods of time with little to no signs of wear.
Questions Often asked about Tungsten Rings
Will they ever scratch? Yes, over time micro scratches will appear through normal wear. These are exceptionally small though and will not noticeably affect the lustre of the ring. Any inlays on the ring (silver, gold, platinum) are much more susceptible to scratching.
Can scratches be buffed out? Yes, when sent to a factory for polishing as it takes special tools to buff out the micro-scratches.
Since tungsten rings are so hard and indestructable, can they be cut off? Yes, there are specific procedures detailed on how to remove a tungsten ring from your finger.
Can Tungsten Rings be easily resized? No, they cannot be resized but most manufacturers offer a one, or multiple size exchange over the life of the ring for no fee or a small deductible.
Will tungsten turn my finger a color or discolor themselves? Yes and no, depending on the quality and process used for the tungsten ring. Many manufacturers warranty against anything over the life of the ring. Some brands, such as Trew Tungsten, are known for their quality and patented production process. Not all tungsten rings are equal as the quality of the carbide and additional elements added to the ring may react negatively to certain chemicals over time. There's no real way of knowing if one will or not until it happens. Pay attention to price and warranty with these rings.
Types of Rings
These rings will come anywhere from a high polish to brushed to a black ice coloring. The most common color to describe a high polished tungsten ring is Gun Metal. It's a beautiful deep grey silver. Most are comfort fitted on the inside. They will typically come from widths of anywhere from 4mm to 10 mm and depending on the width of the band, your fit for different styles may be different.
Normal, High Polished Tungsten Ring
Again, these have a gun metal color with a high polish that lasts forever. They come domed, flat and beveled.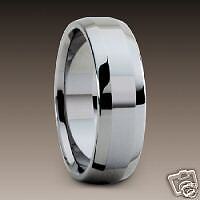 Beveled
Platinum, Silver, Gold, Bronze Inlay
These have a ring in the middle or around the edges of a precious metal which adds color or depth to your ring. Again, these precious metal inlays have a greater tendency to show wear and scratches.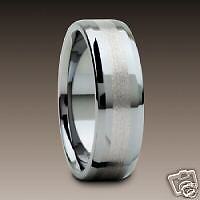 Platinum Inlay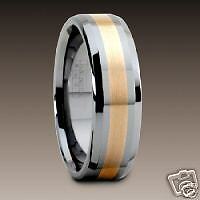 Bronze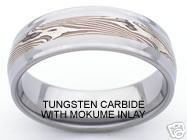 Mokume
Faceted
These are cut with diamonds to give them a faceted, gem like look.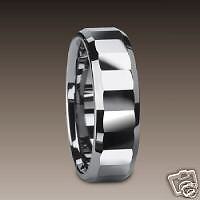 Faceted
Brushed or Grooved
These rings are engraved with markings or brushed or have grooves running full circle around the ring to give it added depth or artistic value.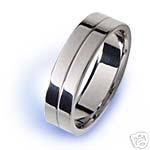 Grooved
Some final things to remember when buying a tungsten ring...
Be absolutely sure of your ring size with a tungsten ring. I would suggest visiting a jeweler in your area who carry tungsten rings and finding out your size. You cannot easily change sizes with these rings and usually it's a limited amount of times so be confident you are getting what you need the first time. The thickness of the ring, 6mm vs. 8mm will fit differently as well.
Different quality will have different results so you may want to stick with the you get what you pay for adage but some ring sellers are so inexpensive that it may not be worth it to pay a grand once, when you can pay three hundred over thirty years for a new one every 2 years. Again though, no doubt some are much more quality designers.
Avoid tungsten rings created with cobalt or nickel. They can be more susceptible to breaking under extreme duress. It's hard to know by the listing but if you ask the question, hopefully the seller will be honest with you.
The high polish of a tungsten ring isn't for everyone. Get a real live look at one before purchasing on ebay so you will be truly satisfied. This ring will last a long time and keep it's polish well so make sure you'll be happy with it by seeing one like it in person. You'll have it a while!
A reputable manufacturer of tungsten rings is Trent West with his Trew Tungsten line. Another reputable but not as expensive maker of tungsten rings are Lashbrook Designs. There are definitely multiple others but these two designers stand behind their work for life and use the highest standards for producing the rings.
Lastly, enjoy the uniqueness of the hardest metal known to man and the wonder of man's invention of a Tungsten Carbide ring. They are heavy, extremely durable and beautiful!