Introduction
Hello There Dear Reader! And Thank You For Taking The Time Out Of Your Busy Shopping Schedule To Read This Guide. For What You Ask? Well If Your Like Myself And Are An Avid Figurine Collector Or Just An Occasional Hobbyist. Then This Is A Guide For You! On Pretty Much Everything You Need To Know About Buying,Collecting,Choosing,And Displaying All Kinds Of Figurines From Basic Action Figures To Resin Cast Statues And PVC Made Figures. Keeping In Mind This Is Guide Meant To Help You Along Not Tell You How To Do Things! So With That In Mind Lets Get Started.
Part One: Choosing/Finding What You Like.
This Is Of Course The Obvious Place To Start On Deciding On What Figurines You Are Going To Be Looking For. Depending On Your Intrests. For Example Some Of You May Be Looking For Figures Of Your Favorite Video Game Characters. Like Say Master Chief From Halo. Or Others May Be Looking For Characters Of Their Favorite Anime Movie TV Show Etc. Or Some May Just Be Collecting One That Fit Into A Specific Series Like Resident Evil. This Might Seem Really Silly And Obivious But Knowing What Your Looking For Beforehand Really Helps. And Not Only That But Depending On What That Series Or Thing Is Will Also Effect Its Rarity/Diffucuilty Of Finding It. As Well...
Part Two: Types Of Figurines.
Nowadays With Major Strides In Technology And Manifacturing As Well As Creativity. Their Is A Huge Varity In The Type And Kinds Of Figurines That You Can Buy And Collect. Gone Are The Days Of Simple Plastic Action Figurines Like GI Joe. Now Collectors And Hobbyist Alike Can Buy Everything From A Simple PVC Figurine Like This: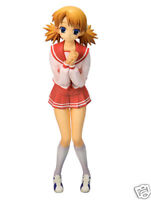 To A Complicated Cast Resin Statue Like This: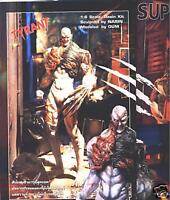 With These New Innovations It Makes It A Bit More Tricky To Decide Which Kind Of Figurine Types You Will Want To Buy. But Don't Worry! As Now I Will Lead You Through The Most Typical Figurine Types You Run Into. Whilst Shopping On Ebay. As Well As Descibing The Advantanges Of Each.
PVC or (Polyvinyl Chloride)
PVC Is The Most Common Type Of Figurine Material Around The World. But It Is Especially Popular In Asian Countries Such As Japan And Thailand. This Kind Of Figurine Is Made From A Molded Plastic Polymer Which Is Then Painted And Boxed Into A Clear Plastic Casing. These Figurines Are Usually Very Finely Crafted And Painted And Are Seen Most Commonly Being Used On Figurines Based On Animes But Are Becoming More Common In Reagard To Western Cartoons And Game Characters. All In All These Are A Very Good Kind Of Simple Step Up From Generic Plastic Figures (Like McFarlane). But Have Some Negatives About Them Such As Follows:
The Paint Of The Figurines Are Affected Quite Adversly To Air In That If Store In A Warmer Or Very Breezy Enviroment. It Will Have Noticeable Fading.

Any Kind Of Moisture Even Touching Them With Barely Damp Hands Will Result In Major Paint Fading & Removal And Bubbling On The Surface Of The Figurine Itself As Well As Substancial Damage From Steam.
But Despite This There Are Some Great Advantages To Them As Well:
It Is Very Soft And Hard Feeling Material Which Means That It Is Relativily Durable Material Wise.

Certain If Not Most PVC's Have Castoffabillity Meaning That They Have Removeable/Interchangeable Pieces Such As: Clothing,Heads,Torsos.Etc.

They Generally Look Much More Realistic And Accurate Than General Plastic Or Otherwise Made Generic Figurines. As Illustrated Bellow.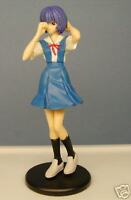 PVC Made Rei Ayanami

Plastic Action Figure Rei Ayanami
Resin Cast Figurines/Models
Now Onto Resin Made Figurines/Models Resin Is A Viscous Substance Found In Many Kinds Of Trees And Natural Sorces When Mixed With A Wide Range Of Diffrent Substances It Can Be Molded And Or Cast Into Sculptures And Or Figurine Like Statuettes. These Have Very Common Use Around The World For Making Scupltures. But Figurine Wise Is More Commonplace In Asia Especially In Japan. For Figurine Scupltures Who Desire To Overcome The Limitations Of Plastic Based Models Or Figurines. This Type Of Figurine Is The Most Common After PVC. These Are The Kind Of Figurines That Those Who Crave Perfect Detail And Accurate Representation Of A Character Go For. They Are Are Almost Allways Very Detailed And Realistic.But Are Also Generally More Expensive As Well. As Their Price point Is More Often Than Not Determined By Their Completion As Well As Quality Of The Sculpt. And As Such To Be More Marketable They Are Often Sold In Assemble Yourself "Garage Kits" Where They Have To be Assembled And Painted By Hand Not Unlike Model Cars And The Like. But Can Just As Often Be Found Painted And Assembled Professionally. And As Such Have Major Advantages Like:
If Professionally Assembled And Painted Are Generally Uncompareable With The Likes Of Any Plastic Based Figurine. As The Detail Is Incredible.

Have Amazing Variety In The Types Of Poses And Sizes That You Can Find.

If Finished By Have Great Customizabllity And Resale Value As Well As Being A Challanging And Fun Hobby Along With Collecting.
But As With Anything Else They Are Disadvantages Such As:
Are Incredibly Fragile! They Will Break Rediculously Easy Even If Dropped Gently In Even The Safest Packed Box.
Paint Fading And Chipping Can Occur Much Easier Than On Any Plastic Variety Of Figurine.
Price Points On Assembled And Painted Figures Are More Often Than Not Very High
Bellow Are Some Examples Of Professionally Assembled Figurines And Garage Kit Unassembled Variety As Well.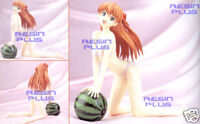 Resin Figure Of Asuka From Evangelion.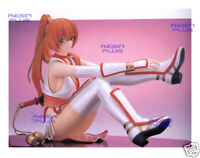 Resin Figurine Of Kasumi From DOA.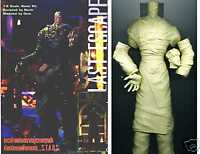 Example Of An Unpainted & Assembled Garage Kit.
Other Types Of Figurines
There Are Many Other Types Of Figurines Aside From The Previous Two Types That Are Somewhat Rarer That You May Come Across On Ebay Such As The Self Explanatory Generic Plastic Or Diecast Action Figures. As Well As Some Other Off Shoot Varieties Of PVC Type Figures Like But Not Limited To Vinyl Cold Cast And Soft Vinyl Figurines But Generally They Fit Into The Two Previous Catergories. And As Such Have The Same Associated Pluses And Minuses.
Part Three: Buying Figurines On Ebay.
Section One- Judging Value And Price.
Ebay Is A Large Treasure Cove Of Figurines For All Types Of Collectors Whether For Diehard Enthusiasts. Or Just The Casual Collector. You Can Find Almost Any Kind Of Figurine On Ebay But Alot Of The Time You'll Come Across Many Sellers Offering The Same Figurine. For Very Differing Prices And Thus This Creates A Dillema To Most People Who Are Trying To Get A Fair Deal On The Said Figurine. So How Can You Judge Whether Your Getting A Bargain Or Having One Pulled Over One You? Simple Just Follow This Easy Guide On How To Judge Whether Your Getting The Most Bang For Your Buck!
Look Very Carefully At The Figurines Description! And Especially At The Photos Of It. (Unless It Has A Stock Photo Of The Figurine In Which Case The Photo Won't Help.) Pay Attention To The Condition Of The Item In Question. As Well As Description Of The Figurine Itself. As Often The Seller Can Mislead You Into A Higher Price By Headling The Auction With Words Like Rare Or Limited Edition.
Pay Attention To The Name Of The Manufacturer! As Quite Often You Can Run Into A Cleverly Disguised Other Company Offshoot Or Imitation. Or God Forbid A Bootleg, Or Handmade Reproduction.
Check Out The Availablility Of The Said Figurine At Local Well Known Shops Or Stores Near You. As Well As The Manufactures Company Website To Not Only See What It's Retail Price Is. As Well As If It Is A Discontinued Series To Get An Idea Of What Its Value Should Be.
If Buying As Used Or Open Figurine You Should Make Sure To Check Or Ask The Seller About What Conditions The Figure Was Housed In And Where The Seller Obtained The Item From.
And Finally If Buying Any Resin Cast Figurine. Make Sure Though Contact With The Seller That They Are Going To Package It Incredibly Well. As I Have Had Many Completed Figurines Get To Me Broken Or Chipped.
If You Do Run Across Rarer/Harder To Obtain Figurines That Are Selling For Very High Amounts. Make Sure You Logically Judge On If The Item Is Really Worth That Amount. Though The Figurines Size ,Height And Material. As This Will Help Alot On Judging If The Price Is Fair.
Section Two- Getting Your Figurines To You.
How Your Figurine Gets To You Is Just As Important As Choosing Or Paying For It As Shipping Times And Methods Can Have A Big Effect On Your Figurine. Here Are Some Simple Rules To Remember That Will Help YOU! To Get Your Figurine To You As Safely And Effectivly As Possible:
If The Seller Offers Any Kind Of Expedited Postal Service Or Shipping Insurance. Pay For The Quickest Service! As This Will Shorten The Time That Your Figurine Spends Being Moved Around And Transported. And Thus Reduces Your Chances Of Damage And Or Exposure Risks Like Water And Hot Tempurature Etc.
Prefferably Buy Only Boxed Or At Least Packaged Versions Of The Figurines. As Especially With PVC Figurines Being In A Warm Air Sealed Eviroment Will Damage And Or Fade Them.
In Regards To Resin Figures/Garage Kits. Never Buy One From A Seller Who Only Offers Ground Based Mail Transportation As It Is Almost A Guarrantee That It Will End Up Broken Of Chipped When It Gets To You. If You Must Buy From A Seller Who Dosen't Offer This Method Then Stress To Them That They Must Package It Delicately!
Section Three- Displaying Your Figurines.
Once Your Figurine Is With You Obviously Examine It As Well As Possible. Depending On What Kind Of Collector You Are. You Might Keep It In The Box To Preserve It Condition And Value. But If You Are Like Me And Like To Display Your Figurines Outside Their Box. Then Here Are Some Tips On Displaying Your Figurines:
Try To If Possible. To Display Your Figurine In A Well Shaded Area Far From Any Kind Of Sunlight.(Especially With PVC!) And Only Use Flourescent Light Bulbs If You Wish To Display Them With Lights As Incandescent Ones Produce Large Amounts Of Damaging Heat After Long Periods Of Use.
Display In Well Encased Or Closed Off Area Such As A Shelf Or My Personal Recommendation A Curio Cabinet Or The Like. As This Not Only Limits The Enviromental Exposure The Figurine Recives But Also Helps Keeps It Safe From Physical Damages Or Falling Over.
When Dusting Or Cleaning Your Figurines Makes Sure To Never Use Any Kind Of Water Or Other Liquid. As Majority Of Figurines Are Damaged By Moisture.
When Repairing Any Kind Of Resin Statue Or Figurine Always Use Very Strong Well Bonding Glue Products. Such As Krazy Glue As This Prevents Damage To The Paint And Other Parts Of The Figure Though Repairs.
Conculsion
So Now That You've Finished Reading This Basic Guide. I Hope You Came Out Learning Something New Or Intresting. I Hope That You'll Keep This Guide (Basic As It May Be) In Mind While You Enjoy Shopping On Ebay! And That No Matter What Kind Of Figurines You Collect That You'll Enjoy Them For Years To Come And Have Fun Doing It!!
Thanks For Reading! ;)
Yours Truly Kyle Murphy Aka ShawnW21