The Complete Guide to Boxing Gloves
for Boxing, Kickboxing, and Martial Arts
by Revgear
printed by Koch Martial Arts & Fitness Supply (Revgear brand seller)
Whether you choose to hit the heavy bag, focus mitts, a speed bag or spar with an opponent you will need to know how to find the right boxing gloves.
This HOW TO GUIDE will answer many of the most frequently asked questions!
Does the sport I choose make a difference in the glove I use?

Yes, it absolutely does. The person who is practicing muay thai may use a different glove than someone who is practicing boxing or cardio kickboxing.
For example, for muay thai you may need to be able to grab and use your hands to deliver knee strikes. It is therefore helpful that you glove is flexible enough to allow you to open your hands somewhat.
For someone practicing cardio kickboxing at the gym it will probably be helpful to choose a glove that is thicker and has more padding - simply hitting heavy bags and focus mitts can mean a lot of impact. You will want as much protection for your hands as possible.
A professional boxer who is getting in the ring will probably use a lighter glove and one in which is easiest to make a fist. In golden gloves and other competitions the gloves used are highly regulated, however, in general a boxer will want to make the biggest impact with their punches - that means a lighter glove. This will also make it easier to hold their hands up to protect themselves over longer periods of time.
You should probably invest in a good pair of gloves if you plant to practice: boxing, kickboxing, cardio boxing, muay thai, mma (mixed martial arts), ultimate fighting, karate, taekwondo, jiu jitsu, judo and krav maga.
How do I pick the right gloves?
The first step in picking the right gloves is always to ask your instructor. Do NOT go down to the sporting goods store and buy the gloves that look the nicest or are the cheapest. They usually are not the best gloves for you AND they will probably fall apart in a short period of time. You may have to invest a little more money at the beginning for a better pair of gloves. But it's worth it.
Remember that the purpose of boxing gloves and hand wraps are to protect your hands and to protect your opponent (if you have one). If you buy gloves at the sporting goods store, it may feel like you are saving money, but you probably are not.
When you pick your gloves you should consider what type of activity you will be doing:
If you are doing a martial arts where you need use of your hands, you will want a more flexible glove.

If you are hitting heavy bags and mitts you will want protection on the front end of the glove - you will need thicker padding.

If you are training to get in the ring, you will want a heavier glove.

If you are competing in the ring you will want a lighter glove.

If you are hitting speed bags, double end bags or something lighter you can buy bag gloves just for that purpose and may find boxing gloves too cumbersome.
How do I pick the right size? Aren't size and weight the same thing?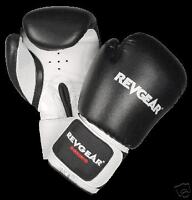 Glove size and glove weight are NOT the same thing. In many cases the sizing DOES correspond with the weight of the glove, however this is not always true.
The weight of the glove is important for a variety of reasons. You will pick the WEIGHT of the glove depending on your chosen method of use. You will often choose SIZE depending on the best fit of the glove.
The most common sizes for gloves run small, medium and large. The most common sizes for gloves are:
8 oz. - common for competitive boxers

10 oz. - common for competitive boxers

12 oz. - common for women and people with small hands for training

14 oz. - common for average size people for training

16 oz. - common for people of all sizes for training

18 oz. - commonly used for larger weight classes for training

20 oz. - commonly used for larger weight classes for training
Is it therefore possible to have for example: 12 oz. gloves in small, medium, and large? The answer is yes, but not in all cases. It will depend on the manufacturer of the glove.
It is common for you to see this:
Small - 12 oz.

Medium - 14 oz.

Large - 16 oz.
Professional boxers that fight in the ring always wear 8 oz. or 10 oz. gloves. But since there are so many different sizes of fighters and so many different weight classes these fighters will need different sizes of gloves.
In this example you can have a 10 oz. glove in small AND you can have a 10 oz. gloves in size medium, large, and XL.
Common sense would indicate that as the glove gets bigger the weight increases. In many cases this is true. However, professional fight gloves are manufactured to have the same weight regardless of the size.
When choosing glove size you want the gloves to have a snug fit. If there is too much room inside for your hands to move around, there is potential for injury.
Two important things to note when choosing glove size:
The glove will stretch - like a good pair of shoes. The more you use them, the more they will stretch to fit your hand. So the best gloves for you will probably not fit perfectly when they are brand new. You might want to consider buying them to be a little tighter fitting than you think.

Make sure there is room for hand wraps. Do NOT buy gloves without wrapping your hands and trying them on. It is very important for you to wear hand wraps and you do not want to get your new gloves and realize after the fact that they won't fit while you are wearing your hand wraps.
For more information on picking out hand wraps, visit our Hand Wrap Guide.
IMPORTANT NOTES ABOUT GLOVE WEIGHT:
You will find that some gloves are more popular than others. But just because a glove is more popular for a boxer does not mean the glove is best for you. Some gloves are weighted at the front end of the glove and some are weighted at the back end near the
Leather vs. Vinyl - what's the difference?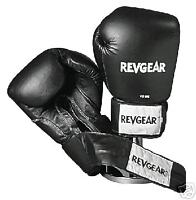 vs.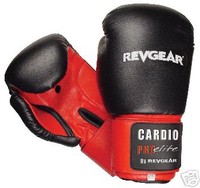 Leather Vinyl
Generally leather gloves are higher quality and will last longer than vinyl gloves. However, these days it is possible to find good quality vinyl gloves. As you would expect leather gloves are more expensive. Many people associate vinyl with cheap boxing gloves.
Most vinyl gloves are used for cardio kickboxing and leather gloves are used for most anything else. When it comes to boxing gloves, generally, you get what you pay for.
What's the difference between Lace vs. Velcro?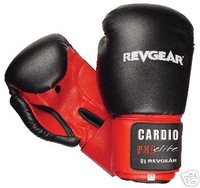 Simple put: you can get a tighter more secure fit using lace up gloves.
It used to be that all gloves were lace up. Now in many cases the gloves will be Velcro or also called hook and loop. This is a development in recent years that occured because hook and loop gloves are much easier to put on and take off. If you are training by yourself it can be very difficult to put lace up gloves on with no one around to help. Also, it is difficult to pull lace gloves as tight as you would like if you are by yourself.
In almost every case now days you will end up getting hook and loop gloves for training purposes. However, lace up gloves are still used professionally and are popular if you have a coach or training partner that can help you put them on before you get in the ring.
Are women's gloves and men's gloves the same? How about women and kids?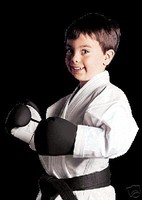 Now days they are not! But this is only a recent development in the last few years. These days you can but gloves that are specifically designed for women. Since women tend to have smaller hands, women's boxing gloves tend to have a smaller hand cage inside the gloves.
It is hard to find women's boxing gloves in all weights and sizes. But as boxing grows in popularity for women this will probably change.
Also it is common now to find boxing gloves for kids or children. These gloves also have special sizes and hand cages for kids' smaller hands.
What are the most common mistakes made when caring for boxing gloves?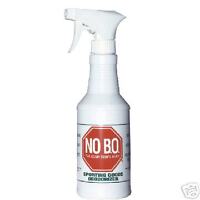 Boxing Glove Deodorant
The most common mistake people make after using their gloves is to drop them in their gym bag and zip it up. This is a problem because after their use, the gloves are usually sweaty and wet. If gloves do not dry out properly they grow a fungus that causes a foul smelling odor. The next time you pull them out of your bag you get a whiff of some foul smells!
The best method for glove care is to let the gloves dry out after each use. You can do this by making a drying tree or hanging the gloves somewhere when you get home. Also it is very popular to buy a glove deodorant. It is common now to find glove deodorants that you can spray in the gloves after each use. These deodorants kill the fungus that causes the bad smells and will prolong the life of your gloves.
Do boxing glove colors make a difference?
The answer is sometimes yes and sometimes no.
If you are using the gloves for training then you can use any color you choose. It is common these days to see gloves in pink, white, black, red, yellow and other color patterns.
In amateur boxing glove color is important because red and blue are used to denote different corners. The different colors helps the judges in scoring the competition. For amateur boxing you will usually see gloves that are either red or blue and have a white knuckle area. The contrast between the white knuckle area helps the judges determine what punches are landing/scoring.
In professional boxing the color of the gloves is usually chosen or approved by the promoter of the fight.
Please support our sponsor: