What is combined Shipping? Can I get combined shipping discount when purchasing from different sellers? How is Combined Shipping calculated? Is my order qualify for Combined Shipping? All these questions and more answered in this Complete Combined Shipping guide! To answer these questions first let's start with what is Combined Shipping. Combined Shipping basically means that the items you have purchased will be shipped together in the same package. It is a service offered when a seller has more than one item for sale and ships multiple items purchased by a single Buyer at a reduced shipping and handling rate than each item shipped individually.

It is a common practice by Sellers on eBay which saves both Sellers and Buyers money. There are many different ways Sellers use to combine shipping and we can't list them all. We will try to explain the general meaning and also how we are @
Classy Cosmetix
combine shipping based on total weight of all purchased items and the buyers destination.
For instance, a Buyer wins four auctions from a single Seller that is willing to do Combined Shipping. The initial shipping and handling costs for the items are as follows: (numbers are for demonstration purposes only)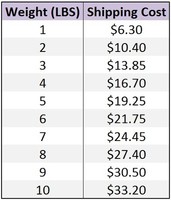 This table is showing how much the post office or shipping carrier charge to ship a package from the seller to the buyer. Please note that the shipping prices presented in this table were taken from the USPS website and may vary depending on mail class service, carrier, etc'...

In this table you can see an itemized list of what the buyer purchased from the seller and that if shipped individually the cost would be $47.25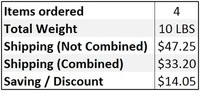 This table is showing the total weight of all 4 items purchased by a single buyer from the same seller. Like you can see since the total weight of all items is 10 LBS and the cost to ship 10 LBS together in one package from the seller to the buyer is $33.20 (see first table) then the saving versus shipping each item individually is $14.05. That's 29.7% discount!
Note: Remember that combine shipping only applies when you purchase more than 1 item from the same seller. If purchased from more then one seller your purchase will not be eligible for combined shipping. It may always be worth to check the sellers other items to see if they have anything else that you need so you don't have to buy from another seller and pay for shipping again.
And it gets even better... sometime shipping additional items are 100% free! to understand it better we made the following table for you... let's take a look...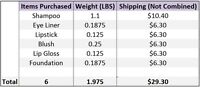 In this scenario we can see that since the first item purchased is Shampoo which weigh 1.1 LBS the buyer is now paying $10.4 for shipping since the package is more than 1 LBS and less than 2 LBS (see first table). Basically all the additional items purchased will add zero to the shipping cost since total package weight is still under 2 LBS. Buyer will then pay only $10.4 for all 6 items instead of $29.3 versus shipping that isn't combined. That's $18.9 or 65% discount on shipping!
Hope we helped you understand better why we think calculated shipping is the best way to charge for shipping, why combine shipping is great and why we @
Classy Cosmetix
are proud to offer these two services to our buyers. Please feel free to ask or comment. We will try to answer any additional questions.
-Thank you