Vintage 40s Dressmaking ~ Clothing design ~ Home Décor ~ Everything ~ Sewing Book. The only book you need!
Learn how to make fabulous forties styles. This book is Sewing made easy - Sewing made fun! Comprehensive and informative - a must have reference manual. A gem for those interested in design and dress of that era. It is based on time-saving ideas. Easy instructions for beginners and advanced instructions for experts.
SHORT CUTS IN MAKING AND ALTERING CLOTHES and sewing for the home, including detailed diagrammatic instruction for making economical dresses, suits, negligees, jackets, etc., as well as curtains, slip-covers, lamp-shades, trimmings and dozens of other personal and household accessories. Every step in sewing described and illustrated, including embroidery, quilting and smocking.
The Complete Book of Sewing
Dressmaking and Sewing for the Home Made Easy
By Constance Talbot
The Greystone Press, New York
c 1943, 319 pages.
Now you can sew with the best of them -- sew and save for yourself, your children and your home. Yes! This amazing book gives you the exact who and why of every basic stitch, seam and construction detail. What cook-books did for cooking this book does for sewing. But see for yourself -- right now, turn the pages and see how complete, how practical, how easy to follow is this wonderful self-instruction guide and easy reference book.
"Want to know how to make, alter, repair and enliven all manner of clothes as well as to make slip covers, draperies and other appurtenances for the home? Well, here's the answer in as compact and practical form as we've ever seen."
Whatever your skill, whatever your interest in sewing you will find the answers to your questions in this book. Use the Ready Reference Guide at the back freely, as you would the index of a cookbook. What is the easiest placket to make? How do you make a bound pocket? How many curtain poles are needed? What yardage is required for a chair cover? The Ready Reference Guide will quickly point you to the answer.
"An excellent work - one that no home should be without. Actually it is an encyclopedia for the seamstress - amateur or veteran - an answer to the prayer of every woman who has a needle."
In 320 pages, sparkling with color illustrations - Constance Talbot, America's leading sewing expert, takes apart every problem, describes ever move in easy-to-follow, step-by-step instructions - illustrates every basic detail with over 750 pictures.
This vintage publication spans 45 chapters and includes a reference index of over 2000 items.
About the Author
The author, Constance Talbot, was for over 10 years Editor of Butterick Fashions, and then Simplicity Patterns. She personally lectured on sewing to over 20 million women from coast to coast. She was Fabric Consultant to the Bulletin Department of the National Retail Dry Goods Association.
Mrs. Talbot was a small girl when she first learned to sew. As she grew older she quickly became impatient with time-wasting Victorian sewing traditions - became too busy to labor long over a costume that required weeks of work when the same effect could be developed in a few hours with the aid of short-cuts.
In her business career with overflowing hours of work she has kept house and sewed successfully because she streamlined her routine to the shortest quickest timing.
The great modem American dressmakers were among her close friends and from them she learned much about efficiency in professionally sewing. With countless housewives she has, during her nation-wide lecture tours and sewing demonstrations, exchanged tested shortcuts.
Many of these time saving ideas and methods are included in this book to help both beginner and expert to discover that is it truly fun to sew. You will find this book an invaluable resource if you are a collector of vintage clothing, retailer, costumer or just a lover of retro fashions.
~~~~~~~~~~~~~~
Chapter I – Choosing the right clothes
Simple rules for the selection of clothes. What is basic style? Choosing colors best suited to skin tones, color of hair and eyes to personality to figure. Emphasizing good points.
"The first step in dressing well is choosing wisely. No one woman can wear all the styles developed, and the fashion industries never intended that she should...You see often see two women together, both expensively dressed; one seems beautifully dressed, the other just misses it... one woman has learned the secret of selecting the right clothes and having them properly fitted, the other has not."
~~~~~~~~~~~~~~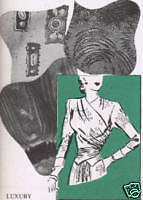 Chapter II – How to choose the right fabrics
Correlating fabric to style and pattern. Choosing the best type of pattern for printed, novelty, smooth surface, luxury, staple and utility fabrics. What are cold weather, warm weather coat fabrics? Fabrics best suited for underwear, bathrobes, utility or luxury underwear. Lining fabrics. Interlinings and their uses. How to choose the right fabric for a pattern with ruffles, pleats, darts, or gathers. Important facts about fabrics – the fibers, yarns and weaves that go into them, What is color fastness? What cause shrinkage? How to shrink fabric. New fabric finishes – crease resisting, permanent stiffening, sanforizing and sanitary finishes.
~~~~~~~~~~~~~~
Chapter III - Sewing tools and how to make them work for you
Having the right tools at the right time. How to care for them, when to use them. Needle and thread chart.
Salvage - Save and Sew
~~~~~~~~~~~~~~
Chapter IV – The A B C's OF Stitches – Basic instructions in sewing
Eleven different fundamental stitches and their uses for hand and machine sewing such as blind hemming, slip-stitch, running stitch, gathering stitches; learning to stitch by machine.
"Possible for practically anyone to learn to sew with the aid of the Complete Book of Sewing." The Indianapolis Sunday Star.
~~~~~~~~~~~~~~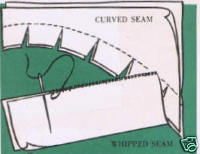 Chapter V – Seams
Seam allowances, seams for straight and bias edges, for transparent, heavy and napped fabrics. How to ease in fullness, Joined seams, welt seams, covered seams, taped and bound seams. French seams, decorative seams, upholsters' seams. How to turn corners in a seam. Square corners.
~~~~~~~~~~~~~~
Chapter VI – Darts, Tucks, and Pleats
Fitting darts, plain darts. Darts to hold fullness and to give fullness. How to measure for tucks. Hand and machine tucks. Straight, side, box, inverted, accordion and kick pleats. Contrasting color in pleats. How to insert godets.
"In making pleats and tucks it saves time to work on an ironing board and press the sharp edges before the pleat or tuck is basted. The second pressing, which completes the pleat or tuck, should not be done until after it is based, fitted and stitched"
~~~~~~~~~~~~~~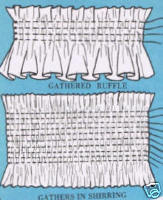 Chapter VII – Gathers, Ruffles, and Headings
Hand and machine gatherings, hand shirring. How to set gathers – to shape and edge, to control fullness. How to estimate fullness. How to make headings, ruffles, casings, corners in lace and lace joining, Machine-embroidered insertions and edgings, Passementeries.
~~~~~~~~~~~~~~
Chapter VIII - Hems, Facings, Bindings
Importance of machine and hand hems, blind and slip-stitched hems. Underwear hems, shell, hand-rolled, circular and curved edge hems. Picot, taped and catch stitched hems. Pleated skirt and napery hems. Decorative hems. Facings and their uses. Double, straight, and band facings. Applied trimming bands, mitered corners, banding a square neck. Facing scallops, binding edges, straight bindings, binging a square corner, braid, bias, double bias, and French binding.
~~~~~~~~~~~~~~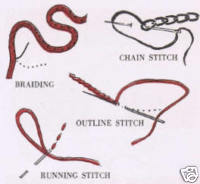 Chapter IX – Embroidery and Appliqué
Embroidery stitches, chain, couching, satin. Lazy-daisy, feather, blanket, cross stitch, bullion and seek stitch. Beading. Eyelets, scallops, appliqué, quilting, trapunto quilting, smocking, honey-comb, seed, diamond and cable smocking. Bar. French criss-cross, ribbon and machine fagoting. Hemstitching. Tassels, pom-poms and fringe. Designs to trace.
~~~~~~~~~~~~~~
Chapter X – Time saving measurement routines
Where to take bust line, waistline and hip measurements. Charts and explanations. Six steps to successful clothes. Time-saving feature in making your dress. Step by step routine, from laying out the pattern to the completed garment
~~~~~~~~~~~~~~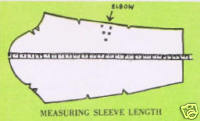 Chapter XI – How to alter a pattern
How to alter patterns, make patterns longer, shorter, narrower, and wider. Adjusting sleeves, and shoulders, for sloping, rounded, wide, narrow and square shoulders. Large and small arms. Large abdomens and hips – flat and full busts. Sway backs.
~~~~~~~~~~~~~~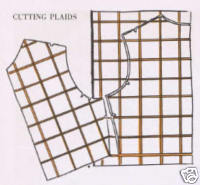 Chapter XII The science of cutting
Preparations and cutting routine. What the pattern markings mean. How to transfer them. How to cut plaids, figured materials, large checks, up and down prints, stripes. Patterns for Cutting Gilets, Blouses, Panties and Brassieres.
~~~~~~~~~~~~~~
Chapter XIII - How to Baste
Different types of basting and their uses. Step by step order of basting. Removing basting stitches.
~~~~~~~~~~~~~~
Chapter XIV – How to make fitting Alterations
How to adjust side seams, wide or narrow shoulders. How to fit sleeves. How to adjust necklines, collars waistlines and hips.
~~~~~~~~~~~~~~
Chapter XV - Becoming Necklines
Classic, corded and revere neck lines. Stitched, overlaid transparent, decorative and detachable yokes. Jabots and scarves.
~~~~~~~~~~~~~~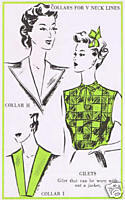 Chapter XVI - Collars, vests and dickies
Double scarf, jabot, stiffened, single, straight, sailor and coat collars. How to apply and make them. Classic, convertible dickies and vests. Patterns for cutting.
~~~~~~~~~~~~~~
Chapter XVII – Sleeves
How to cut, construct and pin sleeves and armholes. Puffed, raglan, tailored sleeves. How, when and where to join shoulder seams. When are armholes bound. What kind of shoulder pads to use, what type of fabrics to use. How to shrink and press sleeves. Cuff finishes. Finishes for gathered sleeves, fitted sleeves.
Most home sewers quickly master the details of cutting, basting, and fitting; but in the question periods following my lectures, I have found the same questions are asked over and over again - about the principles of construction for sleeves, waistlines, hems, pockets and trimmings. The details of completing a garment which puzzles one women are apparently stumbling blocks for most amateur sewers. These finishing details are reviewed here and in the next 5 chapters.
~~~~~~~~~~~~~~
Chapter XVIII - Smooth fitting waistlines
Set-in belts. How to make separate skirts - skirts with inner belting. Separate belts. Where to use and how to make plackets. How to make a pleated or gathered skirt, skirt with joke. How to hang a skirt. Three different ways of marking your hem-line without the yoke. HOw to hang a skirt. Three different ways of marking your hemline with out the aid of a fitter. How to hang a circular skirt; how to adjust and remove bagginess from a skirt.
~~~~~~~~~~~~~~
Chapter XIX – Fasteners – from buttons to zippers
Closings for tailored clothes, for decorative effects. How to sew in all types of sewing fasteners, classic, covered, shank-stem, linked buttons and buttons held with fabric. How to make buttonholes, tailored buttonholes – bound buttonholes. How to make buttonhole loops – how to apply loop fastenings. How to make corded tubing loops, cord motifs and bow-tie closings. How to insert zippers, in a seam, in a faced edge, under a band, in a fly pocket.
~~~~~~~~~~~~~~
Chapter XX – Time Saving Details and Pockets
Smooth finishing touches – squared corners, curved edges. How to eliminate bulk in a seam-line, to turn a seam, to cut away facing, to prepare collar facings, to face collars; to add casings; to make tie and scarf ends, to attach bands and straps. How to make tied and stiffened bows. How to make lingerie straps, slits for ribbons, belt straps. How to make patch, bound, welt and flap pockets.
~~~~~~~~~~~~~~
Chapter XXI – Trimmings
How to share edges – make self-fabric cords. How to add variety with quilting, what to quilt. Scallops, saddle stitching, fringe, and inserted bandings, braiding.
~~~~~~~~~~~~~~
Chapter XXII – Points to remember about utility clothes and tailored classics
Housedresses, protective, utility and decorative aprons. Service uniforms and factory workers clothes. Shirt-waist dresses, men's and boys' and shorts, children's sailor suits.
~~~~~~~~~~~~~~
Chapter XXIII – Points to remember about everyday and sport clothes
Button-front, dickey-from, jumper and jacket dresses. Separate skirts, jumpers and waistcoats, casual jackets, all types of blouses. Children's sport clothes.
~~~~~~~~~~~~~~
Chapter XXIV – Points to remember about afternoon dresses and formals
The lines to watch for in girls' dresses, misses' dresses. The basic dress, children's afternoon dresses. How to make three evening waist for one skirt; one long and one short skirt for one waist, evening jackets, matrons' formals, hostess gowns, children's party dresses.
~~~~~~~~~~~~~~
Chapter XXV – Points to remember about cotton garments
Every-day cottons, cotton suits, cotton evening dresses and children's clothes.
~~~~~~~~~~~~~~
Chapter XXVI – Maternity dresses and infants' wear
Conservative, casual and youthful maternity dresses. Maternity dress without a pattern. Clothes for the infant, toddler and young child.
~~~~~~~~~~~~~
Chapter XXVII - How to make coats and jackets
Rules for identifying an easy to make coat. Selecting the pattern, every step in making the coat, tailored stitches, interfacing, sleeves, pockets, linings and interlinings. Dressmaker, casual evening, tailored classics and children's reversible coats. Adjusting coats for growth. Working in fur. How to make shoulder pads for coats. Taped edges. French, arrowhead and crowsfoot tacks.
~~~~~~~~~~~~~~
Chapter XXVIII - Underwear for all the family
Utility underwear for the whole family, including bathrobes and sleeping garments. Luxury underwear for women and girls. Wearability. Slips, nightgowns, negligees, hostess gowns, housecoats. How to make a bath-robe from a blanket.
~~~~~~~~~~~~~~
Chapter XXIX - Teaching your daughter to sew
How to make first dresses quickly. How to develop talent. Survey of careers open to sewers.
~~~~~~~~~~~~~~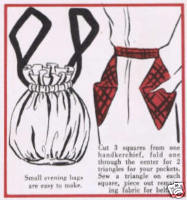 Chapter XXX - Accessories and Gifts
Seasonal fashion chart. How to cover different hats. How to make zipper, evening and muff bags - ribbon, buckle, fringe and peasant belts. How to make hoods. How to make aprons, bedroom slippers.
Accessories make one dress do the work for three, bring last year's dress up to date, turn a simple dress into an elaborate one, and impart an air of luxury to an expensive dress... Everything from shoes and hats to collars, belts, and jewelry is included in accessories.
~~~~~~~~~~~~~~
Chapter XXXI - The care of clothes
Cleaning and quick-stitch mending. Professional pressing routine. Chart of tested methods for removing spots. What to look for on labels when you buy.
~~~~~~~~~~~~~~
Chapter XXXII – The fine art of mending
Inserted, overlaid, woven-in pasted and decorative patches. Mending cigarette burns, ragged and long tears, machine mending, invisible darning. Mending sweaters and liners.
"Our government is urging everyone to take better care of clothes and home accessories, for during the war it will be had to get replacements. "The Complete Book of Sewing" should be particularly helpful during the coming scarcity of clothes."
~~~~~~~~~~~~~~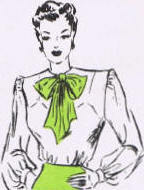 Chapter XXXIII – Restyling – Remodeling – Remaking
Altering skirts… Concealing worn spots... Making new dresses from old... Adjusting tight dresses, torn sleeves, new sleeve ideas... Uses for old coats… How to shorten sleeves and hems of coats... Worn pockets, buttonholes, collars, and coat linings…. How to salvage outworn cotton dresses and shirts, men's and boys' shirts. Outworn lingerie.
~~~~~~~~~~~~~~
Chapter XXXIV - Holding a Room Together
The proper use of color and balance in your curtains, hangings, and slip covers. Color chart.
~~~~~~~~~~~~~~
Chapter XXXV - Fabrics for the home
Correct textiles for the living room, bedroom, play0room, nursery and kitchen. How to choose them. What to look for. Budgetary considerations. Summer and winter fabrics.
~~~~~~~~~~~~~~
Chapter XXXVI – Slipcovers
Choosing fabric. Order of procedure. How to cut, pin, baste, and sew easy-to make upholstery, petticoat, pleated and ruffled slipcovers for chairs and sofas. Making a slipcover pattern. Important details. Applying welting. Slipcover skirts.
~~~~~~~~~~~~~~
Chapter XXXVII – Bedspreads, cough covers, and Dressing-table skirts
Cutting bedspreads, including circular, flounce, scalloped and organdy bedspreads. Pillow covering. Informal. Tailored, upholstered, pleated, and ruffed couch and day bed covers. Skirts for dressing tables.
~~~~~~~~~~~~~~
Chapter XXXVIII – Curtain rods to suit the curtains
How to get the same effect with one curtain rod instead of three. Charts and examples for draw curtains, group windows, valance boards, problem windows, swinging and casement windows. Window proportions, vestibules, sun porches.
~~~~~~~~~~~~~~
Chapter XXXIX – How to make curtains
Cutting, seaming and pressing curtains. How to make ruffled tie-backs, French pleated and glass curtains, valances; kitchen and Dutch curtains.
~~~~~~~~~~~~~~
Chapter XL – How to make formal draperies
Unlined, lined, interlined draperies and portieres. How to make side hems, stiffening top hems, pipe-organ pleats, French and box pleats, formal, draped, cascade, valances and tie-backs.
~~~~~~~~~~~~~~
Chapter XLI - Measurements for home sewing
How to estimate yardage and where to take measurements for curtains, slipcovers, bedspreads, dressing table skirts and seat cushions. How to estimate for ruffles, pleats, tie-backs, valances and poles.
~~~~~~~~~~~~~~
Chapter XLII – Covering and re-covering lampshades
Parchment, paper and fabric shades. How to recover and make gathered and stretched shades.
~~~~~~~~~~~~~~
Chapter XLIII - Camps, recreations and children's rooms
Textile and ideas for camp, lodge, play, kitchen, nursery, and transitory rooms
~~~~~~~~~~~~~~
Chapter XLIV - Old curtains for new windows
Lengthening French pleated, ruffled and formal curtains. Curtains from sewing salvage. Chair seats, shades, sofa cushions, tightening springs.
~~~~~~~~~~~~~~
Chapter XLV - Quilting spreads and accessories
Early American, Italian and formal quilting. Order of procedure. Hand, machine-made and tufted quilts. Designs to trace.
~~~~~~~~~~~~~~
This is a Fabulous 1940s VINTAGE Sewing BOOK~Patterns~Fashion~DESIGN. Thank you for reading!