Great Gift - Click Here!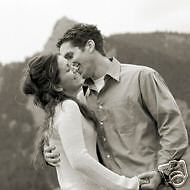 Oh So Chivalrous
"He asked me a few days in advance if I would like to go on a picnic. I agreed, and so we went and, while we we're setting up the blanket, he's shaking. I asked, 'Are you okay?' and he starts to rant on and on, and then I realize what he's doing. He gets down on one knee and says, 'Oh no, I forgot your ring in the car, hold on.' He runs around the corner and 15 minutes pass, then 20, and then I hear a horse trotting. I turn and there he is on a white horse in a full suit of armor he bought on eBay. I'd told him I would only marry him if he came to me as my knight in shining armor (I was joking). Watching him get off the horse was hilarious, and I had to help him get the helmet off his head. Then he got down and said, 'You truly are my princess, I am yours, if you'll have me, forever, will you marry me?' And I said, 'Are you joking?' Then I said 'Yes' and after we kissed, laughed, and cried, there was another horse waiting for me, and we went riding together."

A Dream Come True
"I woke up one night and couldn't get back to sleep, so I sat up in bed and a moment later, Shawn stirred and asked me why I was up. I told him I couldn't sleep, and then, clear as can be, he said, 'Will you marry me?' I looked at him and said, 'Honey, are you awake?' He said yes, and so I said yes as I snuggled up to him. In the morning he only remembered me asking him if he was awake. I then asked him if he remembered what he had said beforehand, and he said 'No, what?' I wasn't telling, so we played a bit of a guessing game and it wasn't long before he looked at me and said, 'I know what I said, but this is not at all how I planned it. So what do you think?' I told him he wasn't going to get off that easily, so we went out onto the deck with our coffee and in the morning sun he hugged me and said, 'I love you. Will you marry me?' I said yes, and that was that!"

Confusion on a Cruise
"Jason and I went on a cruise to the Caribbean with his family, and the second night we were on the ship he asked me to go for a walk with him. We ended up on the top deck and I began questioning what we were actually doing up there because Jason kept asking, 'You know I love you, right? And you love me too, right?' Now, for most people, thoughts of a marriage proposal might spring to mind. Not me. My first thought was, 'He cheated on me, and he's telling me here because -- let's face it -- where am I going to go?' We were in the middle of the ocean! After another three laps around the deck, and a few more reassurances that yes, I did love him with all my heart and yes, I knew he loved me just as much, he stopped walking. There were tears in his eyes and he asked, 'Can you do me a favor?' The only thing I could do was nod dumbly as he got down on his knee, pulled that little black box out of his pocket and said, 'Spend the rest of my life with me?' It was nothing like I'd imagined -- and everything I could have asked for!"

Lost in Translation
"On the elevator ride up to our hotel room, my fiance told me that he had a surprise for me: He'd ordered a special dessert and it was being set up in our room. Once I entered the room I was absolutely blown away by what I saw: The room was filled with flowers, candles, balloons, and a table with four different kinds of cheesecake (my favorite dessert). I thought, 'Wow! This is a lot of trouble to go through just for dessert!' It was at that moment that he began his speech, which to me sounded like the adults on all of the Peanuts cartoons -- you know, 'Wah wah wah wah.' It wasn't until he got down on one knee and pulled out a ring that I finally realized what he was doing. When I heard the words 'Will you marry me?' I took off running -- away from him. He, however, remained calm and on one knee asked me again. This time I ran toward him, said yes and started sobbing uncontrollably."
Fairytale Fly-By
"My fiance, Mark, has a grandfather who owns a small airplane, and he's always wanted to take me flying. On my 21st birthday we drove out to the middle of nowhere and when we finally got there I realized that we were turning into the airport where his grandfather keeps the plane. I was so excited! We were flying near Ft. Worth about 10:00 p.m., so it was dark and we could see the city lights. All of a sudden he leaned over me and said, 'Look, look,' and I saw something that still brings a tear to my eye -- in the middle of his grandparents' 20 acres were Christmas lights that said 'WILL YOU MARRY ME?' I was speechless. Of course I said yes, and later I found out that he'd spent four hours outside stringing lights out to create eight foot letters...in August...in Texas! I love him so much."

And by 'No,' You Mean...
"Justin and I had just ordered our dinner and began to talk about our future when he got down on one knee in the middle of the restaurant -- I was in utter disbelief. I saw him reach for his coat pocket and I said, 'No?!' He showed me the box in his hand, and I said, 'No?!' He got up from his chair. I said, 'No?!' He came around the table next to me, and I said, 'No?!' He got down on one knee. I said, 'No?!' He asked me to marry him. I said, 'YES!' He jokes that I said 'No' five or six times before I said yes!"

Head Over Heels in Love
"I had the idea one day that I would propose to him -- we had a trip to Mexico planned and I thought it would be the perfect time, so I went and purchased a wedding band for him. Three days into our trip, we were at the hotel and it had been raining, so there were tons of puddles. I asked him to go sit on the beach and told him I was going to change and meet him there. On the way back from getting the ring from the room, I ended up tripping down a flight of stairs because they were all wet -- I fell down all 10 stairs and straight into the mud. Soaking wet and dirty, I went to the beach, sat next to him, pulled the ring out and said, 'Will you wear this for the rest of your life?' He looked at me for what seemed like two hours, and then said, 'Yes.' Of course, afterward, he had to ask what happened, and we still laugh about it to this day!"

Ring Ruse
"Our proposal did not go as planned. We were in Chicago, and my fiance just blew me away when he got down on one knee. I took the ring from its box, and, even though I knew in my heart it wasn't going to fit, I tried to push it on. It got just past my knuckle -- and no further! Within seconds my finger was tingling and puffed up, and turning purple and blue. Eventually I had to go up to a police officer for help. He saw my finger and immediately got me a taxi to the emergency room -- they had to cut my ring off of me! Who else can say they went to the emergency room on the night they got proposed to? It was truly a night to remember."