BEGINNING THE TRANSFORMATION
The first rule in the art of restoring neglected barbie dolls is patience and more patience. Patience is required especially when dealing with severely matted hair which is clearly illustrated in the pictures below. Different hair types will determine just how much patience is required. Saran trademarked hair has an oily feel to it and although it can become matted it does not mat as readily as the other type of soft monofiliment Barbie hair. The other type is very soft and fluffy and it tangles and gets matted very quickly if not taken care of.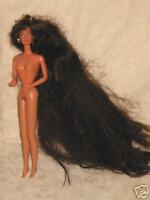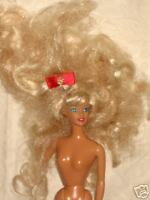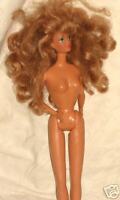 RESTORATION TOOLS NEEDED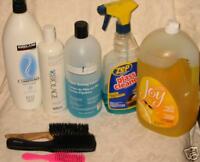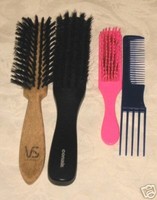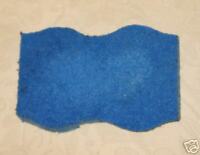 Shampoo
I purchase a 2 pack at Costco or another Discount Club Store to save money and still get quality. A shampoo that has a heavy conditioner also will work nicely.

Conditioner or Fabric Softener
I purchase a 2 pack at Costco or another Discount Club Store to save money and still get quality. I have never tried fabric softener but the principle is the same so it should work too.

Setting Lotion
I purchase large economy sizes at Sally Beauty Supply and it is a great bargain. I use this in my final stage.

Glass Cleaner or other All Purpose Cleaner
A Windex or similar product or Formula 49 can be used to clean surface dirt off of the doll bodies with the non scratch cleaning pad.

Lemon Fresh Joy
This I use to get the old rubber band residue out of hair and for glitter and oil based stains.
Large Barbie Brush and Natural and Synthetic Bristle Brushes
These are my standard brushes and I start out with the large wide bristle doll brush and end with the natural bristle brush.

Comb
I like to use a two sided comb with a pick because it can help to detangle Saran hair quickly.

Scissors
These are for trimming off damaged ends and uneven hair after the conditioning stage.

Non Scratch Scouring Pad
I use this for safe and gentle cleaning the body.

Old Toothbrush
For cleaning the face fingers and toes because it gets down into the grooves.

Additional items that are helpful
Small spray bottle
pointed tip bottle
tiny rubber bands
small nail manicure set

All of these can be purchased at Sally Beauty or other Beauty Supply Stores. I also like to keep pipe cleaners on hand which I purchase at my local Joann Fabrics Store.
STEP BY STEP INSTRUCTIONS FOR UNMATTING BARBIE HAIR
SHAMPOO
Wet hair with warm water and add about a half teaspoon to your palm. Rub hands together and apply shampoo by gently squeezing the shampoo into the hair from the crown of the head down to the ends. If you have to be generous with the shampoo it is better to do this than to shampoo hair as if it is human hair. I do not shampoo in circular motions as this only tangles the hair further. Add a little more water to get a good lather up on the doll. Rinse hair with warm water. For extremely soiled hair repeat process until the doll hair is clean. If you are using a Shampoo that contains Conditioner you can begin the detangling process as described in the next step.

CONDITION
Add a generous amount of conditioner to the doll using the same application process as the shampoo. I am overly generous and probably use about 2 to 3 tablespoons on severey matted hair. Once the conditioner is applied, take your wide bristle doll brush and begin about 2 inches from the end of the hair. Hold the hair with one hand right above your start point and gently use the brush to slowly detangle the hair. Once you have detangled that section go up another 2 inches and repeat the process until the entire head is done. Always brush in a downward motion and always detangle both the front of the hair and the underside as well. Put the doll in a sitting position and rinse the conditioner from her hair. By doing this the hair will not get retangled. Dry the doll off with a towel again not rubbing the hair but squeezing the excess water from it. Brush the doll hair a final time and trim any uneven or damaged hair.

At this point I like to clean the doll body. I take small rubber bands and tied them around the hair in several places so that it stays detangled during body cleaning. If the doll body does not need cleaning then you can style the hair. Your dolls should look like these after photos once you are done.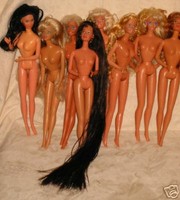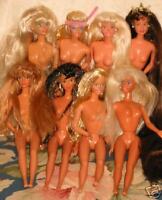 BODY CLEANING
Spray window or all purpose cleaner on the legs and let sit a few minutes. Spray the non scratch scrubber and gently scrub the doll body until it is clean starting with the legs and then moving up to the arms. When you get to the face you can use the scrubber however I prefer to use an old toothbrush with soft bristles. It will get into small areas and remove stubborn grime. Rinse the entire doll including the hair and dry off with a towel.

FINISHING TOUCHES
Add setting lotion to the hair to keep it in control and to get bangs back in shape. Bangs that are from the Saran hair are the easiest to restore back to their original condition. I use pipe cleaners to gently wrap around the bangs to hold them in place in case they are misshaped or away from the forehead.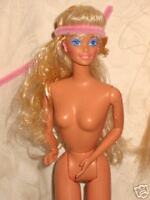 I put setting lotion on the bangs after they are tied down and leave it on until it is dry. When you remove the pipe cleaner your bangs will look almost as good as new.

This process can also be used for the other Barbie doll hair type buy a lot of times the hair gets a frazzled or almost burned look to it. There is no good way to restore it although you can try using boiled water that has cooled for a few minutes but that will make the bangs flat and only remove most of the frizz. You will still have to trim off the edges. If the hair is really damaged the only way to correct it is to cut it off and do a partial reroot to replace the hair that you have cut off. I will only briefly touch upon rerooting hair in the next section.

REROOTING DOLLS
There are several ways to reroot doll hair. You can use the sewing method where you remove the doll head and knot the har and sew it into each hole. The other way is using a felting needle which has little spurs that push the hair into the hole and mats the hair inside the head so that it stays put. There are several more in depth articles and instructions for rerooting on the Internet.

RESTYLING DOLL HAIR
There are quite a few websites on the internet that give good instructions on the process from start to finish.

BARBIE REPAINTS
Repainting a Barbie or other Fashion doll is a way of repairing missing paint from the facial features. There are quite a few websites on the internet that give detailed instructions on the process from start to finish. You will need to query doll repainting techniques or how to repaint a barbie doll.

HELPFUL TIPS
I like to shampoo condition and clean dolls in a small group. It allows the dolls to sit a bit longer with the shampoo and conditioner on their hair and keeps me focused on the goal at hand.

You should probably have a place to sit while doing this because it can be tedious as well as hard on your back.

Laying the dolls on a flat surface while detangling is a good idea. If you hold them between your legs you will get sore muscles in a few days.

A small spray bottle with diluted conditioner at 2 to10 ratio which is 2 parts conditioner to 10 parts water is a good way to detangle dolls with hair that is only mildly tangled. It also tames flyaway hair and is a good way to detangle Saran hair.
I will take a doll that has facial damage and instead of throwing the head away I save it for rerooting if the hair is good. You can also cut the hair off at the roots and use small rubber bands to secure it and save in a snack storage bag.

Do not discard a doll just because the head or body is damaged. Save them to repair the same doll or upgrade a body style. Faces can also be put onto other bodies.

To remove heads you can either boil water and pour it over the neck of the doll and use small pliers to pop the head off or you can use a blow dryer to heat up the back of the neck. Be careful not to pour the boiling water on the hair. Secure it with a rubber band before trying this process. I use my oven mits to protect my fingers from the very hot plastic head during this process.

I hope that you will find this information helpful. Whether you are an aspiring Ooak one of a kind Fashion Doll Artist or a Fashion Doll Collector or a Mom trying to pass on childhood dolls or just clean up your kids dolls remember that a total restoration takes a lot of time and patience. It can take a whole day to reroot a doll if you want a thick head of hair and repainting can take many days. The best advice I can give is that if you get frustrated step away and clear your head. Happy restoring.